All You Need To Know About Emerald Circle

Due to Covid-19, the quarterly Emerald Circle Tiers will remain unchanged between Q1, Q2 and Q3 2020. No promotion or demotion will occur during this period. Updates will be sent to Driver-Partners when the tiers and points are ready to resume.
The more you drive, the closer you get to what matters
Emerald Circle is Grab's new rewards system that empowers you to live a better everyday life.
Drive and live worry-free!
---
Emerald Circle Benefits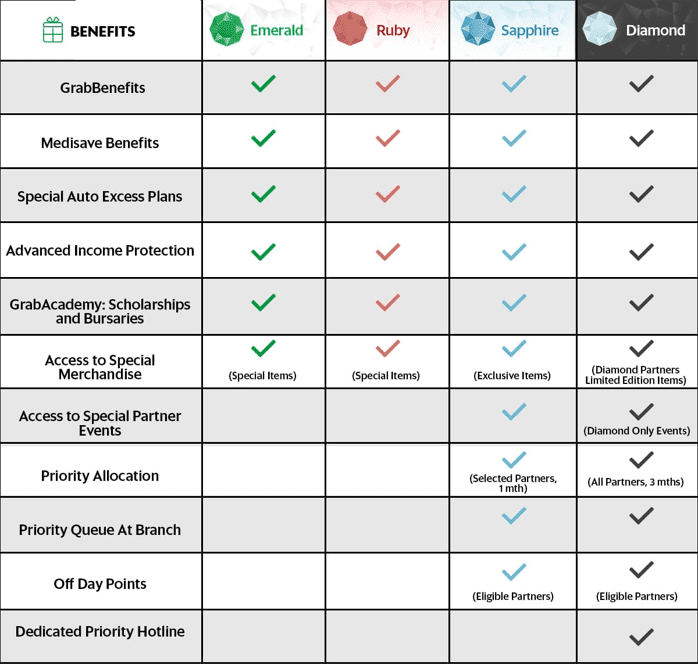 For detailed benefits, click here
---
Emerald Circle Tiers & Rewards

Frequently Asked Questions
Who is eligible to be part of the Emerald Circle?
Emerald Circle is created for all GrabCar and GrabTaxi Partners! The more points you earn, the higher your tier!
Please note that Partners that are part of employed fleets will permanently be in the Emerald tier.
I just signed-up to drive with GrabCar / GrabTaxi. Do I need to opt-in to be part of Emerald Circle?
All GrabCar and GrabTaxi Partners are automatically enrolled into the program. New GrabCar / GrabTaxi Partners will be placed in the Emerald tier for a start.
How do I move up to higher tiers?
Tiers are determined by the total XP accumulated over the calendar quarter. As you approach higher tiers, other criteria will be considered too (e.g. Acceptance Rating, Cancellation Rating, Driver Rating, past records, etc.)
Please refer to the infographic above for a better idea.
What benefits will I get?
You get a wide range of access to benefits such as priority allocation, healthcare benefits, petrol discounts, exclusive gifts and many more. Click here to see full benefits for each tier.
When will the tiers be reviewed?
Tiers will next be renewed in the first week of the next quarter (e.g 1st week of October). Your new tier will be reflected in your app by the end of the second week of the quarter.
How are the Experience Points (XP) calculated?
XP are based on commission for completed bookings. For every $1 in commission charged, you will earn 7 points. The points are rounded up to the nearest whole number. For example, if the commission charged for a trip is $0.50, you will earn 4 points.
Please note that commissions from incentives, if any, will not count towards XP.
I have just converted from GrabCar to GrabTaxi. Will this conversion affect the tier I am in currently?
No. Calculation of your commission charged for the XP will continue based on the different commission amount for the services you are in.
How do I check my tier and Experience Points (XP)?
You will receive a notification in your Grab Driver App on a weekly basis. The message will include a link that you can visit at anytime to view your current tier and XP.
Please note that the points may take time (up to a day) to refresh as you complete your rides.