One of your biggest pain points is unfair ratings that affect Driver Rating. Getting a bad rating for things you cannot control can be frustrating. To make it fairer for you, we've launched a new rating system that will separate your ratings from things you cannot control. Meaning, your rating will only be affected if passengers choose a poor rating due to your driving and/or behaviour.
If the indicated reason for the 'bad trip' is not related to your service (e.g. routing miscalculations, in-app hiccups or unpleasant GrabShare matches), whenever passengers leave low ratings for the trip, your DR will not be affected.
Here are all the things we've improved: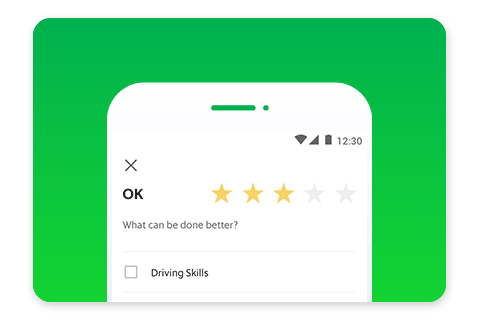 Clearer, accurate feedback on trips rated 4 stars or less
Passengers may now provide feedback on all trip ratings less than 5 stars. Don't worry, external factors such as routing miscalculations, app hiccups, and unpleasant GrabShare matches will not affect your rating.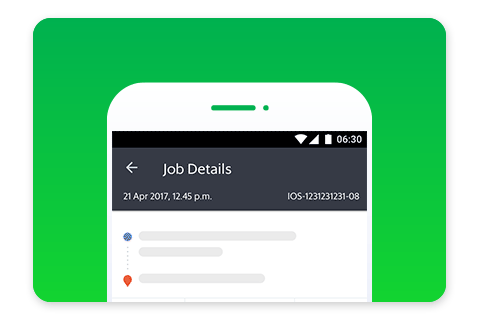 Be appreciated for a job well done!
Passengers can now thank you for providing a great ride experience by adding a tip at the end of their ride. 100% of the tip will go directly to your cash wallet and can be viewed in your partner statement, transaction activity, and daily/weekly earning summaries.
Q: How will this new post-trip rating for passengers affect me?
A: All 5-star ratings will be counted towards your DR (Driver Rating). For 1- to 4-star ratings, the ratings will not be counted towards your DR if the passenger selects rating reasons that are not attributable to you or your driving behaviour. If the passenger selects a mixture of Grab-attributable and Driver-attribute reasons, it will still add towards your DR.

Factors that will NOT affect your rating:
– App load time
– Navigation and routing issues
– Long detour (for GrabShare bookings only)
– Matched passenger's behaviour (for GrabShare bookings only)
Factors that will affect your rating:
– Safety
– Driving skills
– Behaviour
– Vehicle condition
Q: Will my DR (Driver Rating) get updated immediately after the ride?
A: No, your DR will only be updated the next day.
Q: For 4- and 5-star ratings, will I be shown the compliments that passengers give?
A: Currently, no. We will show this to you soon, and after we have collected sufficient compliments from passengers.
Q: For 1- to 3-star ratings, will I be shown the feedback of where I can improve?
A: Not yet, stay tuned for this!
Q: How is my DR (Driver Rating) calculated?
A: After a trip is completed, your passenger can choose to rate their experience on a scale of 1 to 5 stars. The system will then calculate your star rating based on the average of the last 100 rated trips. Example of the calculation can be found here. Please refer to the incentive tab for DR requirements of specific incentive schemes.
For a quick check of your current star rating, you can do so right in the app:
Note: Your current rating is updated twice daily at fixed intervals. That's why changes in your rating value may not come from the rating that the last passenger gave to you. See Annex A for the detailed calculations.
Q: How many stars are good enough?
A: The majority of you are doing a fantastic job so far! The average star rating across all our Grab Partners currently stands at 4.8. Use that as your target and work towards it!
P/S: The star ratings are a key consideration for Grab to identify the top performing partners and shower them with rewards. See Annex B for an idea of how star ratings are distributed.
Q: What happens if your star rating is below the average?
A: You zoom into the areas of improvement that your passengers have suggested for you in the weekly feedback emails. Do this, and you will be pulling your star ratings up in no time at all, especially when over 90% of passengers usually give 5-star ratings!
Q: Are there practical tips to improve your star rating?
A: The top 10% of driver-partners enjoy consistent 5-star ratings. And you can be just like them with the following tips:
At all times:

Keep your vehicle clean, well-maintained and pleasant-smelling
Dress appropriately

At pick up

Greet the passenger by name ("Good morning, Mr Tan. Welcome to Grab.")

This helps you avoid picking up the wrong passenger

Confirm the destination
Remind the passenger to fasten his/her seat belt

Pro-tips:

If you are able to, help the passenger traveling with wheelchair, child seat, heavy luggage or bags
If you're heading to the airport, ask the passenger if he has his passport

During the trip:

Drive safely, smoothly and adhere to the speed limits
Refrain from harsh and sudden braking
Stay alert and do not play with your handphone while driving
Ask if the air-conditioning is too hot or cold
Avoid loud music
Keep conversations positive and professional

At drop off :

Stop at a safe and convenient location, especially if it is raining or along a busy road
Thank the passenger for the ride
Remind them to take their belongings
Advise on the total fare and toll fee additions (this helps avoid fare disputes)

Pro-tips:

If you are able to, help pax traveling with a wheelchair, child seat, heavy luggage or bags with the door or boot
Drop at a safe and convenient location, especially if it is raining or along a busy road
Q: Why have a star rating in the first place?
A: The star rating system helps Grab keep a high standard of service that we can all be proud of. It also helps us keep track of passenger satisfaction and maintain high partner quality – key reasons why Grab is as popular as it is today!
And that's it! We wish you the best of luck on the road and the highest possible star rating. As you can see, getting into the top 10 percent is easy if you try. As for those already in the top 10 percent, keep up the great work!