Every step in place for safer rides & deliveries.
Now, introducing safety measures for GrabFood & GrabMart to keep each other safe.
It's important to stay safe when you're on the job. That's why we've introduced GrabProtect. Here are the steps to ensure everyone does their part to keep each other safe.
6 steps to safer deliveries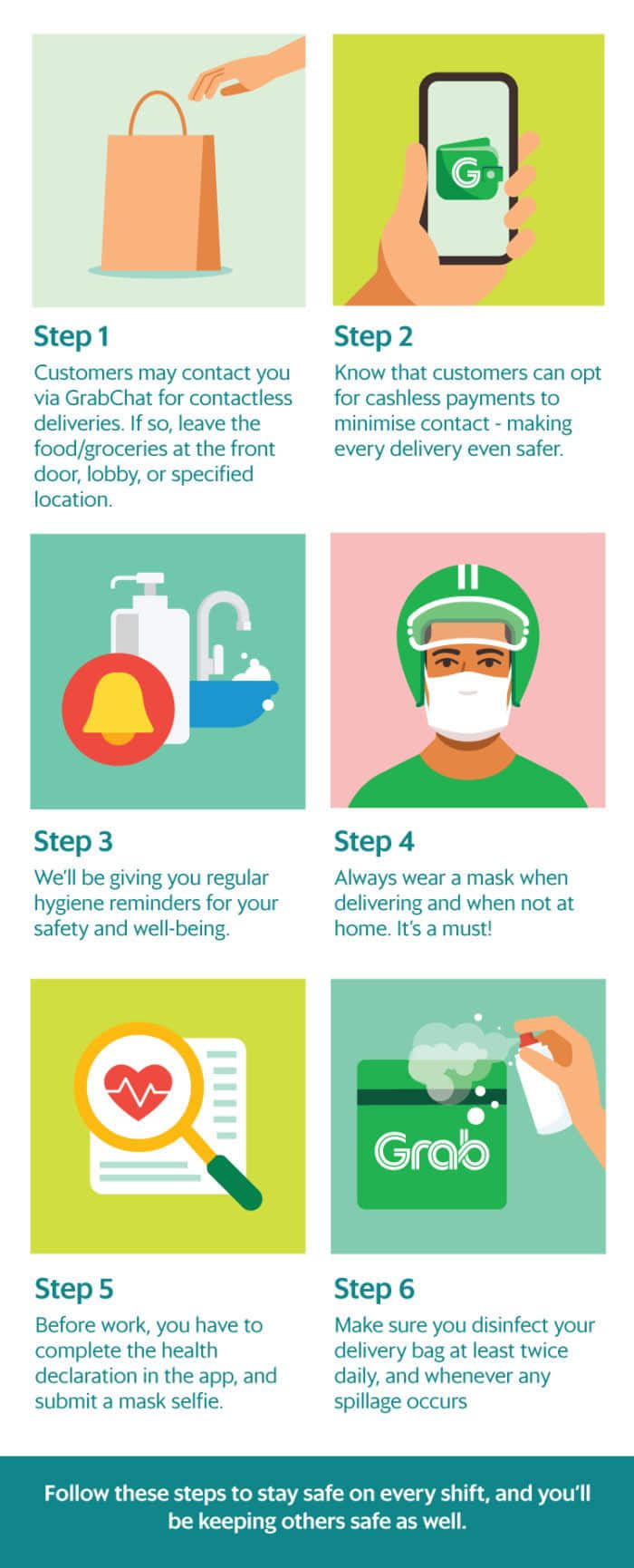 6 steps to safer rides
With the recent announcement from MOH and community cases remaining low, we will be lifting the added precautionary measure of leaving the front seat vacant, and from 2 Oct 2020, you'll be able to ferry passengers in the front passenger seat again.
Please continue to practice good hygiene and observe safe distancing to reduce the risk of transmission. If you are feeling unwell, do seek medical attention immediately. 


We understand that these measures will take some getting used to. But it is vital that we do all we can to continue flattening the curve. Our livelihoods depend on keeping each other safe. 
For your added protection, we've also worked with our partners at NaOClean and Walch to give you FREE GrabProtect Hygiene Kits. Look out for another message containing collection details.
Please also note:
As of 3 July, the Ministry of Health (MOH) has provided guidance on the use of masks and face shields for specific groups such as (non-exhaustive):
Children twelve years and below, who may have difficulty wearing and keeping face masks on for a prolonged period of time;
Persons who have health conditions that may result in breathing or other medical difficulties when a mask is worn for a prolonged period of time; and
In accordance with MOH, please also exercise flexibility when dealing with persons with special needs (e.g. autism, other developmental disabilities) who refuse to wear masks or face shields. The general guidelines in dealing with persons with special needs are:
Advise them to put their mask or face shield;
Get help from their caregivers;
Offer them with masks or face shields if they do not have one with them; and
Allow them to continue their journey (i.e. do not deny service or reject their trip).
You can read more details on GrabProtect in our press release.
Follow more updates on how we're tackling COVID-19 here.