Cheryl Goh, Group Vice President of Marketing for Grab
This year, both International Day of People with Disabilities (IDPD) as well as the global generosity movement, #GivingTuesday, fall on the same day (3 December 2019). 
Both moments are timely reminders on the importance of advocating inclusiveness and accessibility within our societies, and that when we empower more individuals to contribute meaningfully, we enable them to become more. 
This is aligned to our vision for GrabforGood — where we believe that everyone, regardless of background or ability, can benefit from the digital economy. It also informs how we, as an organisation, can look at ways to give our time, talent, and resources to empower our community to give back meaningfully. 
I wanted to zoom into two areas we are currently looking at: 1) how technology can help to unlock the potential of differently-abled individuals in Southeast Asia; and 2) how our everyday, everything app can empower a giving culture.
Unlocking the potential of Southeast Asia's differently-abled individuals with technology
This year's IDPD focuses on the empowerment of persons with disabilities for inclusive, equitable and sustainable development, which is near and dear to our team. We want to be a platform that not only provides mobility services, such as GrabAssist and GrabGerak, for people with disabilities but also one that encourages inclusiveness, enables accessibility, and very importantly, provides an income opportunity.
The story of Niyaz Nathan and Siti Fatimah from Malaysia is one that continues to inspire us. Despite the physical limitations, this has not stopped them from being independent and contributing members to society. Redefining couple goals, Siti and Niyaz are a dynamic team in encouraging the differently abled community: Siti as her role in the PWD Driver Representative Council, and Niyaz in his business of modifying cars to enable those with limited mobility to be able to drive. Deeply touched by the tenacity of Niyaz and Siti, we worked to spread their story to more people, while promoting their business via our website and social media channels.
Over the years, we've partnered with local governments, non-profits and associations to help close the gaps for differently-abled Southeast Asians who are seeking opportunities to create a better future for themselves and their families. 
In 2018, we piloted a program in Malaysia called "Break the Silence". It was conceptualised to better enable individuals who were hard of hearing to be part of our driver-partner group. We conducted interviews and research with the community, and their feedback informed our product improvements. For example, we introduced special alerts built into the app, so that passengers matched with a deaf driver-partner will be prompted to communicate with them through GrabChat.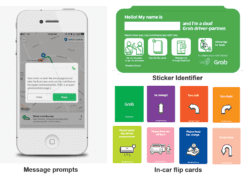 (Above: In countries like Singapore, Malaysia, Indonesia and Thailand, Grab passengers who are paired with a deaf driver-partner can expect features such as in-app message prompts, in-car identifiers and flip cards to facilitate better communication. Image credit: The Singapore Association for the Deaf )
The program has since expanded to other markets in Southeast Asia, including Singapore, Indonesia, and Thailand, where we are onboarding more driver-partners from the deaf or hard-of-hearing community, so that they can do even more in contributing to the economy. If you ever have the opportunity to be served by one of our deaf driver-partners, say "thank you" to them in sign language (learn how to sign from our short instructional video here), or simply use GrabChat!
Our efforts have yielded small successes in helping our differently-abled partners to close the earning gap. Today, nearly 800 individuals with different disabilities, including deafness, cerebral palsy or motor impairments proudly serve as Grab driver and delivery-partners. Our goal is to bring this number to 1,000 in 2020. 
To this end, our Indonesia team signed a Memorandum of Understanding (MoU) today with the Association of Indonesian Disabled Persons (PPDI). Under the MoU, we will jointly study, develop capabilities and contribute to policy development, with the aim of creating a more inclusive environment for differently-abled individuals in Indonesia.
Associations like PPDI can do with more support from the larger community. Over the next five weeks, users in Indonesia can donate to PPDI via our GrabRewards catalogue. 
This brings me to my next point – on how you too can be part of the giving culture with our GrabRewards platform.
Rallying our community for good via GrabRewards
Since 2018, we've worked with close to 20 non-profit organisations such as WWF, UNICEF, and the International Federation of Red Cross (IFRC) to roll out GrabRewards points donation initiatives, where users can donate their GrabReward points to a cause they believe in. By rallying our community for good through everyday giving, we hope to drive more significant, positive change. 
And starting today,  you can make a donation with your GrabRewards points to another new partner with an important cause: Jangkau, a non-profit online platform which crowdsources funds to help meet the accessibility needs of seniors and disadvantaged children in Indonesia. 
The movement to empower our non-profit partners is only made possible with the strong support of our users. They have contributed generously in GrabRewards points to our non-profit partners to fund new initiatives and programs for a variety of different causes. 
In 2019 alone, our users have donated close to 110 million GrabRewards points, translating to more than USD 348,000 and counting. Our users in Indonesia contributed the most, collectively donated over 67 million GrabRewards points in 2019! This was followed by Singapore at over 15 million points, and the Philippines at over 12 million points. 
Alson Wang, a Singapore-based para-athlete and GrabFood delivery-partner was recently a part of  this program. He had participated in the Relay Majulah Challenge to raise funds for others living with Cerebral Palsy and inspired by his strength and determination we wanted to help him reach his goal. Through GrabRewards,  our Singapore-based users were able to donate their points to Alson's cause. This translated to S$5,000 in donations over a two-week period.
This #GivingTuesday (or Giving Week for Singapore), I'd like to thank you for being a part of our journey of doing good. Let's continue to work hand-in-hand to build an inclusive and equitable future for differently-abled Southeast Asians.
Be a part of GrabforGood! Go to the GrabRewards catalogue within the Grab app and tap 'Limited Edition' and find a cause that you can contribute to.