For 44 year-old Sheela D/O Bathumalai, there's nothing more important to her than spending quality time with her children. When she's not working or doing housekeeping, you'd likely find her playing soccer and badminton with her two sons, aged 9 and 12, or watching television with her family.
When it comes to working, flexibility is an extremely important consideration for Sheela, as it allows her to take care of her children while earning some money on the side, a much more favourable option to just sitting around at home. This made her previous part-time stints at a fast-food restaurant and supermarket largely unsuitable because they provided her with little to no flexibility and freedom to even take urgent time off for things like taking care of her kids when they fell ill. Eventually, Sheela quit those jobs.
Then in August 2020, at the peak of the pandemic, Sheela decided to sign up as GrabFood rider. Seeing the flexibility that Grab provided her husband (a Grab driver-partner since 2018) on the job, coupled with the growing popularity of doing food deliveries, Sheela felt that this might just be the job for her.
She was not wrong. This simple decision turned her life around, and Sheela has not looked back since. Joining Grab provided her with much-needed flexibility to earn an income for her family whilst being there for her children. Being able to choose her own working hours was also a plus, and Sheela would normally deliver in two shifts – from 8.30am to 2.00pm and from 5.00 to 8.00pm. Her free time from 2.00 to 5.00pm would then be spent picking her children up from school, having lunch with them and helping them with their homework. It was truly the best of both worlds.
What Sheela never expected when she first signed up, was that becoming a Grab delivery-partner would be the catalyst for new friendships with two of her closest friends – fellow Grab delivery-partners Chellamuthu Jeyavalli and SenthilKumar Dhanam.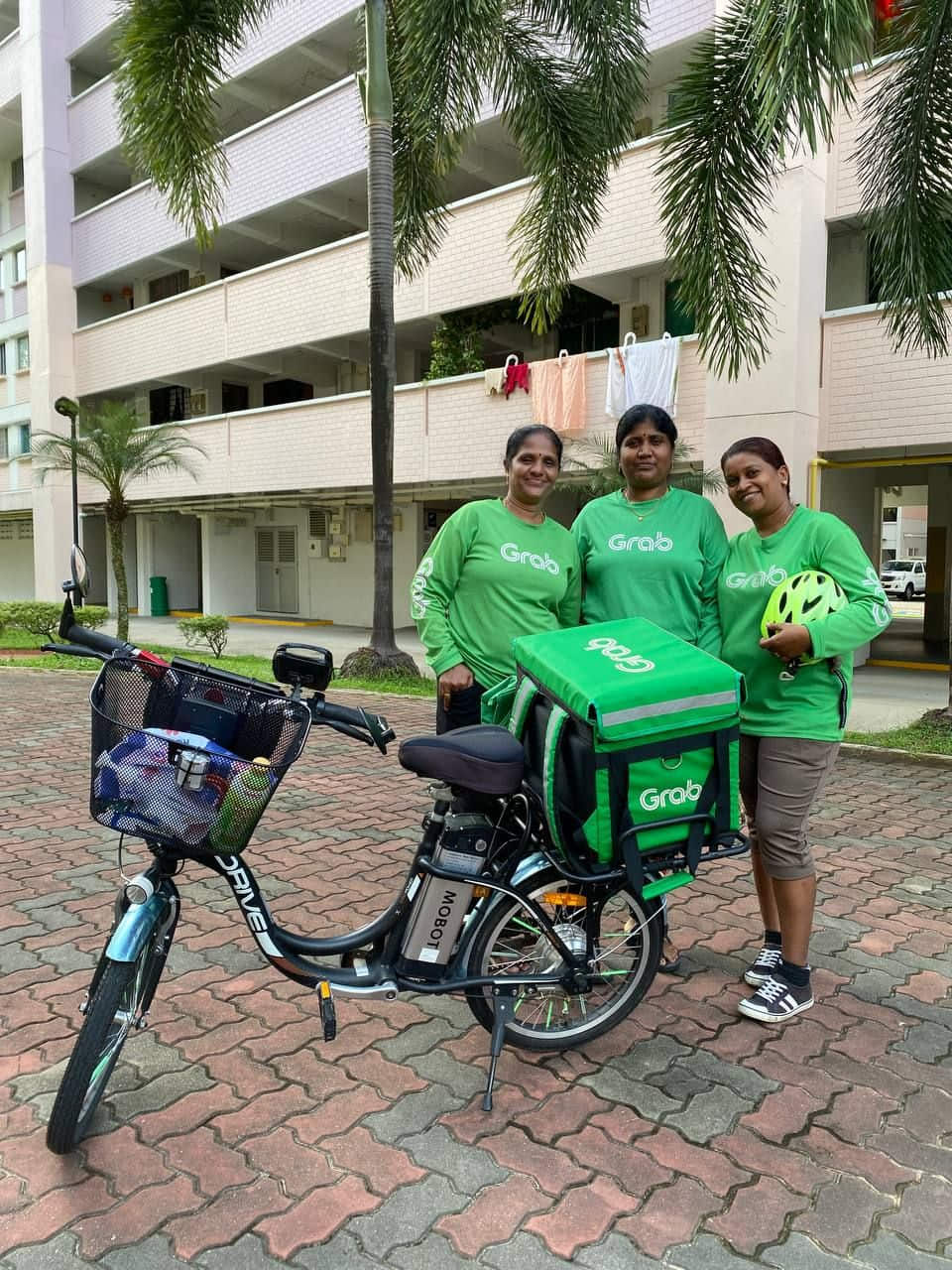 The three have since forged a strong sisterhood whom they turn to for advice, solace and a sense of belonging. Because of her friends, Sheela is now more motivated and excited to work as they call each other every morning before starting their deliveries. "This is so fun compared to delivering on your own, which is so boring", recounts Sheela, who would also go home with her friends after work since they live relatively near each other.
The trio would also call each other almost everyday and talk about anything under the sun. "My two friends are very important to me as we will share all our problems with each other", Sheela exclaimed when asked to describe their friendship, "I'll talk to them if I'm having a bad day and they will give me solutions, so that by the time I'm home the problem is solved and I'm happy". To Sheela, this newfound friendship is one of her greatest takeaways from working with Grab and she wouldn't trade it for the world.
What are some of your interesting or memorable encounters while delivering with Grab?
It was actually my first delivery with Grab! I remember the customer being quite far away and since I was a new rider, I was unfamiliar with reading the Grab map, and I ended up taking an hour to deliver her food. However, when I finally reached the customer's house, she not only did not blame me, she was actually very happy to receive the order and even gave me a $10 tip as a way to thank me. I was so touched by her kindness that I wanted to cry on the spot. This encounter is what motivates me to continue delivering.
What is a challenge you faced on the job, and how did you overcome it?
Before I started food-delivering, I was afraid that the job would be too difficult for me as I couldn't really read the map or ride the bicycle very well. As mentioned, I was lost for over an hour for my first order and had to call my husband for help. However, overtime, I became more confident in riding and am now better at reading the Grab map. Food-delivery is a lot simpler and less scary than I thought it would be and I encourage other females and even mothers to consider this job!
Any advice to other mothers considering delivering with Grab?
Always be mindful of your own safety, be patient and deliver your orders properly. Some customers will try to rush you but I advise you to take your time as your safety is more important. Always think of your children. If you're injured on the job, it will also affect your kids as you won't be able to take care of them. Remember to think twice before doing anything rash! If you deliver an order late, just explain yourself to the customer and I'm sure they'll understand.