Grab Financial Group (GFG) was set up in 2018 with the mission to drive financial inclusion in Southeast Asia. Starting with digital payments, our financial services offerings have expanded to enable our users to make omnichannel payments, take up loans, get protected with microinsurance, and start investing. 
Our products are simple, connected, flexible, and rewarding. Yet, they have been branded and marketed separately, which may not be the simplest to understand for our consumers and partners. Now, we are unifying all of our financial services products under GrabFin, the new parent brand for all of Grab's financial services outside of the digital banks. GrabFin and our Digibanks will make up GFG.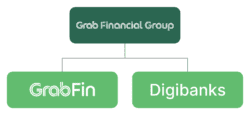 We are launching GrabFin to strengthen Grab's financial services branding and clearly convey our value propositions – GrabFin products are simple to activate, all in one app, and flexible, with no lock-in periods.   
 The GrabFin brand is being rolled out in Singapore and Malaysia by the end of Q2, followed by other Southeast Asian markets in the second half of 2022. 
GrabFin's design philosophy 

GrabFin comes with a refreshing look and distinctive patterns, while still utilising the core colours from the Grab master brand.

Each of the four patterns represents a type of motion, to convey fluidity and flexibility of our offerings so as to best meet the financial needs of our consumers.  
What can consumers look forward to?

Along with the GrabFin brand launch, we will be revamping the way our users discover and engage with our financial products and services on the Grab app by consolidating it all in one place – the GrabFin homepage which can be accessed via the 'Finance' tab in the Grab app.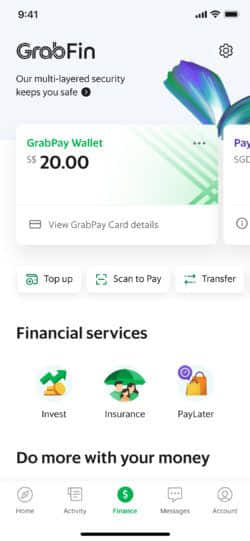 All-in-one financial services page  
Grab users in Singapore and Malaysia who have updated to the latest Grab app by the end of May 2022 will be able to enjoy the new GrabFin experience on their apps.
What can our partners expect?

GrabFin offers a simple and affordable range of financial services tailored specifically to meet their needs, and all seamlessly accessible in-app. For example, our financing product Shop Now Pay Later enables them to get their daily necessities such as groceries first and pay for them later with flexible payment options, and our insurance offerings such as Partner Cover gives them round-the-clock protection and peace of mind both on and off the road. 

GrabFin aims to be synonymous with providing them with the financial tools to grow their businesses. Through GrabFin, merchants  are able to provide their consumers with flexible and rewarding payment options such as GrabPay and PayLater. Merchants who partner with us through GrabFood, GrabMart and GrabPay also unlock access to pre-approved cash advance financing that is simple to apply for within a few clicks in the GrabMerchant app.

What's next?

As we introduce more innovative financial services and features moving forward, the GrabFin homepage will continue to evolve and provide a personalised experience for our consumers and partners so they can access financial services that will best meet their needs in a single platform.