In this month's update, we explain what stagflation means and why it has become a trending  topic lately, we discuss the surprise change in Singapore's monetary policy and we investigate millionaire money mindsets.
Stagflation risk

Singapore unexpectedly tightened its monetary policy

Do you have a millionaire money mindset?
1. Stagflation risk 
Google searches for "stagflation" in October 2021 have reached levels last seen in 2008, according to Google Trends. Stagflation is described as a period of economic stagnation coupled with rising inflation i.e increased consumer prices. Stagflation was first recognized in the 1970s, when oil price shocks led to higher consumer prices, slower economic growth and higher unemployment. Stagflation can be a cause for concern, as policies that are used to reduce inflation may lead to slower growth. While at the same time, policies that are used to boost growth may cause inflation to rise. It is the ultimate "catch-22".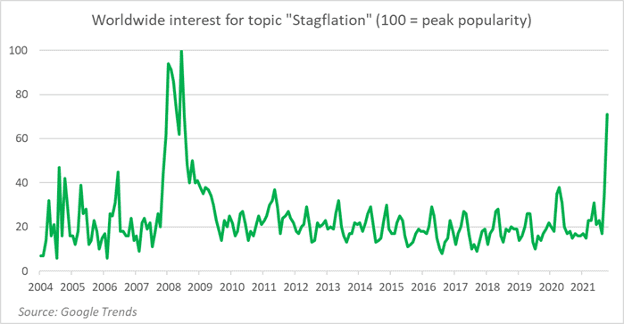 The US economy disappointed in the third quarter with an annualised growth rate of 2%, well below the 2.7% market forecast and sharply below the 6.7% rate in the previous quarter. Meanwhile the annual inflation rate climbed to 5.4% in September 2021, its highest level since 2008. The Eurozone's statistics echoed the US data: the economy grew 2.2% in the third quarter and annual inflation surged to 4.1%, also a 13-year high. Global inflationary pressures worsened amid supply chain disruptions exacerbated by the delta variant and amid soaring energy prices. The energy crunch also weighed on industrial production especially in China where the Manufacturing PMI fell to 49.2, a reading that signals a continued contraction of the factory activity1.
These recent trends prompted some market watchers to draw parallels with past periods of stagflation and to question the global policy makers' transitory inflation thesis. For investors, stagflation episodes have often been hard to navigate since both equities and bonds can post negative returns in such an environment, the former due to sluggish economic growth and the latter due to monetary tightening expectations. Short term instruments that form the majority of the AutoInvest portfolio are not fully immune to stagflation risk but they are typically more resilient than stocks and long-maturity bonds in a broad market sell-off.
2. Singapore unexpectedly tightened its monetary policy
The Monetary Authority of Singapore (MAS) took markets by surprise when it tightened its monetary policy on October 14th. Out of 15 economists surveyed by Bloomberg, only one had anticipated this decision. The move followed South Korea and New Zealand in reducing monetary stimulus and was perceived as a moderate change in stance with regards to transitory inflation as Singapore consumer prices rose 2.5% year-on-year in September 2021.
Unlike other advanced economies, Singapore uses the currency exchange rate instead of interest rates as its main monetary tool due to the country's exposure to global trade and imported inflation. A monetary tightening means the central bank will allow the Singapore Dollar to appreciate at a moderate pace against other currencies in order to partially offset the inflationary pressures. The Singapore Dollar appreciated modestly against the US Dollar on the news and it rose 0.7% in October with SGD/USD moving from 1.36 to 1.35.
Singapore short term rates climbed in the wake of the surprise central bank tightening and the yield on a 2-year Singapore government bond rose from 0.5% to 0.8% in October, a 0.3% spike comparable to the change in yield on a US 2-year treasury note (+0.2% in October).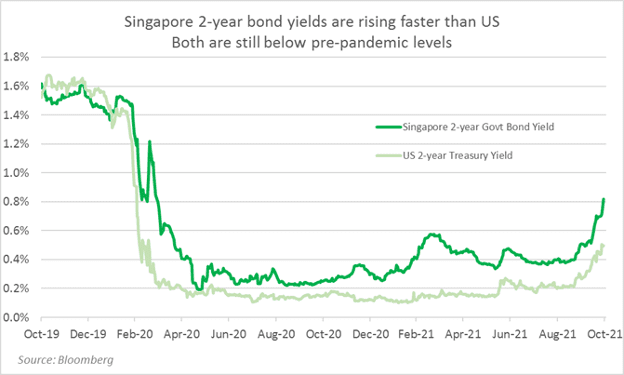 The AutoInvest portfolio return was -0.16% in October which is -1.96% on an annualised basis. This negative performance is primarily driven by the portfolio's exposure to interest rates, especially bonds that mature in over a year, given the rising interest rates2 in October. The return for the year 2021 as of October 29 is 0.25% which is 0.30% on an annualised basis. 
3. Do you have a millionaire money mindset?
Have you ever wondered why some people achieve financial success easily while others struggle with money? Maybe they're better educated or work harder? Or maybe it's just luck!
As Tony Robbins once said 'success is only 20% skill, the rest is mindset'. This means, iIf you want to be a millionaire, it's not about working harder or having good timing, it's about your attitude and beliefs about money. In order to be a millionaire, you have to think like one and act like one. In other words, say as the rich say and do as the rich do. Read here to find out how you can build a millionaire money mindset.
1 The Manufacturing Purchasing Managers' Index is a measure of the factory activity. A reading below 50 signals a contraction. The last two readings of the China Manufacturing PMI were 49.6 in September and 49.2 in October.
2 There is an inverse relationship between interest rates and bond prices: bond prices decline when interest rates rise.
The content in this article is meant for informational purposes only and should not be relied upon as financial advice. Past performance is not necessarily indicative of future performance