In this month's update, we discuss the Omicron variant and how capital markets reacted to it. We also review the bond market returns as well as the impact on AutoInvest's performance. Finally, we explain withdrawals from your AutoInvest account – how you can enjoy greater flexibility by transferring your earnings to your GrabPay wallet and even bank account.
Omicron variant

Market update

AutoInvest withdrawal explained
1. Omicron variant
A new strain of the Covid-19 virus first detected in South Africa was quickly classified as a variant of concern by the World Health Organization (WHO) due to an unusual combination of mutations that could impact transmissibility and sensitivity to vaccines.
While we know little about this Omicron variant, the world's response was swift and sometimes disproportionate, despite WHO's warning against the inefficacy of severe measures such as blanket travel bans. In Singapore, calibrated measures included tighter restrictions on arrivals from southern African countries, the postponement of the Vaccinated Travel Lane (VTL) to Middle-East hubs and additional testing requirements for returning VTL passengers.
The variant has already been spotted in many countries and early data suggests that it has been circulating for a while. The world's major vaccine manufacturers are racing to assess the efficacy of their vaccines against this variant and lab tests are currently underway. Equity markets are taking a step back to assess if the previously held view of continued re-opening is still valid. This uncertainty has spurred market volatility, as we will examine in the next section. 
2. Market update
Global stocks sank upon the "variant of concern" designation on Friday, November 26th: the MSCI World, S&P 500, Nasdaq 100 and Straits Times indices were down 2% and the EuroStoxx 50 index slid by 5%. Volatility spread to other markets: oil price (WTI1) crashed by 13%, Bitcoin price fell 8% and US government bonds yields tumbled. Despite a short-lived wave of optimism on the following Monday, most risky assets ended the month of November in the red, especially after US Federal Reserve chair Jerome Powell ditched the term "transitory" to describe inflation. Market participants interpreted Powell's comment as a signal for a faster tapering of the central bank's asset purchase program, paving the way for a less accommodative monetary policy. The AutoInvest portfolio is not exposed to equities and its price fluctuations through such episodes of volatility are typically much milder.
The bond market, more relevant to AutoInvest, posted mixed returns in November due to the combination of two factors: government bond yield curves flattened and credit spreads2 widened. The former means that holders of long-dated bonds issued by high grade countries (such as the US or Singapore) benefited from lower yields3 while holders of short-dated bonds had narrowly mixed returns on their investments. The latter means the average risk premium that investors demand to hold corporate bonds over safer government bonds has gone up, and those corporate bonds underperformed government bonds. China real estate investment-grade corporate bonds notably underperformed, as their risk premium rose sharply amid recent spillover from non-investment grade into high grade property bonds. The AutoInvest portfolio does not seek exposure to non-investment grade bonds such as Evergrande or Kaisa but it has exposure to high grade real estate bonds. The global government bond index returned 1.1% in November while the global corporate bond index returned 0.2%. The China real estate investment-grade index was down 2.9% in November.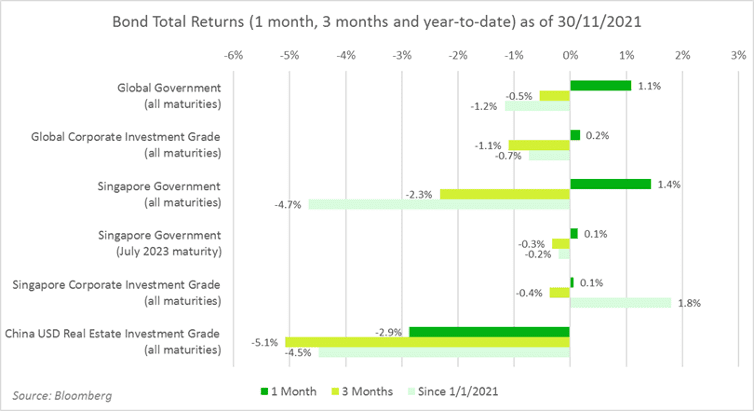 Of all the bond indices and benchmark bonds shown above, only one posted positive returns in 2021 (as of November 30th) and all of them posted negative returns for the 3 months of September, October and November, mainly due to rising interest rates (except for China Real Estate bonds whose negative returns were mainly driven by soaring credit risk premia). This chart illustrates the challenging market conditions faced by bond investors in 2021, including short-term bond holders. On the bright side, the repricing of the bond market has created opportunities for investors on a forward looking basis, as most bond yields have increased substantially in 2021.
The AutoInvest portfolio mainly invests in short-dated Singapore and global investment-grade bonds (including a moderate exposure to China real estate), and does not seek currency risk exposure. The AutoInvest portfolio return was -0.03% in November, which is -0.36% on an annualised basis. The return for the year 2021 as of November 30th is 0.22%, which is 0.24% on an annualised basis.
3. AutoInvest withdrawal explained
Did you know that you can easily transfer what you've earned on AutoInvest to your GrabPay wallet? No minimum lock-in period, no penalties, just peace of mind. Translate your earnings into more rides around town, your favourite food deliveries, and everything you love via the Grab app. 
Prefer to save? We hear you! Simply transfer the amount from your GrabPay wallet to your local bank account effortlessly via FAST. No minimum transfer amount, no transaction fees, so you enjoy greater control and flexibility. 
Read more about how to cash out your AutoInvest earnings here.
1 West Texas Intermediate (WTI) crude oil is one of the main benchmarks in oil pricing. It is the underlying commodity for the futures listed on the New York Mercantile Exchange (NYMEX).
2 Credit spread is a common measure of the risk premium for a corporate bond. It is the difference between the yield on a corporate bond and the yield on a same-maturity, risk-free bond (typically a government bond) denominated in the same currency.
3 There is an inverse relationship between interest rates and bond prices: bond prices decline when interest rates rise. The bond sensitivity to interest rates is called Modified Duration or simply Duration.
The content in this article is meant for informational purposes only and should not be relied upon as financial advice. Past performance is not necessarily indicative of future performance