In this month's update, we see how the easing of China's stringent lockdown restrictions brought about positive changes in the economic outlook . Next, we turn our attention to how inflation continues to be a cause for concern worldwide, with fear of potential stagflation. Lastly, we explore the investment technique of diversification to grow wealth, and how it helps to spread your investment dollar to boost risk-adjusted returns.
China eases lockdown

Renewed inflation fears

Diversifying your investments
1. China eases lockdown
After a 2-month long lockdown, Chinese authorities announced on May 30 that they were gradually easing restrictions in June. It is a relief for exhausted Shanghai residents, and although many restrictions remain, most people can now leave their homes, take public transport and return to work. Similarly, the city of Beijing further eased Covid-19 restrictions.
The news was cheered by the domestic and international business communities worried about the impact of repeated lockdowns on the Chinese economy and on the global supply chain (and therefore on inflation). The stock market also reacted positively and the Shanghai Composite was the best-performing equity index among global benchmarks in May.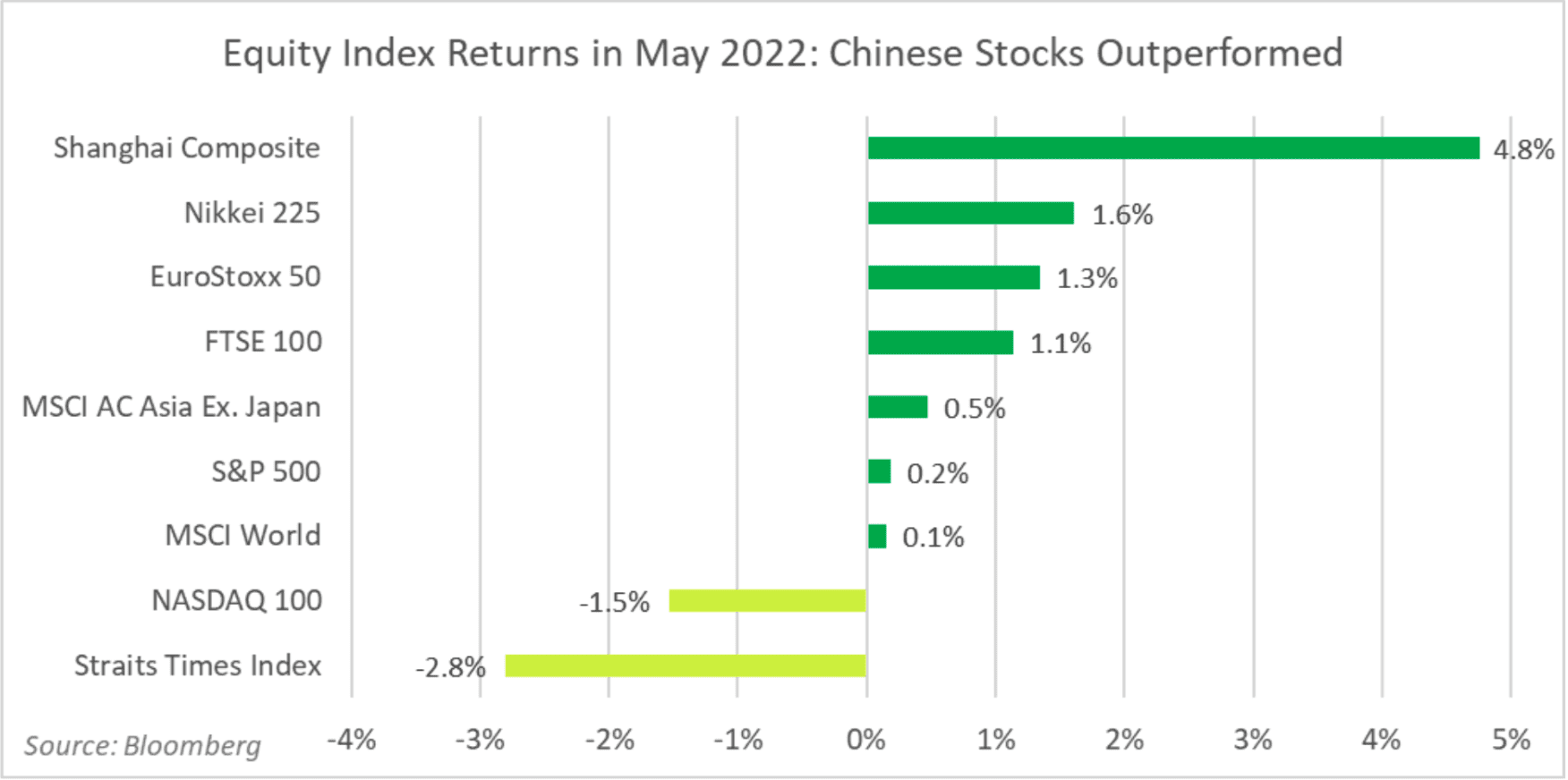 However, China's factory activity shrank in May: the manufacturing purchasing managers' index (PMI) was 49.6, near but below 50 which is the mark that separates contractions from expansions. The contraction is less severe than the previous monthly reading (47.4), partially due to the lockdown easing. The trajectory of China's economic activity remains hard to predict since the authorities reiterated their intention to stick to their zero-Covid-19 approach, one of the world's strictest.
2. Renewed inflation fears
Inflation showed little signs of slowing, according to the statistics released in May. Singapore's annual inflation rate was 5.4% in April, unchanged from March's print. The core inflation rate, which excludes the impact of housing and cars, rose to 3.3%, its highest level since January 2012, largely due to the rising cost of energy and food. The situation is not expected to improve in the near future and even basic food items such as chicken meat could soon become more expensive amid Malaysia's export ban.
Consumer prices continued to rise globally: US inflation was 8.3% year-on-year in April, almost unchanged from the previous print (8.5% in March). UK inflation climbed to 9% in April, a 40-year high. European countries are also experiencing record inflation levels, especially those that rely on Russian gas: 8.7% year-on-year in Germany, as energy prices climbed 38% year-on-year.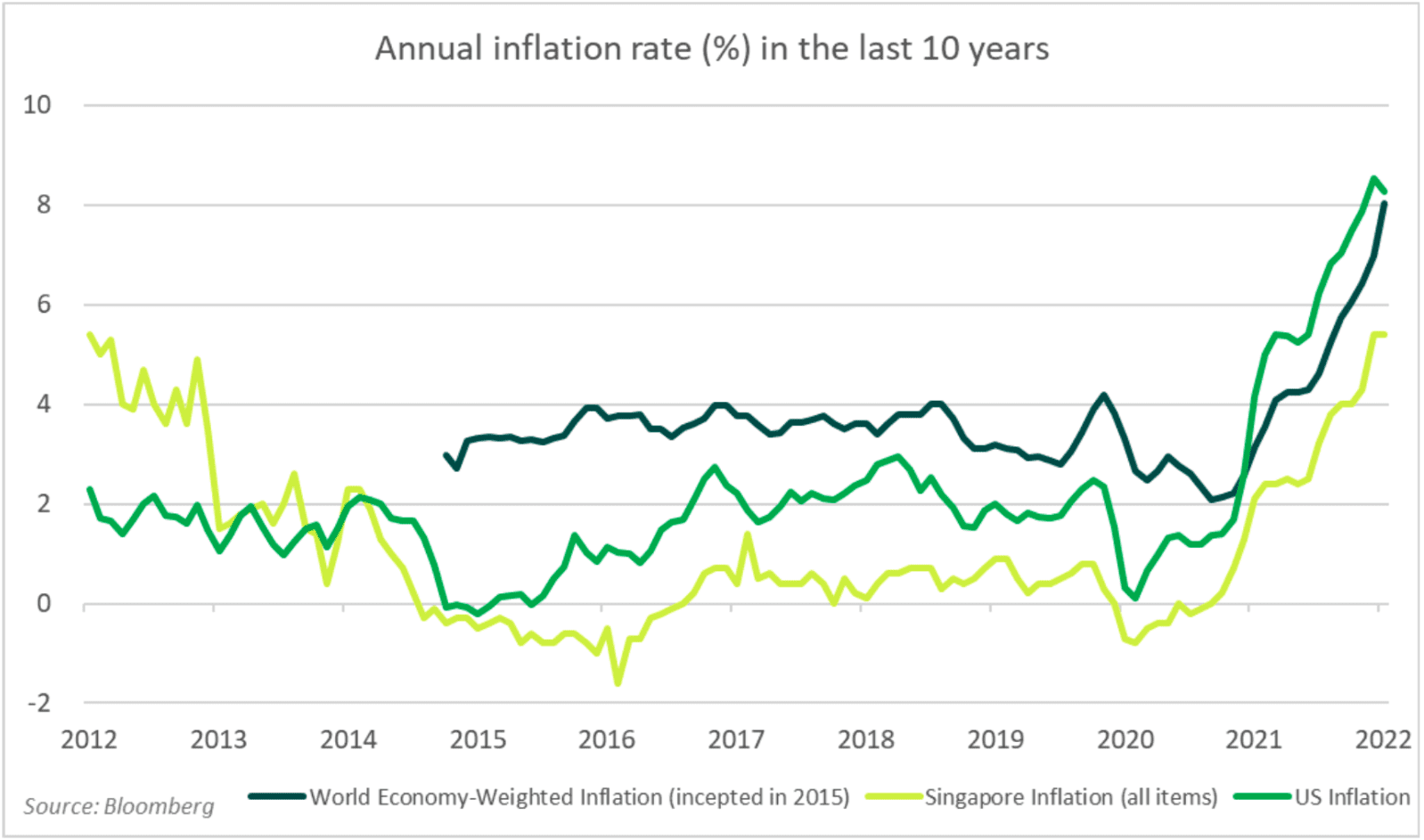 After months of downplaying inflation threats, most global policy makers finally acknowledged the need to stabilize consumer prices, even if the cooling measures and the monetary tightening lead to an economic slowdown (or even a recession), as discussed in our previous update.
The fear of stagflation (the combination of slow economic growth – or economic stagnation – and a high inflation rate, as discussed in our October article) sparked market volatility and while global bonds mostly benefited from expectations of a marginally slower monetary tightening, notably in the US, global equities tested new lows in May, before recovering in the fourth week of the month. The MSCI World monthly return was 0.1% but the index return since the beginning of the year was -12.8% as of May 31.
The AutoInvest portfolio return was 0.19% in May and -0.98% since the beginning of the year. Earn+, our low-risk cash management strategy with an average yield of 2-2.5%, returned 0.32% in April and -0.25% since its launch date on March 21. Short-term bond investments, when held over the relevant investment horizon (12-18 months for Earn+), remain strong allies to help grow your money and caution the impact of inflation.
3. Diversify your investments
Inflation may be on the rise, but you can worry less when you know that your money is growing. One way of passively growing your money is through prudent investing. Not sure how and where to place your money? Diversification is key. Spread your investing dollar across different types of asset classes such as stocks, bonds, commodities, and real estate. 
Find out all about diversification and 3 simple tips on how to do it here!