In this month's update, we look at the two important economic forces that drive market volatility: inflation and recession. Then in light of recent fears over these two forces, we scrutinize asset returns for the first half of this year. Finally, we share the simple steps for setting up a recurring deposit on Earn+, so you can invest on autopilot.
Inflation and recession
Asset returns in the first half of 2022
Setting up recurring deposits on Earn+
1. Inflation and recession
According to Google Trends, interest for "inflation" has peaked to its highest point since inception* and interest for "recession" is surging and approaching peaks last seen at the beginning of the Covid-19 pandemic (2020) and during the Global Financial Crisis (2007-2009).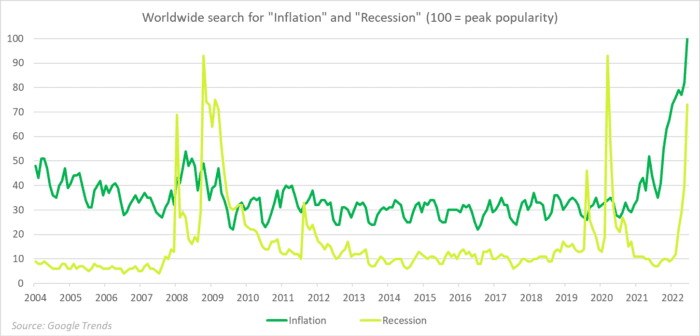 The surge in interest for "inflation" is no surprise: as discussed in our previous articles (May'22 monthly update, Apr'22 monthly update and Jan'22 monthly update), consumer prices have soared and inflation accelerated and broke multi decade-old records. The recession fear is a more recent phenomenon: global economies started sending mixed signals on economic activity and growth due to the combination of headwinds (for instance, monetary policy tightening in response to inflation, geopolitical conflicts and lower consumer confidence index) and tailwinds (notably Covid-19 measures easing and country re-opening, for instance in China). Prominent economists and market strategists have recently raised their recession probability in their latest forecast.
These two forces can have a significant impact on asset returns and market volatility in an environment where investors and traders are desperately looking for signals. For instance, a higher-than-expected inflation print typically increases the odds of higher interest rates, which in turn will typically affect interest rate-sensitive securities such as government bonds or stocks of companies that rely on cheap funding. Another example is when an economic growth forecast gets downgraded, which can result in lower company earnings and trigger an equity sell-off. On the other hand, investment-grade bonds** can react positively if market participants think that slower growth will push central banks to adopt or extend accommodative monetary policies (such as low interest rates) in order to boost economic growth.
2. Asset returns in the first half of 2022
Very few markets posted positive returns in the first half of 2022. The bond market was rattled by inflation, as investors gradually factored in an acceleration of the interest rate hike*** cycle. The Global Aggregate Bond index, which tracks the average return on global (all-maturity) investment-grade bonds, was down 9.1% in the first half of 2022. Singapore bond returns were not much better, with a 8.2% average decline for the SGD investment-grade bond market. Short-term bonds, relevant to GrabInvest products, are less sensitive to interest rate hikes than medium and long-maturity bonds, but are not fully immune to market volatility.
On the equity front, most US and global equity indices posted double digit negative returns in the first half of 2022 and the S&P 500, the most popular US equity gauge, had its worst first half since 1970 with a -20% return. These drawdowns were mainly driven by the two forces discussed in the first section of this article: the inflation scare and the fear of an economic slowdown. Interestingly the Straits Times index, which tracks the average return on the 30 largest and most liquid companies in Singapore, posted a modest positive return (+1.4%). That said, in the long term, Singapore stocks have underperformed their US peers, as the domestic market is more concentrated in financials and real estate and less exposed to growth stocks.
While equity and bond markets were a sea of red, the commodity complex posted strong returns in the first half of 2022, especially in the energy sector. Crude oil prices climbed 40.6% on the back of Russia's war on Ukraine and energy stocks, which are highly correlated to oil, were one of the very few winners in this market turmoil.
The AutoInvest portfolio return was -0.14% in June and -1.12% since the beginning of the year. Earn+, our low-risk cash management strategy with a target yield of 2-2.5%, was down 0.41% in June and was down 0.65% since its launch date on March 21. Short-term bonds typically experience episodes of volatility and drawdowns as a result of higher interest rates, but when held to maturity they typically achieve a return equal to the yield as of the time of purchase.
3. A step-by-step guide for setting up recurring deposits on Earn+
Don't you love that satisfying feeling of switching on the washing machine or the dishwasher? Or having the doors at malls automatically open before you so you don't have to touch the handles?
Yep, sometimes, there's no need to work so hard. Especially when there's something getting the work done and freeing up time for you to do things you enjoy. We're talking about setting up recurring deposits on Earn+! In this article we show you how to set up recurring deposits on Earn+ in 4 simple steps. Make your idle cash work harder even when you're snoozing! Read more here
 *Google Trends data started in 2004.
**Investment-grade bonds are those that have a low default risk. They are typically government bonds issued by developed countries or corporate bonds issued by highly solvent companies. Non investment-grade bonds, often called high-yield bonds or junk bonds, carry significantly higher risk. Both Earn+ and AutoInvest invest only in investment-grade bonds.
***There is an inverse relationship between interest rates and bond prices: bond prices decline when interest rates rise. The bond sensitivity to interest rates is called Modified Duration or simply Duration.