In this month's update, we look at MAS' effort in countering inflation by tightening its monetary policy earlier than expected, how the equity and bond markets rallied despite a challenging climate, and more about inflation's bad twin – stagflation.
Singapore's surprise monetary tightening

Assets rally despite darker economic outlook

What is stagflation?
1. Singapore's surprise monetary tightening
On July 14th, the Monetary Authority of Singapore (MAS) surprised market participants (although not all of them) by tightening its monetary policy "off-cycle", meaning ahead of the next scheduled policy meeting in October. The move is meant to tame inflation which has recently accelerated, as confirmed by the Core Consumer Price Index (CPI) data released a week after the policy announcement. Core inflation hit 4.4% year-on-year in June, the highest level since 2008.
Unlike most advanced economies where short-term interest rates are widely used to attempt to control inflation, Singapore uses the currency exchange rate as its main policy tool due to its reliance on global trade and imports. By providing support to the Singapore Dollar against major currencies, notably the US Dollar, such monetary tightening is expected to help restore price stability, especially for imported goods or energy.
2. Assets rally despite darker economic outlook
The International Monetary Fund (IMF) cut its global growth outlook for 2022 and 2023 again. The institution forecasts a 3.2% growth this year, down from a 3.6% prediction in April and 4.4% in January amid a troubled geopolitical context (the Russia-Ukraine war), global monetary tightening in response to inflation and China's aggressive Covid-zero strategy. China's economy narrowly avoided a contraction in the second quarter while the US economy shrank for the second quarter in a row, fueling recession fears.
Despite the darkening outlook, the equity market posted stellar returns in July: the MSCI World (+8%), the S&P 500 (+9.2%) and the Nasdaq (+12.6%) had their best month this year. The bond market, more relevant to AutoInvest and Earn+, posted mostly positive returns globally and in Singapore, although the returns were contrasted, as long-maturity bonds outperformed short-term bonds (the most relevant sector for AutoInvest and Earn+).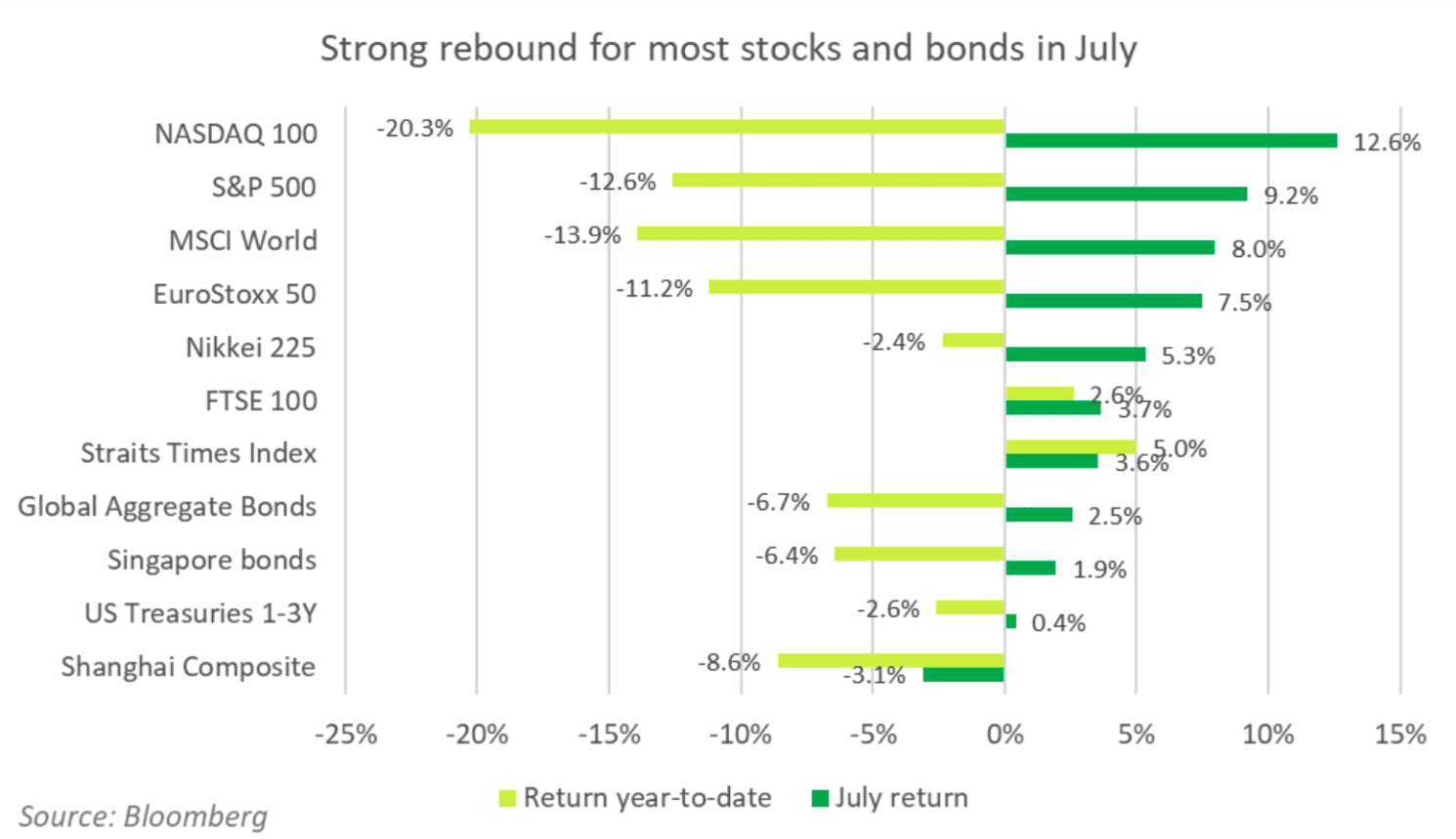 There were three main reasons for this seemingly paradoxical outcome. First, the earnings season was better than feared, especially for US tech giants. Second, the grain deal allowed Ukraine to resume grain exports through the Black Sea and signalled a potential improvement of the geopolitical context in Eastern Europe. Finally, the comments from US Federal Reserve's Powell after hiking interest rates by 0.75% in response to inflation (a move that was largely expected by the market) were perceived as "dovish", meaning most investors now think the US central bank will go slower and softer on monetary tightening going forward.
The AutoInvest portfolio return was +0.08% for the month of July and the Earn+ portfolio return was -0.07%. AutoInvest outperformed Earn+ due to its lower exposure to the Fullerton Short Term Interest Rate fund, which posted a negative return (-0.34%) in July.
3. What is stagflation? 
Ever been caught between friends in a cold war? Siding either party would affect your relationship with the other. It feels like walking on eggshells!
That's what stagflation looks like for governments. As a thorny combination of a high inflation rate, a high unemployment rate, and sluggish economic growth, stagflation resists any easy solution. This is because measures to resolve the three individual problems are often at odds with one another. 
Find out all about stagflation – what causes it, Singapore's outlook, and how you can best prepare yourself if and when it comes. Read here.