In this month's update, we take a closer look at the record-breaking inflation numbers in 2021 as well as their drivers. We also discuss the bond market sell-off and returns generated by AutoInvest. Lastly, we show you how to adopt a positive money mindset that's essential for multiplying wealth.
Inflation hits fresh records
Bond market sell-off and AutoInvest returns
5 secrets to building a positive money mindset
1. Inflation hits fresh records


Inflation numbers published in January for the year 2021 were even higher than previous prints. The US consumer price index (CPI) surged 7% in 2021, the most since 1982. Singapore inflation was 4%, the highest since 2012, while core inflation, which excludes housing and private transport costs, was 2.1% for the year. The World Economy Weighted Inflation index, a gauge for global inflation, jumped to 5.7%, the highest since the index was launched in January 2015.
While the pandemic-induced supply chain bottlenecks are a key driver of this unusually high inflation, an increasing number of prominent economists and market participants are blaming inflation spikes on central banks, notably the US Federal Reserve, for being too slow to end their ultra-accommodative monetary policy. Most central bankers have now retired the "transitory inflation" rhetoric that was widely used until late 2021 and the US bond market is now pricing up to 5 rate hikes1 in 2022. In Singapore, the MAS unexpectedly tightened its monetary policy2 on January 25, well ahead of the next policy meeting in April 2022, in response to high inflation data published a day earlier. The bond market now anticipates further tightening at the next policy meeting.
2. Bond market sell-off and AutoInvest returns

As discussed in our previous articles (here and here), a monetary tightening cycle can be difficult to navigate for bond investors, as bond yields tend to rise3. However, the volatility of short-term bonds is typically mild due to their lower sensitivity to interest rates as compared to long-maturity bonds.
Bond yields surged in the wake of inflation data released in January and amid the expectation that central banks will reduce or end their monetary stimulus. The yield on both Singapore and US government bonds maturing in 2 years (a data point relevant to AutoInvest) rose above 1% as of 31 January 2022 after being close to zero from March 2020 to the end of 2021. The fact that those yields are now close to their pre-pandemic levels signals that the worst pain for the short-term bond market is probably over.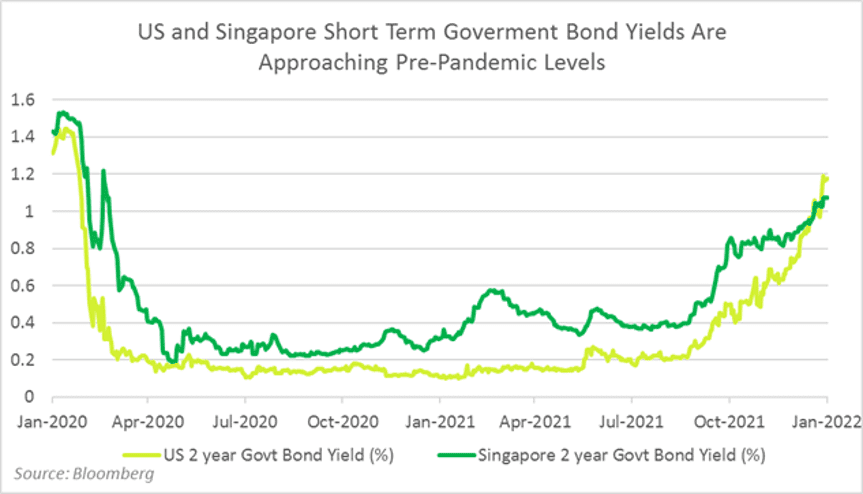 The AutoInvest portfolio return was -0.29% in January. While below expectations, this performance is in line with cash management products with a similar risk profile: AutoInvest allocates approximately half of the portfolio to money market funds (that portion of the portfolio was stable in January) and the other half to short-duration bond funds (which had negative returns in January on the back of higher interest rates). The relevant benchmarks for these short-duration bond funds are the Singapore 2-year Government bond (-0.18% in January), the Global Corporate Bond 1-3 index (-0.56%), and the Asia ex-Japan Credit 1-3 index4 (-1.43%).

The Global Aggregate Bond index, less relevant to AutoInvest due to its longer maturity profile, dropped by 1.57% in January 2022, its worst monthly performance since November 2016. Other riskier asset classes such as equities and crypto also experienced steep declines: the MSCI World equity index was down 5.3% and the Nasdaq 100, heavily concentrated in tech stocks, fell by 8,5%. Bitcoin and Ethereum sank by 17% and 27%, respectively. These broad market sell-off episodes are part of the investment journey and often result in short-term blips in the performance of low-risk investment products such as AutoInvest. The bond market repricing means that bond yields are now higher and there is a better chance to achieve a return in line with the investment objectives over the short-to-medium term.
3. 5 secrets to building a positive money mindset

We're sure you've heard of positive thinking – choosing to see the good in every situation.
Did you know that you could think positively about money as well?
Beyond the head knowledge like knowing the best savings account or constructing a well-diversified investment portfolio, it's also about how you think about money and your relationship with it.
Just a slight reboot in perception can change the way you manage your finances, guiding bigger outcomes such as how quickly you clear that loan, save up your target amount, and hit other money goals.
Growing your wealth begins with the right headspace.
Get started with these 5 quick tips.
1 The US Federal Reserve uses its key interest rate (the Federal funds rate) as one of the primary tools for the US monetary policy. A rate hike refers to an increase in this key interest rate, typically by 0.25%, while a rate cut refers to a decrease.
2 Singapore uses the currency exchange rate instead of interest rates as its main monetary tool due to the country's exposure to global trade and imported inflation. A monetary policy tightening means the Monetary Authority of Singapore (MAS) raises the rate of appreciation of the Singapore Dollar.
3 There is an inverse relationship between interest rates and bond prices: bond prices decline when interest rates rise. The bond sensitivity to interest rates is called Modified Duration or simply Duration.
4The maturity filter "1-3" means those indices have constituent bonds that mature in 1 to 3 years and an average duration close to 2 years, in line with the composition of short-duration bond funds.
The content in this article is meant for informational purposes only and should not be relied upon as financial advice. Past performance is not necessarily indicative of future performance.