In this month's update, we bring you through a quick recap on how war broke out between Russia and Ukraine, and how the political crisis had spillover effects in the economic sphere as international sanctions fuelled volatility in the market. Lastly, we look at how saving in such a climate becomes ever-important, and how you can amp up your savings the stress-free way.
The Russia-Ukraine crisis descended into war
Economic sanctions spurred market volatility
Save right, stress no more
1. The Russia-Ukraine crisis descended into war

After weeks of tensions, Russian forces attacked several military targets in neighboring Ukraine on February 24th before sending more troops and firing missiles across the country, including in the now-besieged capital Kyiv. In a televised address, Russia's President Putin sought to justify the invasion on national security grounds and made it clear that Moscow wants the next Ukrainian government to be Russia-friendly.
The Russian attack immediately drew an international outcry with US and West European leaders unanimously condemning Putin's move, while Chinese officials held off on publicly criticizing it. Western allies promised to retaliate with heavy economic sanctions aimed at Russian institutions and corporations, especially those controlled by Putin's inner circle. In Singapore, Foreign Affairs Minister Balakrishnan announced targeted sanctions such as export controls and blocking bank transactions linked to certain Russian institutions, citing the "unprecedented gravity" of the situation. Global corporations and financial institutions, such as Britain's BP and Norway's NBIM1, also announced they will divest their multi-billion dollar stakes in Russian equities.
2. Economic sanctions spurred market volatility

The war and the sanctions that followed sent shock waves through capital markets. Russian stocks sank by 30% and the Ruble fell by 26% in February, as investors rushed to sell their assets linked to the Kremlin. AutoInvest has no direct exposure to Russia or Ukraine.
Meanwhile, commodity and energy prices climbed, as market participants were assessing the potential impact of sanctions on the world supplies: both Russia and Ukraine are major grain suppliers, Russia is the world's third-largest oil producer and 41% of the natural gas consumed in the European Union is imported from Russia. Those prices have a direct impact on global inflation (as discussed in prior monthly updates here, here and here) and their evolution is carefully monitored by investors and by governments.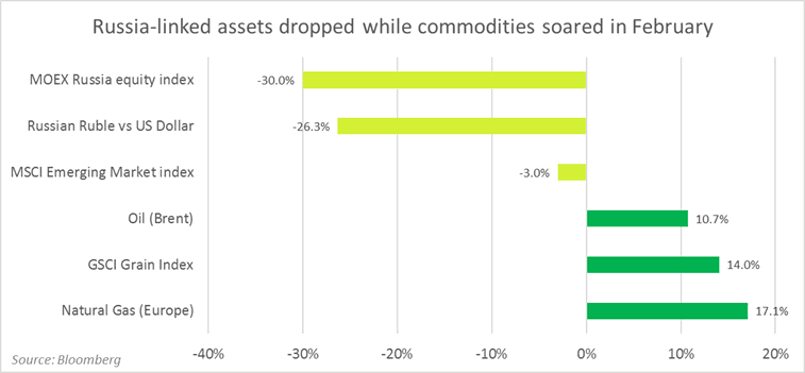 The Russia-Ukraine crisis also weighed on global equity returns in February as investors feared that higher energy prices may negatively affect the global economy, especially in Europe: the MSCI World index return was -2.5% and the MSCI Europe index return was -3%. The bond market, more relevant to AutoInvest, pared losses in the second half of February as investors rotated from risky assets into safe havens. However, the Global Aggregate Bond index posted a monthly return of -1.3%, as corporate bonds underperformed treasuries and the positive impact from the late-February "flight to quality" did not fully offset the earlier negative impact from rising interest rates.
The AutoInvest portfolio return was -0.19% in February, as the short-term bond market volatility reached levels last seen at the beginning of the pandemic. While history suggests those volatility spikes do not last longer than a few weeks, as shown on the below chart, the geopolitical context might cause bond yields to fluctuate until the Russia-Ukraine conflict deescalates, Volatility also brings investment opportunities: bond yields (and the AutoInvest portfolio yield) are now higher than in 2021, meaning that the chances of achieving strong returns over the short-to-medium term are higher than a few months ago. Finally, investment-grade bonds are often sought after during geopolitical crises, as investors tend to reduce their exposures to risky assets (such as equities) and park their cash into safer assets (such as high-grade bonds).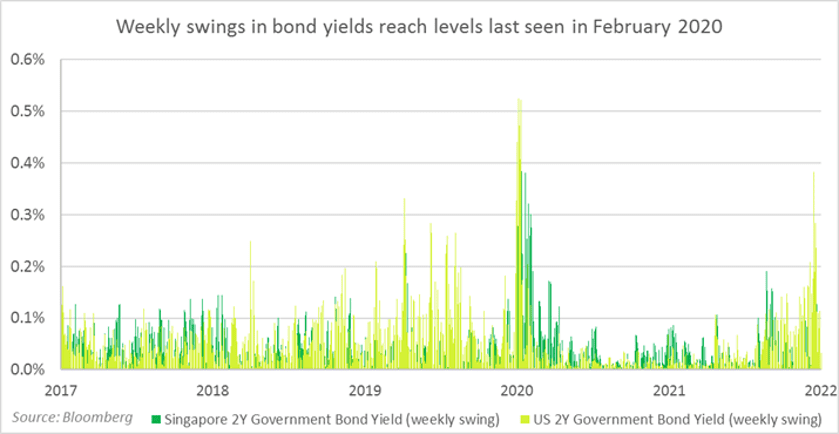 3. Save right, stress no more

As Shelby M.C Davis, founder of Davis Selected Advisors, says, "History provides a crucial insight regarding market crises: they are inevitable, painful and ultimately surmountable".
Political turmoil and economic sanctions that drive market volatility may be scary, but not all is lost. A wise investor knows that calmness in calamity is key to success.
At times like this, a steady savings plan can help to absorb the shock of market downturns, and put you in good stead to face the uncertainties of life.
Finding it tough to save your target amount? We help you take stress out of the picture with these 4 savvy tricks that make saving easy.
Start being a super saver; head here!
1 Norges Bank Investment Management (NBIM) manages Norway's US$1.4 trillion sovereign wealth fund.
The content in this article is meant for informational purposes only and should not be relied upon as financial advice. Past performance is not necessarily indicative of future performance.