In this month's update, we examine the economic growth data for 2021 and discuss the outlook for the year ahead. We also review market returns across core asset classes and the drivers of short-term bond and AutoInvest returns.
Singapore's economy grew 7.2% in 2021

Market recap and AutoInvest performance
1. Singapore's economy grew 7.2% in 2021

Singapore's economy expanded 2.6% in the fourth quarter of 2021, well above the 2% market consensus. This brings the annual growth rate to 7.2% for 2021, the highest figure since 2010. This strong growth follows a 5.4% contraction in 2020, the country's worst full-year recession since independence.
While all economic sectors grew in 2021, the manufacturing sector stood out with a 12.8% expansion amid high global demand for electronic components. The construction sector rebounded 18.7%, as domestic restrictions were gradually lifted, but its contribution to the GDP remains lower than pre-pandemic levels amid labor shortages owing to border restrictions. Aviation and tourism-related sectors also gained momentum in 2021, although a return to pre-pandemic levels is not expected before 2023. The government expects Singapore to achieve 3% to 5% economic growth in 2022 amid further gradual reopening and despite headwinds from the economic slowdown in China and the global spread of the Omicron variant.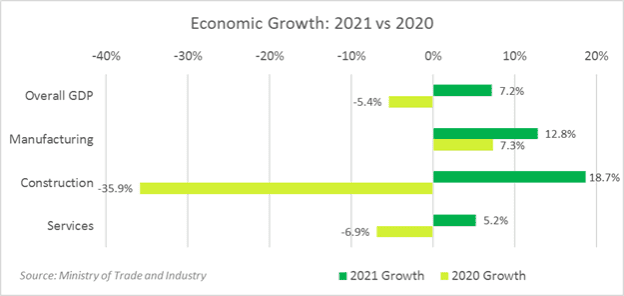 Inflation also accelerated in 2021: consumer prices climbed 3.8% year-on-year in November, above the 3.4% market consensus. Core inflation, which excludes rents and private transports, rose to 1.6%. The combination of a strong economic rebound and rising inflation paves the way for further monetary tightening by the MAS at its April meeting, according to a growing number of market participants. This means Singapore's central bank could allow the Singapore Dollar to appreciate1 faster to offset inflationary pressures. A monetary tightening cycle can be difficult to navigate for long-maturity bond investors, as bond yields tend to rise2 . However, the volatility of short-term bonds is typically much milder due to their lower sensitivity to interest rates.
2. Market recap and AutoInvest performance

2021 was an action-packed year for the stock market amid global recovery and exceptional fiscal and monetary stimulus: the S&P 500 returned 28.7% and the MSCI World returned 22.4%. The Straits Times Index, a reference gauge for Singapore stocks, lagged behind with a 13.6% annual return in 2021. The Hang Seng index, which tracks the performance of Hong Kong-listed shares, declined by 11.8%, as its Tech sub-index sank by 33% amid China crackdowns, in stark contrast with US Tech shares.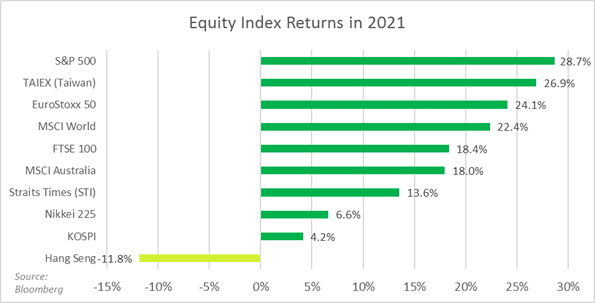 Crypto assets posted stellar returns in 2021: Bitcoin price was up 60% and Ethereum soared 399% amid further adoption of digital assets by both retail and institutional investors. Other notable market movers include the commodity complex: crude oil price (WTI3) climbed 55% while gold dropped 4%. On the foreign exchange front, most global currencies and ASEAN currencies, including the Singapore Dollar, weakened against the greenback. The Chinese Yuan was a notable exception and appreciated 2.7%,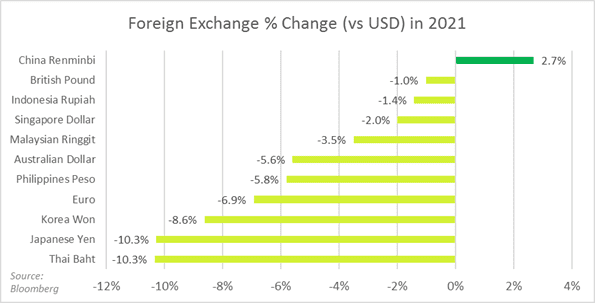 Finally, the investment-grade bond market, the most relevant to AutoInvest, posted mostly negative returns amid rising bond yields, as market participants anticipated monetary tightening in the short-to-medium term future in response to inflationary pressures. The Global Aggregate Bond index was down 1.4% and the Singapore Government All-Maturity Bond index was down 4.8% in 2021, while the total return on a 2-year Singapore Government bond, less sensitive to interest rates than long-maturity notes, was -0.2%. Higher-yielding indices such as the Asia Investment-Grade Credit index were flat (0% in 2021).
A well-diversified portfolio of short term high-quality corporate bonds typically generated small but positive returns in 2021 due to the combination of 2 opposite effects: 
(i) rising interest rates negatively affected bond prices
(ii) credit spread4 tightening helped boost returns on most corporate bonds
The AutoInvest portfolio return was -0.02% in December, which is -0.29% on an annualised basis. The return for the year 2021 is 0.19%. The returns were positive in the first, second and third quarters despite episodes of volatility, especially in April amid Huarong stress. The fourth quarter has been challenging: the negative return is mainly driven by rising interest rates and the repricing of some corporate bonds, notably in the China property sector (as previously discussed in our monthly updates here and here). AutoInvest has not been exposed to any defaulted bonds. The below return chart illustrates the diversification benefit of such a low-risk cash management product: it takes advantage of yield opportunities offered by short term corporate bonds while pure money-market funds help protect the investment portfolio against downside volatility.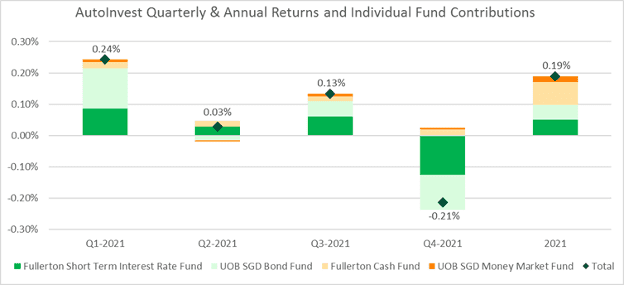 1 Singapore uses the currency exchange rate instead of interest rates as its main monetary tool due to the country's exposure to global trade and imported inflation.
2 There is an inverse relationship between interest rates and bond prices: bond prices decline when interest rates rise. The bond sensitivity to interest rates is called Modified Duration or simply Duration.
3 West Texas Intermediate (WTI) crude oil is one of the main benchmarks in oil pricing. It is the underlying commodity for the futures listed on the New York Mercantile Exchange (NYMEX).
4 Credit spread is a common measure of the risk premium for a corporate bond. It is the difference between the yield on a corporate bond and the yield on a same-maturity, risk-free bond (typically a government bond) denominated in the same currency.
The content in this article is meant for informational purposes only and should not be relied upon as financial advice. Past performance is not necessarily indicative of future performance.