In this month's update, we look at how events around the world, such as war and covid-coping strategies, may lead to an economic slowdown. We also examine the adverse market reaction and its impact on core asset classes. Lastly, we share how you can manage your money well despite the gloomy economic climate, and enjoy your best years to the fullest.
Russia-Ukraine war and inflation cloud global outlook

Broad market sell-off

Keep calm and carry on with great money management habits
1. Russia-Ukraine war and inflation cloud global outlook
The global economic outlook deteriorated in April, as the Russia-Ukraine war escalated and China intensified a trade-crippling Covid-zero strategy, fueling inflation on vital products such as food and energy and causing further global supply chain bottlenecks. In their latest blog posts and reports, the International Monetary Fund (IMF) and the World Bank revised their global growth projections downwards. The IMF's growth forecast for 2022 is 3.6% which is 0.8% lower than the previous outlook 3 months earlier, due to a severe expected economic contraction in Russia and Ukraine and the repercussions on European nations and the rest of the world.
A slower economic growth is a source of concern for policy makers, including the Monetary Authority of Singapore (the country's central bank), as most nations have barely started withdrawing their exceptional pandemic-era monetary stimulus in order to combat inflationary pressures. Inflation hit a 40-year high in the US in March and a 10-year high in Singapore, where the core inflation measure (which excludes housing and private transport) climbed to 2.9% year-on-year after a 2.2% print in February. The main concern for policy makers is that a monetary tightening, necessary to combat inflation, may result in an economic slowdown and may even lead to a recession. It is too early to call this environment a stagflation (the combination of economic stagnation with high inflation, as discussed in our October monthly update) because unemployment remains low in most advanced economies, but those warning signs can not be ignored and have spooked investors in April.
2. Broad market sell-off
There was no place to hide in April, as the price of virtually all assets declined, except for commodities on the back of the Russia-Ukraine war. Most stocks sank (although Singapore equities continued to outperform their global peers) and even traditional "safe havens" such as US treasuries, gold and the Japanese Yen fell.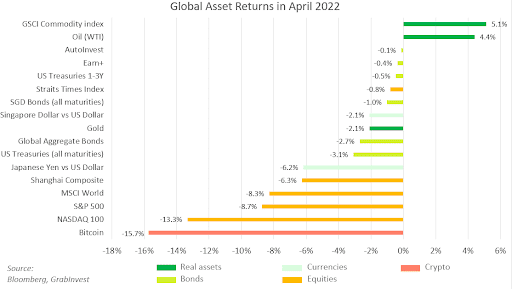 With an average return of -8.3% in April 2022, global stocks posted their worst monthly decline since the pandemic raged back in March 2020, as markets absorbed the darkening economic outlook, higher inflation (and imminent monetary tightening to combat it) and the first signs of weaker earning prospects sent by some tech behemoths, most notably by Amazon, whose stock plummeted 24% in April, erasing nearly $400 billion in market value with more than $200 billion in one single day. The technology-heavy Nasdaq 100 index plunged by 13.3% in April, its worst monthly return in more than 2 decades.
Bonds were not immune to the sell-off and did not cushion balanced portfolios¹ against equity losses as they often do. An equity sell-off on the back of a worsening economic outlook is often followed by more accommodative policies to promote growth, and bonds typically benefit from lower projected interest rates². But since price stability is now the central banks' main objective, accommodative monetary policies are being phased out at a faster pace and the resulting interest rate hikes (and anticipation of future hikes by market participants) rattled the bond market. However, short term bonds, the most relevant market segment to AutoInvest and to Earn+, were relatively spared by the sell-off due to their lower interest rate sensitivity.
The AutoInvest portfolio return was -0.14% in April and -1.16% since the beginning of the year. Earn+, our new cash management strategy with an average yield of 2-2.5%, returned -0.36% in April and -0.55% since its launch date on March 21. Low-risk bond portfolios are not immune to short-term volatility and drawdowns, but when held over the relevant investment horizon (1-2 years), they remain strong allies to help protect your purchasing power in an inflationary environment.
3. Keep calm and carry on with great money habits
War, inflation, and the possibility of a recession. These are certainly depressing news but that doesn't mean you have to feel defeated or discouraged. Tough times often bring out true strength in people – renewed mindsets with greater grit and resilience, and powerful habits that serve you well even after the skies clear.
In fact, savvy money habits can help you live your best life in your 20s, despite the dull economic outlook. No need to put your bucket list items on hold when you have great financial planning to back you up. Embrace all that life and youth has to offer!
Start managing your money like a pro with these 7 money hacks perfect for your 20s.
¹ Long-term investment strategies typically allocate the majority of the funds into liquid "core" asset classes such as stocks and bonds. A popular example of such a balanced strategy is the "60/40" portfolio (60% equities and 40% bonds). AutoInvest and Earn+ do not belong to that category given their short-to-medium term investment horizon: they invest exclusively into money market instruments and low-risk, low-duration bonds.
² There is an inverse relationship between interest rates and bond prices: bond prices decline when interest rates rise and vice versa. The sensitivity to interest rates is called Modified Duration or simply Duration.
The content in this article is meant for informational purposes only and should not be relied upon as financial advice. Past performance is not necessarily indicative of future performance.