February has given us a new budget in Singapore with the motto to shift from containment to restructuring. The key takeaways that are relevant for our portfolios are that: 
The extraordinary support for the economy continues. The support is very broad based and apart from broad job measures, industry specific schemes, the budget also includes SGD 900m (nearly a billion!) in the household support package
The budget deficit for the year is estimated to be 2.2% of GDP. For Singapore, that is a large number; the country had a budget deficit only twice since 2010 and one of those was 2020. In an international context this is a small number: Malaysia is aiming for a budget balance of -6% and the U.S. is aiming for -10.3% which would be its second largest deficit since 1945.
The government currently plans to not use reserves for this fiscal year. Which means that the deficit will result in more new government bond issuance. More supply usually means higher interest rates as prices drop.
We have also seen concerns around inflation drive other bond markets to higher yields. Because inflation erodes the invested value of the bonds, investors are demanding higher returns. Those higher interest rate costs will ultimately lead to higher cost for governments and businesses to service their debt.
The 10-year benchmark Singapore government bond has seen its yield rise from 0.83% at the beginning of the year to 1.31% at the end of February. The rise is less dramatic for the 5-year segment where yields rose from 0.45% to 0.68% and barely noticeable in the 3-year or shorter tenors.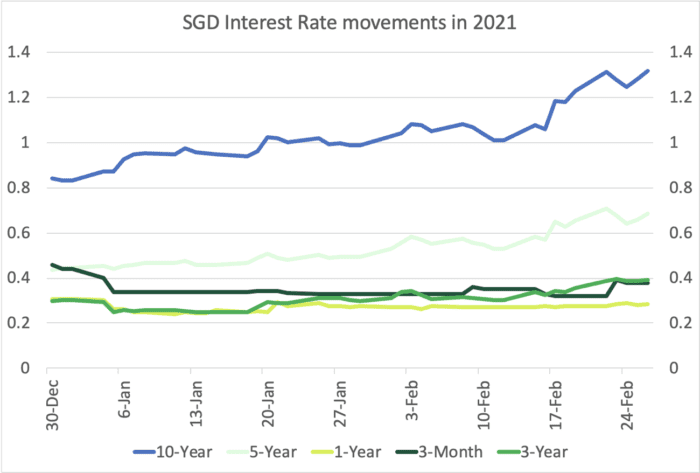 For the funds in AutoInvest, the Money Market funds have an average maturity of less than 90 days and the short-term interest rate funds have been managed to near 2 years even though they are able to reach up to 3-year average maturity in their portfolios.
The recent tumult in government bond markets does not have a significant impact on the AutoInvest portfolio. The maturity range that is relevant is very short and not impacted by the current re-pricing of yields.
During the month of February the returns for the AutoInvest portfolios were 0.07% which is an annualized rate of 0.89%.  The slight miss compared to the return guidance is due to the above mentioned impact on the long end of the market. If the widening of yields that is currently happening in the 5yr and 10yr maturity tenor continues then it is possible that the 3yr and even the 1yr maturity range is subject to higher yields. This could lead to lower AutoInvest returns in the short term as prices of securities move in opposite directions to yields. However, the higher yields present an opportunity to reinvest the portfolio redemptions at the new higher levels and this would ultimately lead to higher return prospects after the yields rise.
The content in this article is meant for informational purposes only and should not be relied upon as financial advice. Past performance is not necessarily indicative of future performance