Meet the women advancing Grab's mission of driving economic empowerment and financial inclusion across Southeast Asia. Find out what excites them about the burgeoning regional FinTech scene, their aims at Grab, leadership styles, and advice for aspiring women leaders to #breakthebias and thrive.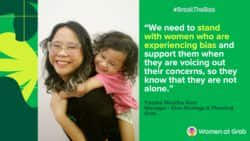 Yasaka Rani Mustika Putri is a Strategy and Planning Manager at GrabKios which provides digital products and financial services for GrabKios agents, and Grab's driver- and merchant-partners. As a leader, she loves watching her team grow personally and professionally, and seeks to contribute to that by nurturing them and helping them overcome challenges to achieve their goals. As per her life adage – "Every journey starts with a single step" – she firmly believes that the most ambitious goals can be achieved as long as one gets started and takes it one step at a time.
1. What do you enjoy most about being in FinTech and what FinTech trends excite you? 
I enjoy the continuous learning, freedom to experiment, and unlocking new business opportunities in FinTech. 
The rapid growth of digital payments in Indonesia is really exciting to watch and experience. My older relatives are shifting to cashless payment modes and the more traditional food stalls near my home are also using QRIS to accept payment. 
Financial literacy in Indonesia has also been rapidly improving, and there is more widespread information available on investing in vehicles such as gold, stocks, and even cryptocurrency. 
2. Name a leader who inspires you and why. 
I love Ibu Susi Pujiastuti! She makes bold decisions, works hard and still manages to spend time with her family and enjoy her life. 
Hooi Ling Tan is also a leader I admire. She seeks to create an environment where every Grabber can be successful and truly cares for us, as a leader.  
3. What can be done to #BreakTheBias and bring about greater gender equality?  
We have many women leaders in Grab, and gender equality is valued and celebrated. 
We have policies and a great environment that supports professional growth for all. For example, our Safe and Respectful (SRW) policy requires that we commit to fostering respectful, safe and inclusive working relationships that are free from harassment and bullying. Grabbers are trained on the SRW policy which is aligned with our 4Hs (Honour, Hunger, Heart and Humility) and have to adhere to it. Additionally, female Grabbers have four months of maternity leave and male Grabbers have 15 days of paternity leave as we encourage them to take the time off to support their wives who had just given birth. 
To #BreakTheBias, one must start at home. We should let our children know how diverse and inclusive the world is, and to value and celebrate it. We can also teach them how to avoid bias, stereotypes, and discrimination, and model it in our own behaviour.  
4. What's your ambition this year – what impact do you hope to achieve and why? 
To continue providing access to capital, technology and infrastructure for more micro-entrepreneurs and our driver-partners and merchant-partners, so we can do our part to advance the sustainable economic growth and financial literacy drive in Indonesia.  
5. What advice do you have for aspiring women leaders to #breakthebias and thrive? 
Be yourself.

Embrace your strengths and weaknesses, hopes and fears, triumphs and failures. When you fully accept yourself, others will too.

Stand with other women who are experiencing bias.

Many  women who experience bias feel that they can't change the situation or find it hard to voice their concerns as they feel  like they are on their own. It is important to be perceptive of what other women colleagues are experiencing and to support them when they are voicing out their concerns. This way, their experience won't be swept under the rug and can be an opportunity for change to happen.

Mentorship

. Mentoring programmes can foster a diverse work hierarchy. It can give other women (especially those in more junior positions) greater visibility and help them climb the professional ladder with the support of networks, which will aid them in the development of their skills and organisational knowledge. It is also beneficial for men to mentor women, and vice versa. That can help to create a more inclusive environment, which can in turn enable women to be more connected and engaged in their workplace

.
Stay tuned for more in this International Women's Month series!