Meet the women advancing Grab Financial Group's (GFG) mission of driving financial inclusion across Southeast Asia by empowering small businesses with the capital to grow and enabling individuals to improve their financial well-being. Find out what excites them about the burgeoning FinTech scene, their aims at GFG, leadership styles and advice for aspiring women leaders to #breakthebias and thrive.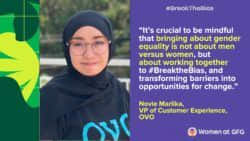 Novie Marlika, VP of Customer Experience at OVO, GFG's FinTech arm in Indonesia, oversees the handling of all its interactions with users and merchants. For her and her team, it's not just about providing solutions or a memorable experience, but in fostering long-lasting relationships with those they serve. She firmly believes in doing the best for others whenever the opportunity presents itself, because lost time can never be regained. This is also why she makes the most of every waking moment and prioritises creating precious memories with her friends, family and four adorable cats.  
1. What do you enjoy most about being in FinTech and what FinTech trends excite you? 
I'm most excited about emerging innovations that advance financial inclusion while ensuring user security and compliance. In particular, it has been incredibly rewarding being able to directly support those impacted by the pandemic. In April 2020, the Indonesian Government launched the Kartu Prakerja (Pre-employment Card) initiative, a state-stimulus programme providing professional development training and social assistance for job-seekers impacted by the pandemic, with disbursements conducted in partnership with a state-owned bank and four e-money platforms–including OVO. To date, OVO has successfully made over three million disbursals. Processing such a large volume of payments has its challenges, but when I monitor each disbursement process, it never fails to strike me that each one represents an individual who would otherwise have had to struggle during this difficult time. Knowing that we've played a role in supporting these beneficiaries humbles me.  
2. As a leader, what drives you?
Numbers, market share, market value, user flow, data flow and faster response time—all these are definitely important KPIs that drive me and my team. At the same time however, values are equally if not more so important, and these are shaped by our principles, character, and experience. When I'm faced with challenging decisions, my values serve as a compass which points to my true north. 
3. What do you find most challenging as a leader and how do you overcome them?
Managing Contact Centres, I work in a people-focused field. Although we might have automated or user self-help tools to support us, customer service has and will always be about people. As we seek to deliver great results for our users and merchants, I'm mindful that these are delivered by our team and recognise that building relationships with our users and merchants should not come at the expense of relationships with team members. Having said this, it can be easy to lose sight of this at times when one is trying to meet ambitious performance targets, so I'm very conscious about it. As a leader, I also strive to be clear about our goals and convey them in a manner that excites team members to work towards a shared vision – not the easiest to do at times, but I try my best 🙂 
4. What can be done to #BreakTheBias and bring about greater gender equality?
As a woman leader, I believe in the need to lead by example and to speak up and challenge the status quo if needed. At the same time, it's crucial to be mindful that bringing about gender equality is not about men versus women, but about working together to #BreakTheBias, and transforming limitations and barriers into opportunities for change.
5. What advice do you have for aspiring women leaders to #BreakTheBias and thrive?
Be the best version of yourself, and believe that you can do anything, in any field – there are no limits to what you can do. Be true to yourself – what you believe in and who you are, and don't hesitate to show that to the world. Finally, lost time can never be regained, so don't let fear hold you back and seize the opportunity to make each moment count!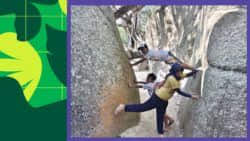 Stay tuned for more in this International Women's Month series!