Meet the women advancing Grab Financial Group's (GFG) mission of driving financial inclusion across Southeast Asia by empowering small businesses with the capital to grow and enabling individuals to improve their financial well-being. Find out what excites them about the burgeoning FinTech scene, their aims at GFG, leadership styles and advice for aspiring women leaders to #breakthebias and thrive. 
Nijchanok (Ning) Kattinanon, GFG's first legal counsel in Thailand, is celebrating her first Grabversary this month! Outside of work, she loves travelling to experience different cultures and enjoy local cuisine. She is also a cat slave to her 'boss' – Bruno.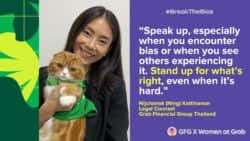 1. What do you enjoy most about being in FinTech and what FinTech trends excite you? 
Working in a Fintech company is like riding a roller coaster – fast-paced and open – and it's really exciting.
A key development I'm keenly watching is the advent of digital banking in Thailand. The Bank of Thailand (BOT) recently had a public hearing with the aim of enhancing the local digital financial landscape by introducing digital banking to Thailand. This is a promising development and we're exploring how we can be a part of this new financial landscape and serve our customers better.
2. As a leader, what drives you? 
GFG's mission is to give the financially underserved equal (if not better) access to convenient, flexible and transparent financial products which will improve their financial well-being, and I find that incredibly motivating. I have personally witnessed how Grab significantly helped our driver- and merchant-partners lessen the impact of COVID-19. When dining in at a local street food stall, the owner said that if she had been unable to access Grab's food-delivery service and working capital loan during the pandemic – she would have had to shut down her restaurant and the financial impact on her family would have been tremendous. 
3. What do you find most challenging as a leader and how do you overcome them?
My greatest challenge as an in-house lawyer for a financial services provider is striking a balance between giving consumers the best in-app user experience (with minimal friction), while also adhering to legal and regulatory requirements. In order to give actionable recommendations that will benefit all parties, I must have a deep understanding of the business and our customers, and keep abreast of the latest trends and developments. Every stakeholder must work closely together to overcome the challenges of having superb user experience while also providing adequate consumer protection.   
 4. What can be done to #BreakTheBias and bring about greater gender equality?
To #BreakTheBias and move towards greater (not just gender) equality in the workplace, we should strive to create an environment where women and minorities are encouraged to showcase their abilities and take on leadership roles. Women and minority voices should be heard in every professional setting so there is representation. Companies should recognise and empower all talents to succeed, and give them equal opportunities to lead.

5. What advice do you have for aspiring women leaders to #BreakTheBias and thrive?
Believe and bring out the best in yourself – with courage and trust in yourself, you can shine and show others that you can achieve anything. Speak up, especially when you encounter bias or when you see others experiencing it. Stand up for what's right, even when it's hard.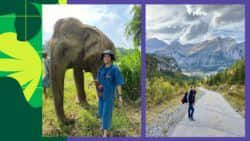 Stay tuned for more in this International Women's Month series!