Meet the women advancing Grab Financial Group's (GFG) mission of driving financial inclusion across Southeast Asia by empowering small businesses with the capital to grow and enabling individuals to improve their financial well-being. Find out what excites them about the burgeoning FinTech scene, their aims at GFG, leadership styles and advice for aspiring women leaders to #breakthebias and thrive.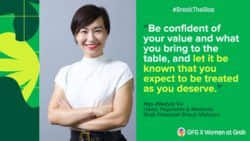 Nga (Nadya) Vu currently leads the Payments and Rewards businesses at GFG Vietnam with the aim of driving cashless adoption among Grab users and economically empowering stakeholders within the Grab ecosystem. A free-spirited mother of two, she loves embarking on new adventures and challenges. In her spare time, she enjoys trail running. She believes that life is a marathon, not a sprint, and that little steps each day will make a huge difference over time.
1. What do you enjoy most about being in FinTech and what FinTech trends excite you? 
It's super fast-paced and pivoting quickly to adapt is a must.
The FinTech scene is so promising in Vietnam, with many exciting trends that are developing day by day, but I want to call out the rise of digital lending with real-time approval and disbursement via alternative scoring – it has the potential to really accelerate financial inclusion in Vietnam where 69% of the population are unbanked.
2. As a leader, what drives you?
Hands down, it would be creating value and benefits for our consumers and partners. Last year was a challenging year for so many when Vietnam underwent lockdowns and imposed strict movement restrictions due to waves of the pandemic. During that period, safety and hygiene were our users' most critical concerns. To give them peace of mind when using our services, the Grab team worked 24/7 to promote cashless benefits and also pushed for cashless adoption, enabling contactless delivery. It was a tough time behind the scenes, but absolutely worth it seeing the difference we made and I was so inspired by my team's resilience and commitment.   
3. What do you find most challenging as a leader and how do you overcome them?
For me, it would be striking a balance between delegation and empowerment. I try and overcome this by getting to know the people I work with – their strengths, weaknesses and aspirations. This would better equip me to empower them with the right opportunities and coaching, so they can achieve their full potential. Then, we would be able to shine together as a team! 
4. What can be done to #BreakTheBias and bring about greater gender equality?
Biases can influence actions and decisions such as whom we hire, promote, and how we engage with others. For me, being aware of and overcoming biases would be key to creating a culture where people are free to be themselves and can truly belong.
As biases can easily form without us knowing, we need to be conscious of them and try our very best to leave them at the door before engaging with others. 
We should also be more aware when others are experiencing bias, and boldly step in when needed – whether it is voicing out and making it known that it is unacceptable, or providing words of encouragement to the person who is affected. Being there for another in their time of need can make a world of a difference. 
5. What advice do you have for aspiring women leaders to #breakthebias and thrive?
If you are experiencing bias in the workplace, do not hesitate to seek out the support of allies – regardless of their gender. Support others when you see them experiencing bias as well. We are always stronger together. 
When the going gets tough, be resilient and stay focused on what you want to achieve. Be confident of your value and what you bring to the table, and let it be known that you expect to be treated as you deserve.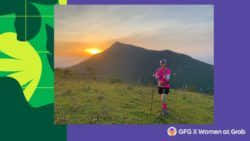 Stay tuned for more in this International Women's Month series!