Meet the women advancing Grab Financial Group's (GFG) mission of driving financial inclusion across Southeast Asia by empowering small businesses with the capital to grow and enabling individuals to improve their financial well-being. Find out what excites them about the burgeoning FinTech scene, their aims at GFG, leadership styles and advice for aspiring women leaders to #breakthebias and thrive.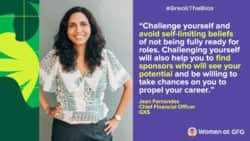 Jean Fernandes is CFO at GXS – one of the two successful digital full bank licence applicants in Singapore, backed by a consortium formed by Grab and Singtel. She and her team are on a mission to accelerate financial inclusion in Singapore and Southeast Asia. As CFO, she partners with the Board, CEO and management team to build a scalable next-generation bank. Her team's daily routine is to expect the unexpected as there is no playbook for building a next-generation bank from scratch and exploring new innovations and ideas to better serve customers.  
1. What do you enjoy most about being in FinTech and what FinTech trends excite you? 
In today's digital age, the way in which consumers interact online and their expectation of digital services are being reshaped as more people become part of communities through social media or access goods and services in the global marketplace. 
I find this exciting as it gives us the opportunity to rethink how customers engage with their banks and the power of data in helping us to understand our customers' aspirations and what they are passionate about. These insights can help us to build or to be a meaningful part of digital communities where we can support our customers as they connect with each other to learn, engage and join hands to achieve collective social goals. 
We can also rethink conventional ways that people transact, access credit, and invest. For example, by widening the pool of data that we use to analyse creditworthiness, such as those from social media and our ecosystem network, we can improve financial inclusion by opening up credit access to consumers who may not meet traditional credit assessment requirements.
Today, gig workers such as Grab's driver- or delivery-partners may have steady income streams, but may only be eligible for lower loan quantums or not even qualify for a loan with traditional banking institutions because they do not have sufficient credit history. By using alternative data to supplement our credit scoring models, we can help them access the credit lines they need to achieve their goals.
2. Name a leader who most inspires you and why. 
Most people know Matthew McConaughey as the famous movie star, but a closer look at his book or YouTube videos unearth many insightful life lessons. His thoughts on having an optimistic outlook, fierce determination, and on using misfortune and adversity as guides are inspiring, intriguing, and relatable. Over the years, I have found myself noting down many of his quotes and revisiting them regularly. 
One of my biggest takeaways is to try to be the best version of yourself you can possibly be. Picture a version of your future self and strive to achieve it through daily improvement. Once you get there, set a new goal for yourself and where you want to be, and strive to achieve that new goal. I believe that this journey of continual growth is key to a steady path to success. This is something he shared in his 2014 Oscar acceptance speech – a must-watch video!
3. As a leader, what drives you?

As a CFO, I am constantly thinking about how to help grow the business at scale as opposed to reporting what happened in the rearview mirror.  
As a leader, my success is driven by surrounding myself with an effective high-performing team whose strengths are complementary to mine. I believe getting it right is more important than being right, hence I surround myself with people who are well-researched, able to form their own opinions and feel comfortable to challenge and be challenged. 
Every human being is different. There are many paths to satisfaction and you need to find one that works for you. For me, I need a reason to get up in the morning and it has to include doing work that I find inspiring and working with extraordinary people on a mission – and I have certainly experienced this at GXS!
4. What do you find most challenging as a leader and how do you overcome them?
Businesses today need to excel in rapidly changing situations. Against this backdrop, it is not the fittest who survive but the most nimble and adaptable. We also have to create value at a much faster pace. Some ways to mitigate this challenge is by speeding up decision-making processes, taking calculated risks and adopting a sharp prioritisation framework. 
Additionally, anticipating risk is key for me as a leader. You cannot solve risk management and survival issues during a crisis. Leaders need to identify the business vulnerabilities ahead of time, assess their impact through scenario testing and identify measures to mitigate them.
Finally, I believe the best way to create valuable companies is by attracting and retaining the best people. I try to ensure that we hire individuals for both their attitude and professional capabilities. On top of this, we also need to create a work environment and reward mechanism that brings out the best outcomes for both the company and the individual.
5. What's your ambition for GXS this year? 
We are working hard to bring GXS to launch this next-generation way of banking for young professionals, managers, executives, and technicians (PMETs), gig workers and small businesses, first in Singapore in the coming months and in the region in the future. 
Our team is constantly challenging themselves and each other to innovate across all areas of banking, such as the customer experience, the app interface, the technology beneath the surface and the design and structure of our suite of financial solutions. For us, innovation does not just mean using new technologies or designing new products, but also making incremental improvements that the customer may not notice but which will enhance their overall banking experience. 
We have also built GXS in a way that enables us to be a part of our customers' everyday lives and communities. We are building an ecosystem, starting with our partnerships with Grab and Singtel, to bring GXS services to our partners' platforms. This enables customers to enjoy a seamless banking experience integrated into their everyday lives, without having to toggle between multiple mobile apps.
6. What can be done to #BreakTheBias and bring about greater gender equality?
While the world is making progress towards creating an inclusive environment, there are still many groups of people who lack the same opportunities as others in professional advancement because of discrimination and lack of access to opportunities. Women are definitely one of them. Raising awareness of the uneven playing field and creating opportunities for women to level the playing field is an area that is close to my heart.
As leaders and managers, we need to recognise that even small steps that we take can #breakthebias.
Education is the first step towards career advancement and financial independence for women. Organisations and individuals alike need to recognise that education goes beyond having the relevant academic and skills requirement. It also includes mentoring and coaching women on how they can create their own personal brand and helping them to access networking opportunities or career counselling. 
Take women who are re-embarking on their careers after taking a break to focus on their other responsibilities, such as being the primary caregiver in their family. When they rejoin the workforce, they may face discrimination because their skillsets are perceived to be obsolete or because they are seen to have fallen behind their peers. Organisations and mentors can support the assimilation process for these individuals by having balanced assessment processes and offering learning opportunities that can mitigate any skill set obsolescence. 
7. What advice do you have for aspiring women leaders to #BreakTheBias and thrive?
A coach once said to me: "You have nothing to prove, only things to improve". This is a mantra that has stuck with me as I navigate my career through biases and glass ceilings. 
I would encourage aspiring women leaders to distinguish yourself based on your own distinctive competencies, thereby playing to your strengths. Be willing to challenge yourself and disrupt yourself from a comfort zone. Avoid developing self-limiting beliefs or constraints of not being fully ready for roles. Challenging yourself will also help you to find sponsors who will see your potential and be willing to take chances on you to propel your career. In the words of Matthew McConaughey: "Reach beyond your grasp, have immortal finish lines because roofs are a human-made thing".
This feature wraps up our International Women's Month series.
We hope you enjoyed it and thank you for reading!