Philip was one of 8 finalists at the Vice Digital Academy. This academy was a partnership between Vice Media, IMDA and Grab to nurture local film talent and help them reach a regional audience. Throughout January, snippets of Philip's work in the Vice Academy was broadcasted regionally through the Grab app. Check out the full video at the end of this article. 
Philip has been in love with filmmaking since his first encounter with it in school. Since then, he has been obsessed with bringing authentic, untold stories to life on the big screen by "taking people to places they've never been". His filmmaking adventure has spanned the globe; from indie cinemas in Manhattan to seedy back alleys in The Philippines, where he's quite literally risked his life chasing a story. Philip J Giordano tells me more during our interview.
First of all, thank you for agreeing to speak to us. Let's start this interview from the beginning. How did you get into filmmaking? 
I was studying to be a teacher and we were learning how to use different technologies like iMovie. So we took turns directing different scenes and when it came to my turn, it was just…wow. Something clicked. I loved it. I immediately started directing on every break I had from school, first by working on short films with my best friend, then on other sets. After I graduated, I was working full time Monday to Friday in
New York City but on the weekends, I would take the ferry to Manhattan to work on film sets.
It took almost 2 hours each way, and sometimes I would get home only at 3:00 AM, but I loved every minute of it. I was completely obsessed with filmmaking from the start.
What exactly about filmmaking do you love?
I love the visual storytelling aspect of it. If something can just be said, that's radio, not film. Film is a visual medium. I aspire to use beautiful images to create experiences that take people to places they've never been to and show them things they've never seen.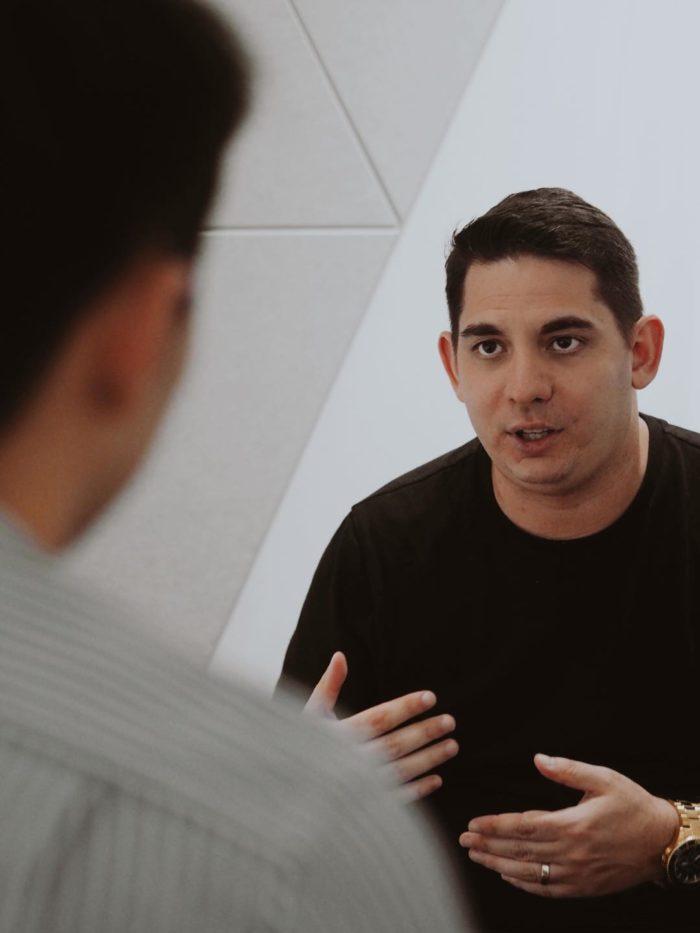 What are your favorite movies and what do you like about them?
I really love Paul Thomas Anderson, Steve McQueen (the British Director), Cary Fukunaga, Brillante Mendoza from The Philippines. I'm not into big Hollywood blockbusters, I love films that care about character and story, that are emotional and visceral and we see an intimate world inside a character suffering.
What projects are you working on now?
Right now I'm making a film about a young girl in the slums of Manila. She's a billiards prodigy who wants to someday become a world champion. She's incredibly talented in it.
Unfortunately, her father gets into a motorbike accident, and she has to step up and become the sole breadwinner of her large family. While she's doing that, her uncle sees how good she is at billiards and manipulates her to play in underground gambling matches so he can make money off her talent. He puts her in these really seedy back alley games where there are drug addicts and violence; It's really a place for a young girl.
The film is about how sometimes family can do more harm than good.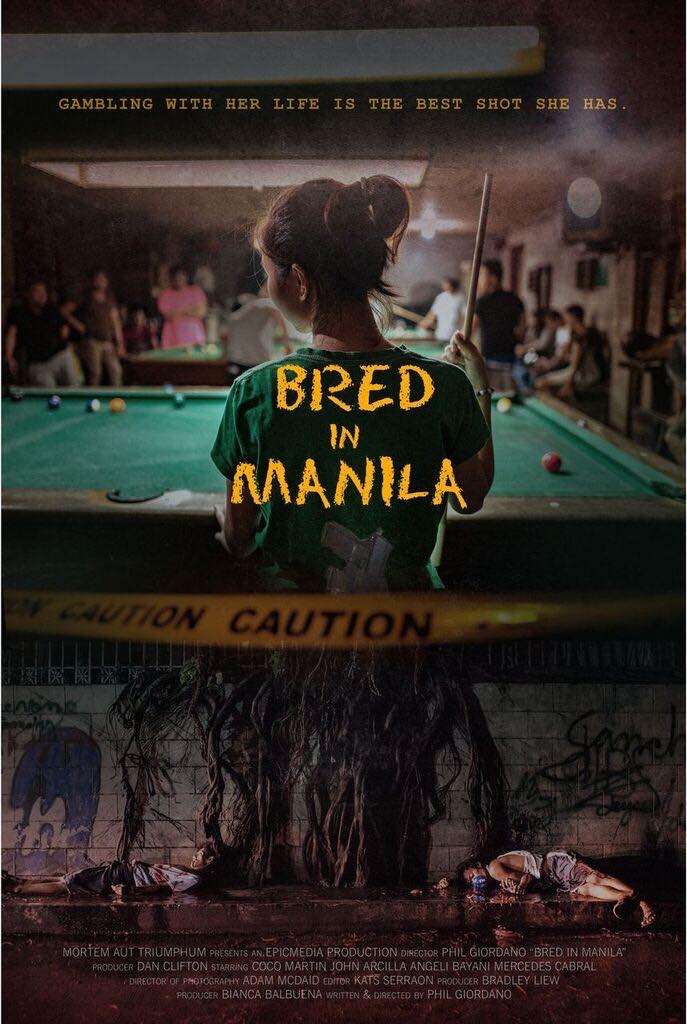 The poster for Philip's billiards film
You mentioned you went to The Philippines to chase this story. I'm curious how you, as an outsider, managed to navigate the Filipino underworld. How did you know who to talk to, where to go, etc?
The way I write is that once I find a topic I like, I dive in, I visit the location, observe, talk to people, hear stories, I try to write based off of what other people are going through in their lives.
It was through my wife that I was able to peek into the Filipino underworld. A lot of the people that I met, she was the one who introduced me. She even helped me hire a bodyguard/translator who took me to these underground gambling spots where I would talk to people and build my story. I also gambled a lot with them when I was there!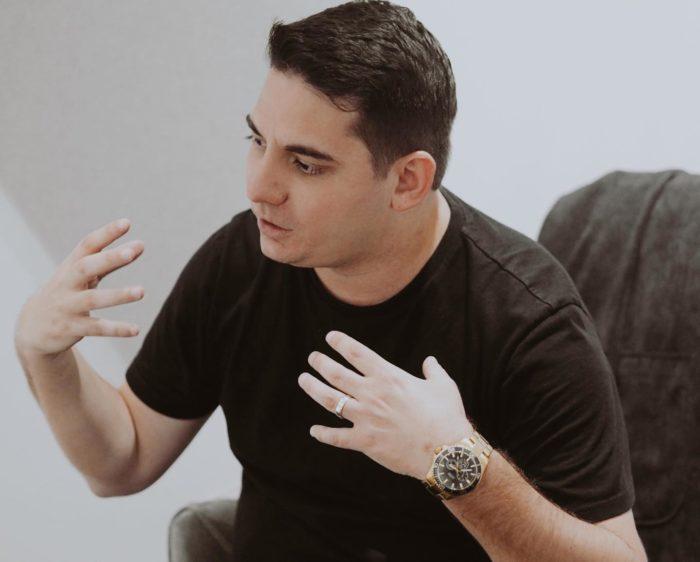 Talk to me about some of the challenges you had while chasing this story.
There was once I was at this underground pool hall that I had been to several times before. I get along with everyone there. We joke and we gamble together – I've even shown them pictures on my phone about my life. So this one time, I brought in a photographer to take some photos to create a lookbook for my film. Very hands off, in the background, no lights or anything. 
So we were having a great time then suddenly someone unexpected came into play. I can't be too specific because he is a politically high up person and right now there's a huge government crackdown on gambling in The Philippines. But this person saw me and I guess he didn't like me being there because he started whispering to his men while glancing at me.
I was in a crowd of people betting and watching, and then suddenly the people around moved away. And then one of his guys stood behind me – not talking or betting. He just stood there. And there were about 8 other guys with him who would just stare at me the whole time. The photographer I got is an awarded photojournalist on the War on Drugs. He's from there and really experienced. We were right next to each other, but instead of speaking, he texted me "we're not safe." He persisted: "Once we leave, they will follow us."
My wife ended up having to call someone very influential in the area to pull me and the photographer out of there. It's crazy because I was just trying to write my story. I'm not trying to expose anyone; I just want to write realistic stuff about what's going on.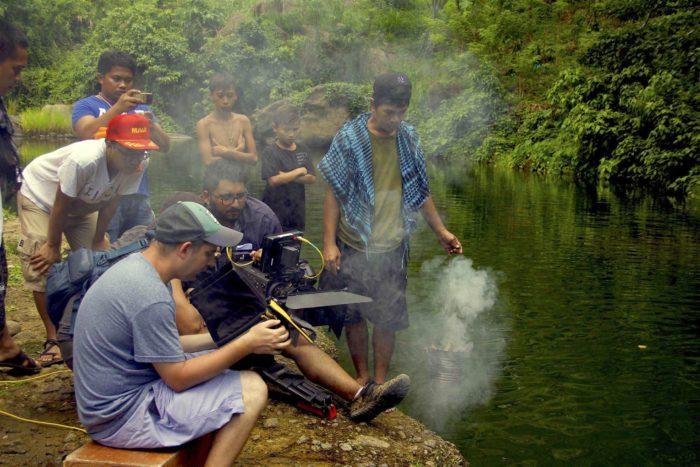 Philip (bottom left) working on another film set in rural Philippines
As a filmmaker what inspires you to take such incredible risks?
Well, part of it is I'm just ignorant. Very often, I'm blinded by my desire to create authentic stories. The way I work is I find a topic that is real, and then I just talk to people. From there I build my film on things I've seen or stuff other people have experienced. So it's never a case of "I want this thing to happen because I think it's great". It's always from a firsthand or secondhand perspective. But because of this, I have a tendency to just be too engrossed in chasing the story that I don't realize the risk I'm taking.
As an indie filmmaker, what are the main challenges you face?
Literally, everything's a struggle, but funding in particular. Almost exactly a year ago, I was 50% funded on this billiards film, we were trying to get the remaining funds and then my US Producer got into a fight with my Singapore-based Producer on Valentine's Day..over a text message. In the end the producer who brought in the initial 50% walked away. 
It was terrible because I had nothing to do with that argument. But still, in an instant, this project that I had been working on for three years; my passion, my time, my first film; just collapses. 
In one moment.
But that's how it is, you know. Got to keep on trying. 
Talking about funding, how was it filming with such a tiny budget during the Vice Academy?
Vice purposely gave us a tiny budget because they wanted us to creatively solve problems.
In the film, the RGB lights were a huge thing for me. The brief was about jobs of the future and when Kliff and I met we really geeked out about the stuff he talks about in the video, and I really wanted to achieve this cyberpunk look. I thought it really fit his personality and the places where he works and his view of the world. But I couldn't afford [to rent] them so I had to ask this guy to let me borrow them at a heavily discounted rate. I had to pick them up from his warehouse in this super secluded place. I went late at night and it was raining, and I remembered thinking "man…am I going to get killed renting these two lights?". But in the end, the guy was super nice and everything worked out. I guess this whole Vice project was all about pulling out these crazy favors and being very creative in problem-solving.
 T
he RGB lights featured in Philip's film
What did you get out of this experience at Vice?
Before Vice, I used to do commercials, documentaries and a lot of different things. But I've always had trouble progressing to the next level in each of them. Vice helped me to appreciate the value in specializing to progress in the niches that I am actually passionate about. So in a way, Vice helped me to discover my interest in creating meaningful documentaries that tell human stories.
Also, having my work broadcasted on the Grab app across the region was so exciting! As a filmmaker, you're always looking for something you can show people. So having my film screened on the app was huge, because I think everyone in South East Asia knows Grab.
Find Phil here:
Vimeo: https://vimeo.com/philgiordano
IG: @philip_giordano https://www.instagram.com/philip_giordano/
FB: Phil Giordano, @PhilipJGiordano https://www.facebook.com/PhilipJGiordano/