Each time life threw a curveball, Roseniah Mohamed found herself behind the wheel — her driving skills serving as an all-important economic lifeline. More recently, she jumped at the chance to be a Grab driver-partner with her daughter, the pair teaming up to face yet another of life's challenges.
Grab driver-partner Roseniah Mohamed, 66, turns to the road whenever she hits a bump in her journey of life. 
At 34 in 1989, left with nothing after her divorce, she went from being a housewife to becoming a delivery driver. 
Putting her class 3 license to use, she'd send hampers across the island in a lorry she rented, earning only $1.20 to $2 for each completed job. 
The money supplemented earnings from her two other side gigs as a cleaner and cook, ensuring there'd always be food on the table for her brood of three, Nur Heda, Nur Heidi and Mohamed Noh Hafiz — then aged 8, 6 and 3.
"They never missed a meal," she said proudly.
Later, striving to keep her father's Geylang Serai clothing business afloat and relevant in the 2000s, Madam Roseniah hit the road again. 
This time, she took her multi-purpose vehicle on late-night, solo drives to Kuala Lumpur and Kelantan in Malaysia to procure more stylish options for consumers. 
Her second child, Ms Heidi, now 38, recalls being strapped into the backseat of the car, in her pyjamas. 
She said: "By the time mum was done, the vehicle was usually filled to the brim with clothes and festive wear — the volume reflecting her determination. 
"She's not the kind to stop trying even when she is in deep water." 
In fact, when Ms Heidi suffered a significant pay cut in 2016 at her data-entry job at a home appliance company, Mdm Roseniah, true to style, nudged her to become a private-hire car driver, her trust in the skill of driving as an economic lifeline again evident.
Ms Heidi, who had disliked being deskbound anyway, embraced the idea. The pay cut had been the last straw, she said.   
THE DYNAMIC DUO
Fast forward to 2020, and after four years at the wheel, it was Ms Heidi's turn to suggest her mother breathe fresh life into her career. 
She persuaded Mdm Roseniah to hop on board the GrabCar platform, as she had, and join forces for what she felt would be an "unstoppable" tag-team operation. 
The idea was to convert their Toyota Picnic — purchased by Ms Heidi in 2018 — into a private-hire vehicle they both could use. The six-seater was, after all, idle most evenings. 
The pair would be in charge of their own takings and get to manage their own hours.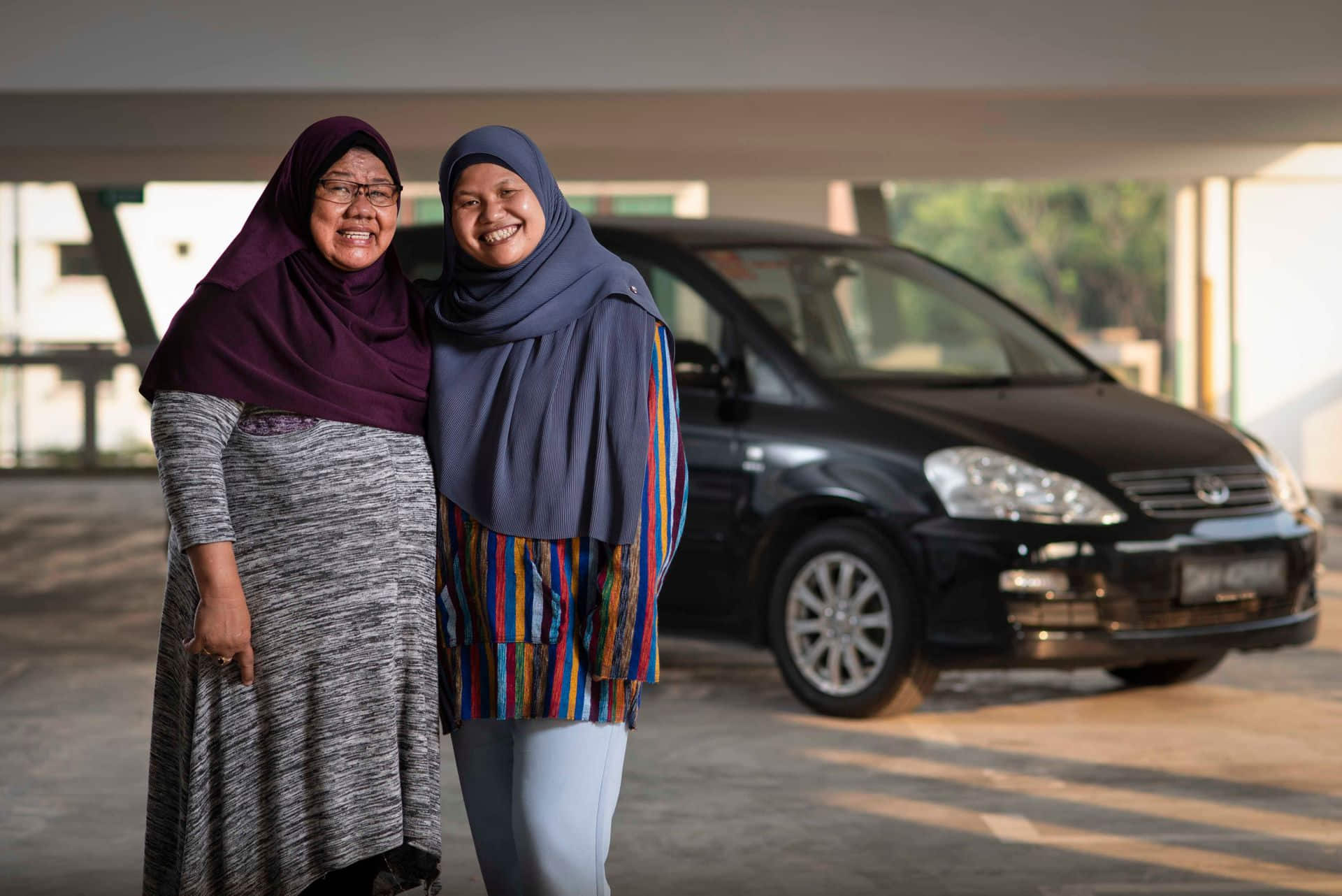 Driving aficionado Mdm Roseniah was attracted to the prospect of partnering her daughter. It would enable her to be self-sufficient, and serve their lifestyles, as the pair already lives together in Punggol. So she seized the opportunity. 
Ms Heidi takes the day shift from 6am to 6pm, sometimes ending earlier at 3.30pm if she has earned enough for the day. Veteran driver Mdm Roseniah, undeterred by dark roads and the occasional questionable passenger, takes the late one, returning home at 4am most nights. "It's far cooler and quieter. Driving is a breeze during this shift and is something I look forward to," she said.
Both gave the collaboration a positive approval rating. 
Since they joined Grab, their earnings have sustained their living costs. They relish the independence, flexibility and freedom that the job affords.  
Ms Heidi credits Mdm Roseniah with the foresight to ensure all her children could drive by the time they were in their early 20s. 
"She was certain it would come in handy. That's the case today. I'm driving for a living."
Admittedly, they encounter sceptical passengers who doubt their sense of direction and driving skills — likely because they are women. It deeply frustrates Mdm Roseniah, who boasts an accident-free record and, even without a map, knows "85 per cent of Singapore's roads".
They stay positive by keeping their family motto in mind: whatever men can do, we can do. 
AN UNCONVENTIONAL ROUTE
Much of Mdm Roseniah's life epitomises resilience, as well as a feisty propensity to buck convention. 
Though her family disapproved, she bravely went through with her divorce in 1989. "My marriage was a failure," she reflected.
"Overnight, I had become a single mother. I had nothing, no alimony, nothing. While the early years were tough, I believed strongly in making the right choice for my own life. I believe in being independent — not dependent."
As a single mother working three jobs, the Institute of Technical Education engineering diploma holder persevered. She had, by the mid-1990s, saved enough to start her own engineering business manufacturing precision tooling parts for semiconductors. 
During the day, she ran a 10-man operation in a factory space at Bedok Industrial Park. At night, she bedded down with her two daughters in its spare room, placing her young son in the care of her mother. 
Having a woman at the helm in the male-dominated sector was unusual, so her employees watched her every move, scrutinising, among other things, how she handled complex machines. 
"They tried to make me look stupid but I always had my wits about me," she said with a smile. In fact, she did so well that by 1997, she moved her family out of their factory bedroom into a maisonette.   
A decade later, faced with tough competition and high capital costs, she decided to sell her company. 
Concurrently, her father's Geylang Serai clothing store, established back in 1957, had been mired in debt. So she used proceeds from the sale to bail it out. 
By 2010, Mdm Roseniah was driving a taxi part-time to make ends meet. Struggling financially, she also gave up her maisonette.
In 2015, after nine years of trying, she closed the clothing business. Though disappointed, she said it had been the right decision. Rental spikes and two store relocations had affected its bottom line far too drastically. 
By this time, Mdm Roseniah had turned to driving a taxi full time.
However, her children wanted their self-described workaholic mother to take it easy. So, in 2020, she paired up with Ms Heidi and pivoted to the GrabCar platform.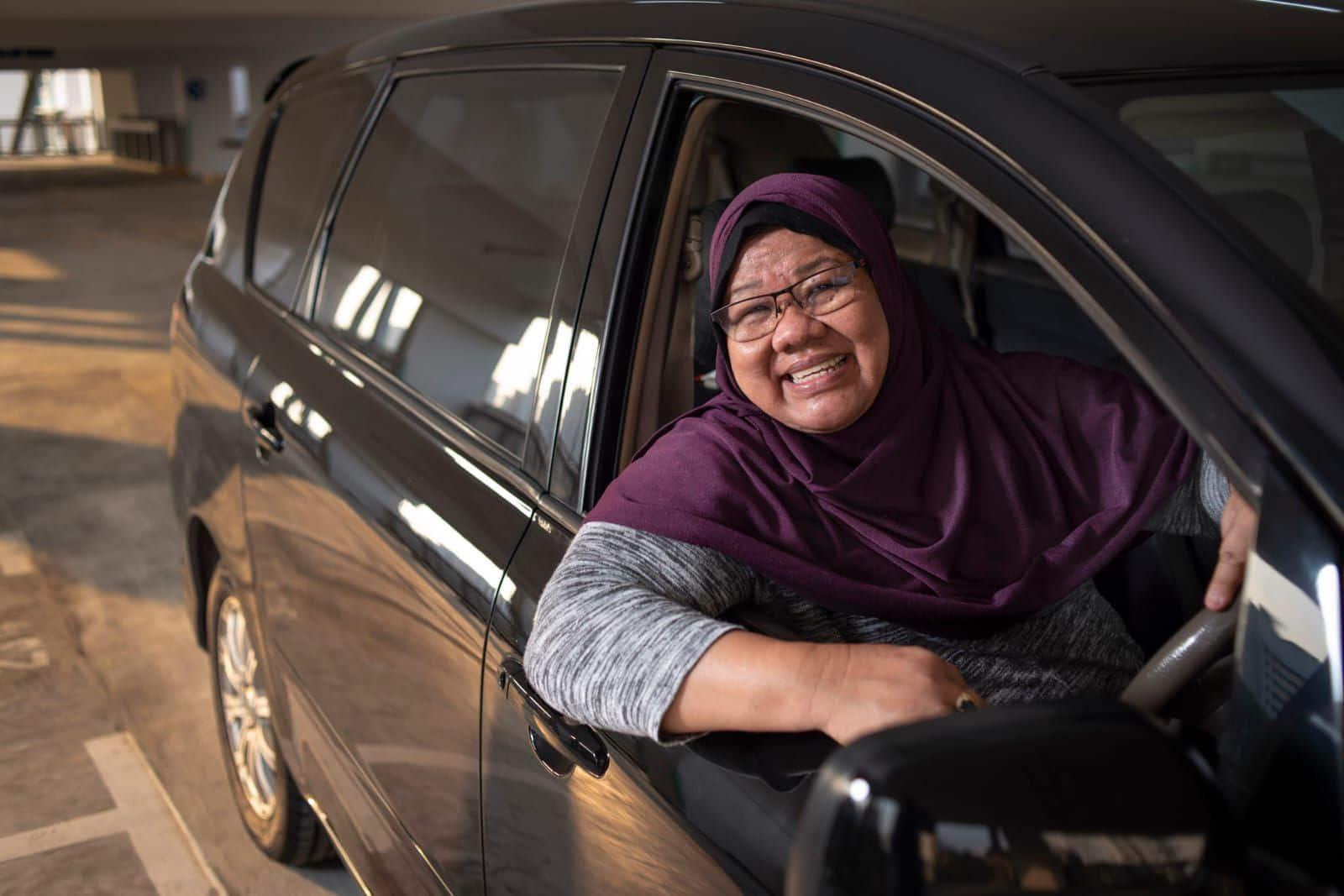 CHARTING THEIR OWN PATH 
During Singapore's Covid-19 lockdown, both Mdm Roseniah and Ms Heidi encountered yet another setback — a dearth of passengers. 
So they adapted. 
Ms Heidi volunteered to drive healthcare workers as part of GrabCare. Grab had piloted the round-the-clock, on-demand special service February 2020. It ensured healthcare professionals could seamlessly travel to and from hospitals, by raising their odds of securing a ride before and after shifts.   
Mother and daughter further took to delivering meals and parcels via GrabFood and GrabExpress, with Mdm Roseniah mapping the routes, and Ms Heidi handling collections and deliveries. "She was the brain and I was the brawn," quipped Ms Heidi. 
They also benefited from Grab's suite of pandemic-time support packages. 
Rolled out to its driver-partners at the height of the outbreak in April 2020, were: vehicle rental waivers, a one-time allowance of up to $500, a reduction in its upfront commission rate, and incentive programme adjustments to mitigate the impact of income loss. 
Mdm Roseniah reckons it is hard to go hungry in Singapore because there is always "income out there to be grabbed".
Ms Heidi concurred: "If I could be half as determined and strong as mum I know I will be able to survive." 
Her mother chimed in: "You must also challenge yourself to acquire as much knowledge and skills as you can. 
"Don't let your years go to waste — every journey has its bumps, no road is smooth."