Say goodbye to SMS and hello to In-app Chat
To ensure a secure and seamless Hitch experience for our riders, we have replaced the SMS function with our in-app chat.
Simply update your app to enable the new in-app feature.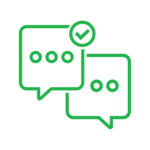 Reliable Messaging
Simple and fast way to coordinate your trip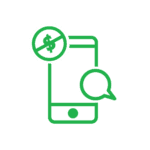 No SMS Cost
In-app chat is powered by data instead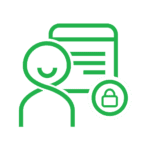 Enhanced Privacy
Once the ride is completed, both parties can no longer contact each other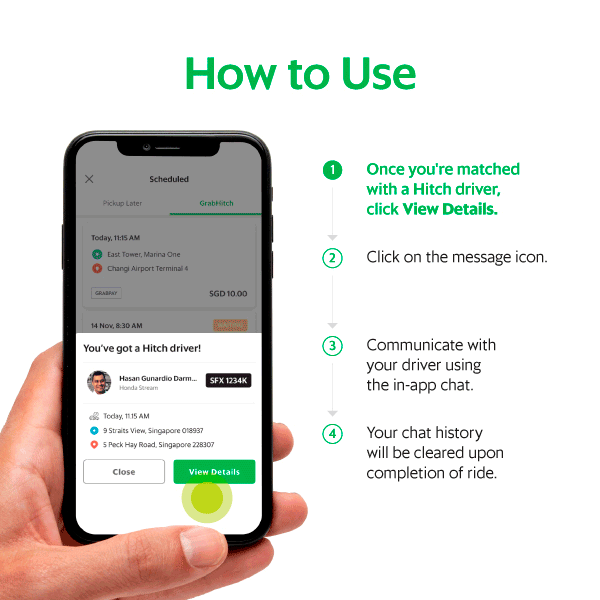 This feature will only be available if both you and your driver are on the latest version of the app and have access to in-app chat. 
In the event the feature is not yet available to one party, you will still be able to use SMS to communicate with your driver.
FAQs
What should I do if I can't see the in-app chat in the Grab app? 
You will receive a notification from us once this feature is available to you. Please ensure that your app is updated to the latest version or try restarting it (close and relaunch).
If you have not been given access yet, kindly wait for it as we are rolling out in progressive stages. 
Where can I find the message from the driver in the Grab app? 
Tap on the message icon on the Grab app homepage. 
Why am I not able to see the previous chat with my driver after the trip? 
For your safety and privacy, the chat will disappear once the ride is completed. 
If I am allocated to the same driver as the previous booking, can I see the chat history? 
No, the chat will automatically be deleted after the ride is completed. 
Can I also make in-app calls to contact my Hitch driver? 
For now, calls will go through regular phone calls with number masking. 
I have been using in-app chat, why am I still being directed to SMS? 
It means that your driver either has not yet updated to the latest app version or has not gotten the feature yet. The in-app chat will only work if both the driver and the rider have access to it.