Growing up in Singapore, you might have grown familiar with hearing the jingle "fatty fatty bom bom, today cannot go home" often uttered by cheeky kids, which would have been met with laughter from those present. But even as the amusement from such tomfoolery wanes as one matures, there's no denying that it's a name that makes a lasting impression. 
The ditty became the inspiration for naming Fatty Bom Bom, the local F&B business that serves a delectable Western cuisine, with a portion to match the connotations tagged to its name. From mouth-watering mains like their signature Cajun Chicken and the succulent Tender Steak, to the irresistible sides like the Supreme Fries and Jerry Popcorn Chicken, the experience of a hearty Fatty Bom Bom meal is one that is as indelible as its name. 
Founded by ITE College West alumnus Ken Tan, Toh Yan Yuan and Muhammad Danial – along with another co-founder who has since left the business – the then bright-eyed youths were motivated to start a local food brand to share their love for western cuisine. Armed with their knowledge of preparing food from a wide range of cuisines sharpened during their time in school, they have been able to fill the yearning tummies of the community through their business. 
Although, their journey definitely didn't come without its obstacles. The founding members  had their fair share of detractors while also facing challenges such as the lack of manpower, shortage of materials as well as faulty equipment during their founding days. 
However, such obstacles did not dampen their spirits as their business has since grown remarkably – they currently operate 16 Fatty Bom Bom outlets, 4 Abang Gemok outlets (2 incoming), and a forthcoming cloud kitchen aptly named Mana Lagi by FattyBomBom Group.
Apart from perseverance and passion, their growth can also be attributed to their decision to digitalise right from the start. Incorporating food delivery into their day-to-day business operations also gave them a leg up during the pandemic.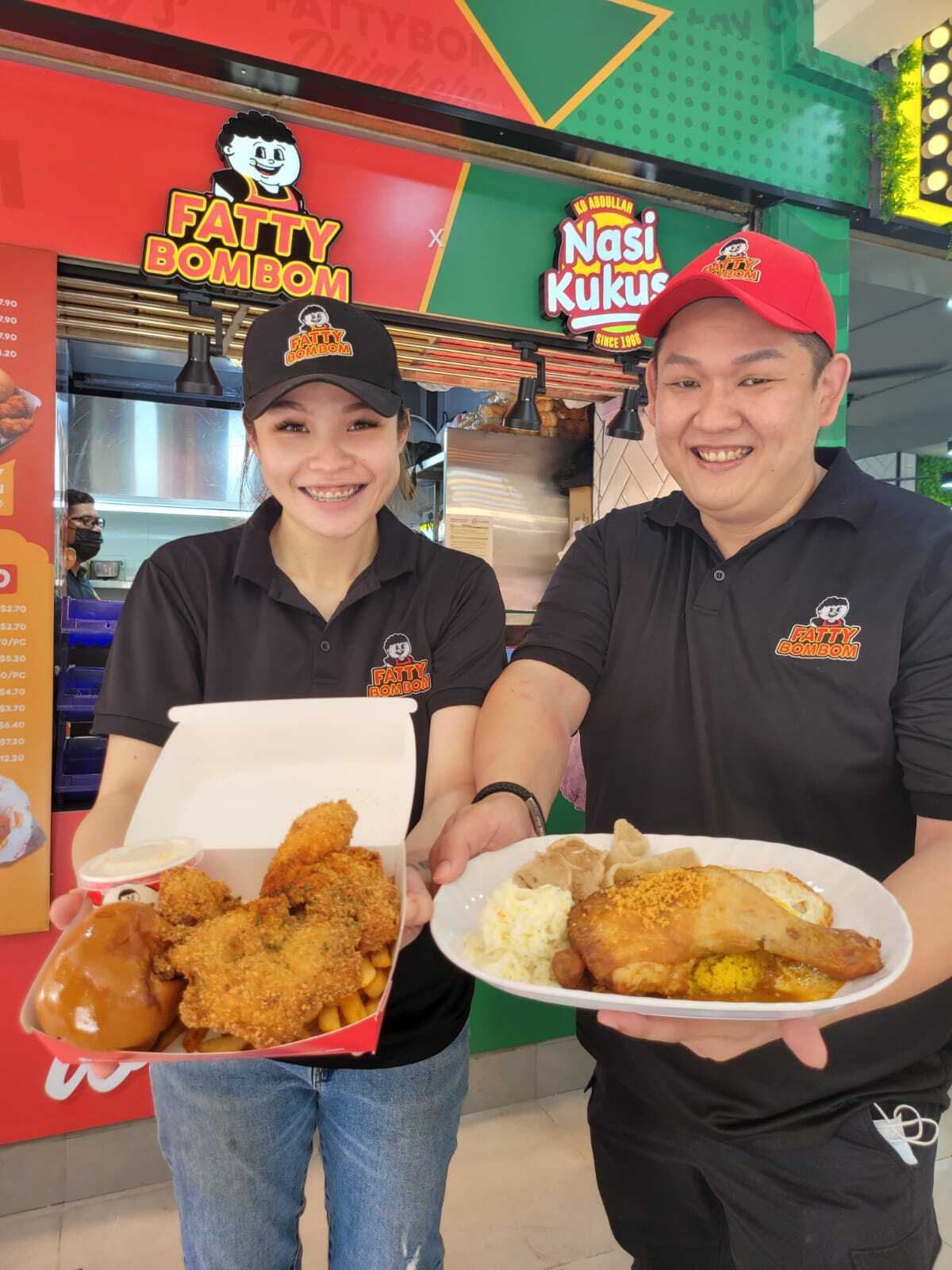 How do you continue to adapt and stay relevant especially through the pandemic?
We always keep ourselves really close with any updates from the government, with any changes announced we would quickly get into changes that are required. We have seen the importance of having delivery platforms, hence we have been improvising our serving rates to match up with peak hours delivery at the same time, we would maintain our quality at the best. 
How has being on Grab helped your business?
Specifically during the P2HA period, where dining-in was not allowed, a good 30-45% of our revenue came through GrabFood sales. The credits provided by Grab during the period to run marketing campaigns also resulted in an increase of sales through GrabFood. Plus, we have seen more and more locals supporting local hawkers who have been ordering at quite a frequent rate
What do you feel are some of the key factors that have contributed to the success of your business?
We would say it is really a lot of perseverance that kept us going. We knew and expected that it would not be an easy journey so we had to always remind ourselves to persevere despite any hard times. Another key factor would be passion – if you're doing what you love, it is always easy to give your 120%. We like to say "If you want it bad enough, you will get it and if you don't, you never wanted it that bad."