Every other week, Mary L. and her husband head to Johor Bahru to rest and relax. They start their journey with the MRT from their home in Bedok. By the time they alight at Kranji, they have to decide how to get to Woodlands Checkpoint – bus or a Grab ride.
"The bus is good if you're not in a rush, but it can be quite crowded and we usually can't get a seat," said the retiree. "Grab is faster and more comfortable, and it's definitely a better choice if you are carrying heavy items or lugging suitcases."
This is a dilemma that city-dwellers who use public transport face. Trips do not simply begin or end when they get on or off a bus or a train. Typically, a walk, a bike ride, a car trip, or another bus ride is needed to get from the home or workplace to a transit stop such as a train station or bus terminal, and vice versa.
At Grab, our various transport modes have been providing the critical link before or after transit, which we call "first-mile" and "last-mile" travel respectively.
In Singapore, one of these top first-mile last-mile routes is the three kilometres from Kranji MRT Station to Woodlands Checkpoint. What would take only nine minutes on JustGrab can take 20 minutes on the bus.

Across the region, we have been making it easier for commuters to get to their final destination no matter which public transit service they use.
Malaysia and Indonesia were the top markets for first-mile last-mile rides, which accounted for at least 10% of Grab rides in both countries last year. In Indonesia, four in five of such rides were taken on GrabBike while in Malaysia, more than 85% of these rides were taken on GrabCar.
Pulse of the region
In Southeast Asia, cities ebb and flow differently. Our data from Grab rides last year gives us an insight into this rhythm, telling us that the most common time for first-mile last-mile travel is between 4pm and 6pm.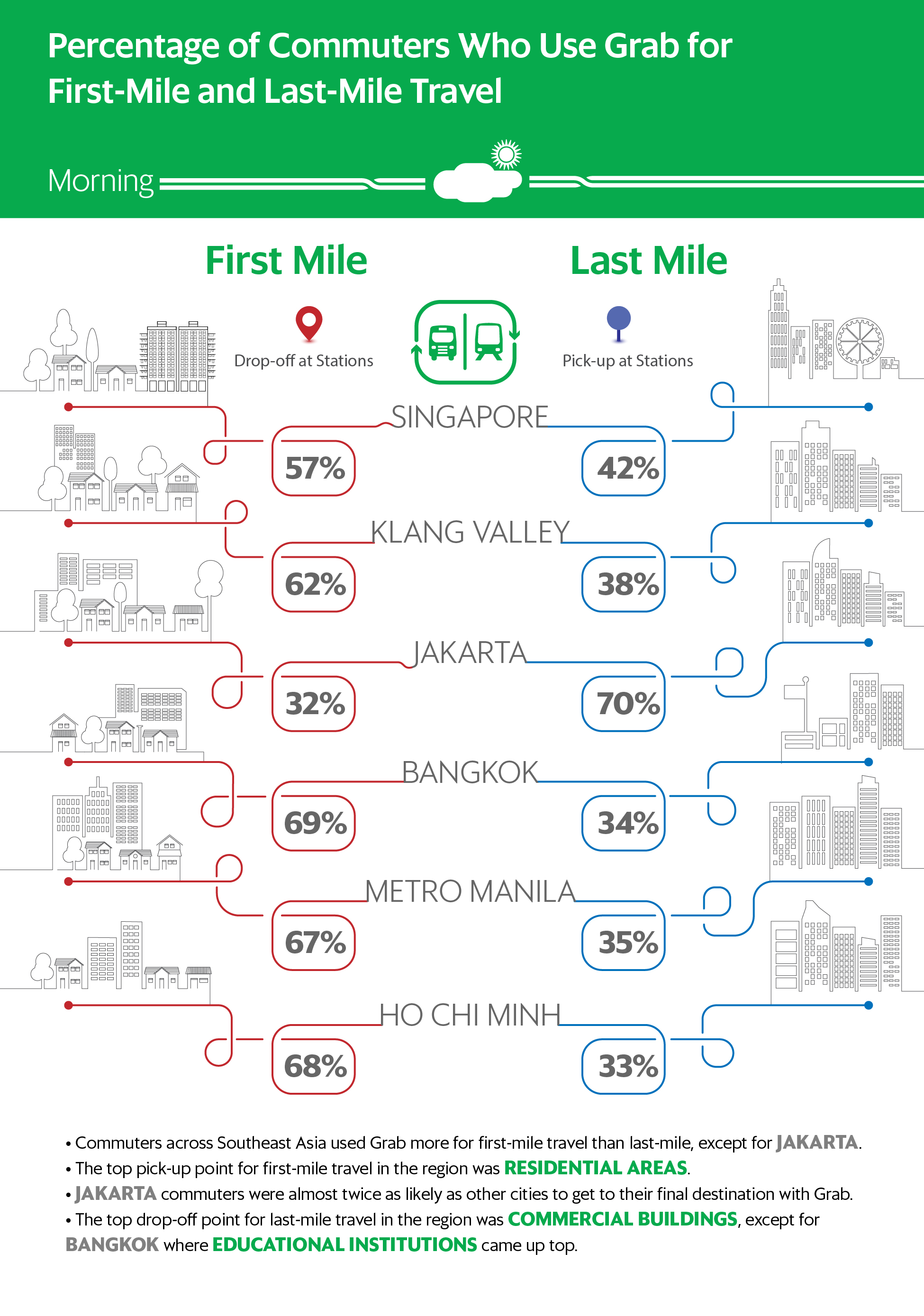 Making life better
In many of the cities we serve, public transport is not easily accessible, hence the need for first-mile and last-mile travel. This is also why many people continue to drive despite the traffic gridlocks.
Because we are committed to address the challenges of urban congestion, we want to provide alternatives to personal car ownership by offering multiple modes of transportation in the Grab app. By supplementing the public transport system, we are giving commuters more ways to get around without needing a car.
Currently, Grab users can choose from bicycles, motorbikes, private cars, shared vehicles, shuttle buses and even three-wheelers, depending on the country.
In Singapore, bus-pooling service GrabShuttle offers more than 170 routes across the island, providing point-to-point transport at affordable prices. For those who don't want to be constrained by a scheduled bus route, GrabShuttle Plus provides a personalized and on-demand shuttle service in Punggol, Sengkang, Bedok, Tampines, Pasir Ris and Cheng San-Seletar areas, with fares starting from as low as $2.80.
"But we want to go beyond just offering multiple modes of transport in our app," said Goh Ker Jia, Regional Lead for Transport New Business, Grab.
The next step is to link up the various modes of transport smoothly, from payment integration with public transit services to the usage of real-time data from Grab and public transit services for improved trip planning.
Yet we have a far bigger goal – mobility that's not only seamless but also intelligent, as part of our aim to be Southeast Asia's most useful everyday Superapp, offering all the daily essentials consumers need, anytime they need it and even before they know they need it.
With the data we've gathered on first-mile and last-mile travel, we are working towards an app that is able to understand consumer behaviours and preferences and is able to intuitively suggest the most suitable travel option.
"For example, if you're going home from a shopping centre, the app will not suggest a GrabBike as it understands that you are likely to be carrying a fair amount of shopping.

"Our vision is that one day, the moment you book your ride, the app will be intelligent enough to suggest routes and modes of transport tailored to your preferences. That would be true mobility in your palm."