Hurray Hitch Drivers!
From 30 Apr 2019, you'll be able to access your rides history via our new Hitch Statements Portal. Tracking your cost recovery can now be done at your fingertips – anytime, anywhere you like!
How does it work?
Signing in:
Go to https://hitch.grab.com/ (tip: bookmark this url for future access)
Login using your Grab-registered email address
Click 'Send OTP' to generate the password that will be sent to your email inbox
Check your email inbox for the OTP
Go back to the portal and key in the OTP
Click 'Login'. There you go! You've successfully entered the portal!
Generating your statement:
Select the date range you're keen to view. Note that the portal will only capture rides from 29 Apr 2019, updated till 24 hours ago
Click 'Generate Summary' to download your statement in PDF format
Understanding your statement: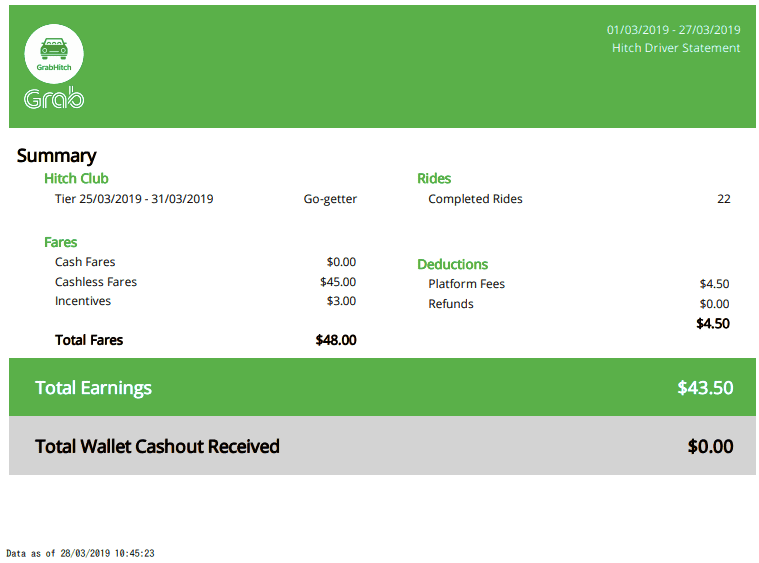 Glossary of terms in your statement:
| | |
| --- | --- |
| Hitch Club Tier | The tier you have achieved as of the last date selected in the activity period |
| Rides | Number of completed bookings regardless of the payment mode |
| Cash Fares | Fare amount from cash bookings (i.e. your rider paid in cash) |
| Cashless Fares | Fare amount from cashless bookings (i.e. your rider paid via credit/debit, GrabPay Credits) |
| Incentives | Additional monetary payment by Grab to reward your driving activity or behaviour |
| Total Fares | Summation of all fare types, incentives and recharges |
| Platform Fees | Amount contributed for usage of platform, ranging from 5-10% depending on your Hitch Club tier |
| Refunds | Bookings that were wrongly completed in the app and subsequently cancelled by Grab |
| Deductions | Summation of platform fees and refunds |
| Total Earnings | Net fares after deductions |
| Total Wallet Cashout Received | Cashout amount deposited into your registered bank number during the activity period |
Take note!
With the launch of the Statements Portal to all drivers on 30 April 2019, your weekly e-statements will no longer be sent to you via email on Thursdays. You may now access your statements with greater flexibility and convenience – OTOT 😉
Why can't I sign in to the Statement Portal?
Ensure you have done the following:
You're using the email address you've provided when you registered as a GrabHitch driver
You've completed a ride from 29 Apr 2019 up till 24 hours ago as the portal will need time to update your activity
If you still have difficulties receiving the OTP, please contact our Customer Experience team to troubleshoot your sign-in issue.
Is there any limit to the date range of activities I can download?

The portal allows you to track your activity from 29 Apr 2019, updated till 24 hours ago.
Why are there discrepancies in my statement?
The details in your statement is accurate as of the time of download, updated till 24 hours ago. This means that any refunds or changes in bookings after you have retrieved your statement will only be reflected when you download a new copy.