Singapore might physically be the smallest nation in the region but we're big on travel! Based on Grab data from last year, four out of 10 overseas Grab bookings were made by Singapore users.
The findings are part of a broader trend that sees Southeast Asians travelling more than ever, many of them within the region. According to the ASEAN Secretariat, intra-ASEAN travellers in 2015 already made up 42 per cent of the region's overall tourist numbers. The intra-Southeast Asian traveller segment today accounts for over 37 million trips, according to Grab market research data.
That's all of you – travelling for work and play. So, to cater to Southeast Asia's road warriors, frequent travellers and savvy trippers, Grab is launching a suite of travel benefits for Grab Platinum, Gold and Silver users travelling across the region. The programme has signed up more than 150 partners in all of the major airports across Southeast Asia, including Changi Airport. Benefits and deals include access to close to 70 lounges in the region, at rates of up to 55% off, and discounts of up to 20% at over 80 F&B partners.
In Singapore, Grab users enjoy discounted rates at the Plaza Premium Lounge at Terminal 1, Ambassador Lounge at Terminals 2 and 3, or Blossoms Lounge at Terminal 4. They can also enjoy discounts at outlets run by Emirates Leisure Retail, such as The Kitchen By Wolfgang Puck, Hudson Coffee and Pret a Manger (all in Terminal 3), and Tiger Den (Terminal 4), as well as at TGM, the airport dining outlet managed by Plaza Premium Group in Terminal 2.
We launched this based on insights gained from six years of serving travellers in the region, and learning about what you're like. What else did we learn? Read on:

When Singaporeans go travelling…
They go to Malaysia! It's not surprising since the country is just next door. For every five rides taken by Singapore users overseas, three were booked in Malaysia. And when in Malaysia, they can be found shopping in Johor Bahru at City Square and KSL City Mall, the two top pick-up points for Singaporeans in Malaysia.
And in Indonesia, the next popular country for Singaporean travellers, the airports in Jakarta and Bali came in first and second place respectively. The third most popular place for Singaporeans to get a Grab ride isn't an airport – it's actually Nagoya Hill in Batam, which is home to a popular shopping mall.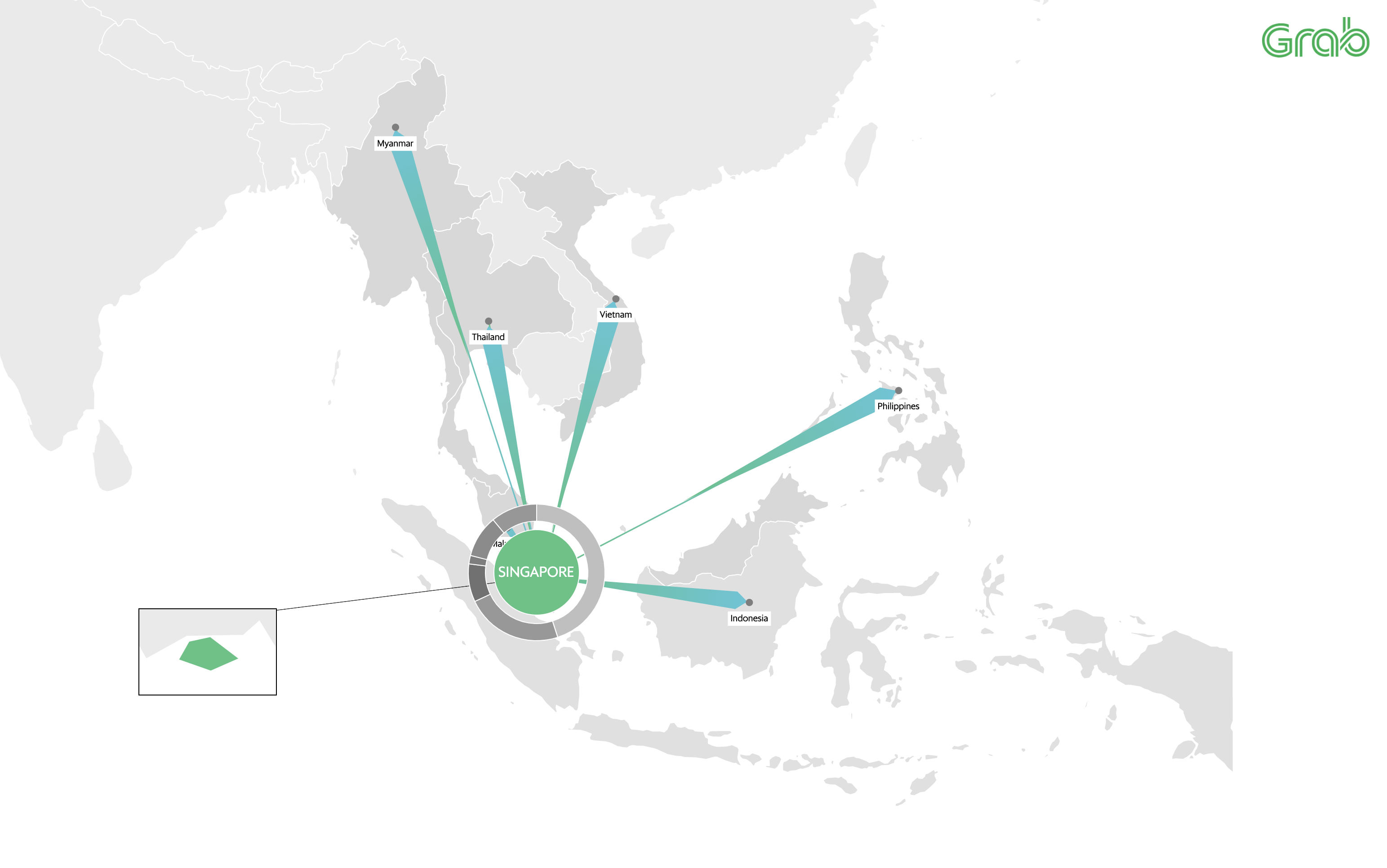 Where do Singapore Grab users visit when they travel? Which are the top pick-up points for tourists in Singapore? Explore these and more in our interactive map.
When travellers come to Singapore
More than a third of tourists that Singapore welcomed last year came from within Southeast Asia, mainly from Malaysia and Indonesia, said the Singapore Tourism Board. Grab's data reflects this – Of the Grab bookings made by travellers in Singapore, almost half were by Malaysia users and a quarter by Indonesians.
For visitors to Singapore, Changi Airport was the No. 1 pick-up point for all countries, except for Indonesia users, where it didn't even figure among the top three! Instead, Paragon Shopping Centre reigned supreme for them.
And speaking of Orchard Road, many users from Indonesia, Myanmar and Vietnam stay in Hotel Chancellor when they visit – there are a lot of bookings originating from the hotel.

Making it easy to travel in the region
Southeast Asia is charming, colourful and diverse but it's not exactly easy navigating the different languages, currencies and infrastructure. And it hits you most when you first arrive in a foreign land.
For travellers like Singaporean business development director John Ee, who fly every week within the region for work, having just one Grab app that can be used across the cities is immensely helpful. The app localises automatically with the correct maps and rates in local currency, all in the local language.
It even shows you what services are available in that city. For example, you can try GrabRemorque in Cambodia, GrabBike in Jakarta, Grab Roddaeng in Thailand or GrabThoneBane in Myanmar. (Grab is now available in more than 336 cities across Cambodia, Indonesia, Malaysia, Myanmar, Philippines, Singapore, Thailand and Vietnam.)
Another useful advantage that many tourists like is the auto-translate feature within the Grab app. When consultant Fraya Amithyaputri visited Singapore from Indonesia, she found it comforting that the Grab app could translate from Bahasa Indonesia to English and vice versa.
"I was going to Little India and Vivocity, and the auto-translation in GrabChat was very useful. It helped me communicate with the driver better, so I could get to my destination easily," Fraya said.
And for some, using Grab on their trips have enabled them to travel even more.
Take analyst Justin Cheong, for instance. He said, "Using Grab has made my travels so much happier and seamless. By topping up the in-app wallet with my credit card, I get cashback from the bank. When I book a Grab ride, I get GrabReward points, which I can then redeem for Krisflyer miles. It's like having three times the benefits!"