To most, flowers symbolise love, friendship, congratulations and even consolation. 
However, to Michelle, the founder of Blooms: by M, flowers once symbolised "making it in life" and became one of her motivations to succeed amidst difficult circumstances. 
Growing up, Michelle painfully understood what living without the certainty of electricity or a roof over her family's head was like. At the age of 6, her family left their HDB rental flat because they could not afford the rent and moved to an abandoned kampung. On the rare occasions when there was electricity, she would take every opportunity to watch her favourite dramas on television. These dramas often had scenes of rich men using flowers to court their lovers, which only served to solidify her sense of lack because even something as simple as flowers seemed out of her reach. After all, who could afford to spend so much on something that would wither in just a few weeks?
 "When I saw people buying bouquets, I would immediately think of Maslow's hierarchy of needs and how I would never be able to reach the top of the pyramid," said Michelle. "But that also gave me the determination to find a way to make the beauty of flowers accessible to those who were less well-to-do."
Thus she left her office job to embark on her new business venture: selling affordable and lasting flowers. She started experimenting with an assortment of preserved flowers which were more affordable and had a longer shelf life. Before long, her hard work paid off. Blooms: by M proved to be a hit and she decided to grow her business online. In 2020, they joined GrabMart.
On Valentine's Day that year, GrabMart orders for Blooms: by M took Michelle completely by surprise. Due to the unexpected surge in orders, the team had hundreds of  Grab delivery riders showing up at their doorstep over the course of the day. The team ended up having to intermittently pause taking in new orders numerous times throughout the day to manage current ones and even went around to apologise to the neighbours for the unexpected inconvenience. At the end of the day, the team was completely exhausted and one of them even had blisters on the soles from too much rushing about. 
Since then, Michelle's business on Grab has grown steadily and she has vastly expanded the brand's variety of gifts and bouquets with something for every reason. Today, Grab orders contribute to more than 30% of Blooms: by M's total sales.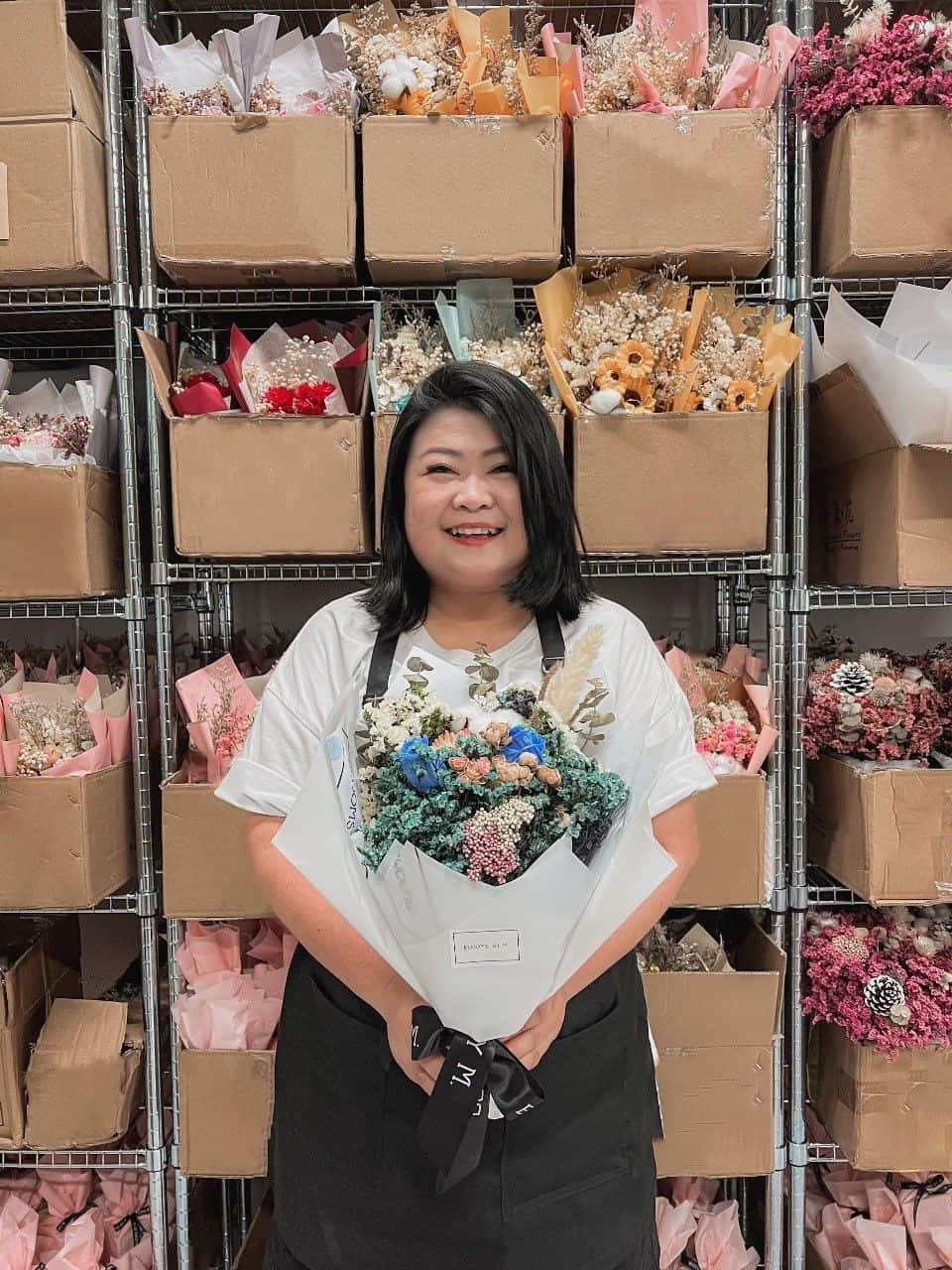 What are your favourite parts about running your own business? 
I love that I get the opportunity to be involved with my customers, especially when I write the accompanying gift cards for their orders. It brings me emotionally closer to them as I feel like I am a part of their story. I always try to understand their feelings and convey that into my cards by using different fonts and colours to highlight particular emotions or stress certain thoughts. I hope to bring the message to life and the recipient receives all the love with the gift.
Furthermore, I started expanding Blooms: by M in 2020, during the height of the pandemic. Compared to my previous job, having my own business is like a fresh breath of air, as it gives me more freedom and control over my work. 
What advice would you give to other aspiring entrepreneurs? 
My advice is that if you have an idea, act on it. All you have to do is start somewhere. If only I had known that my business would be this successful, I would've started it earlier. 
What are your plans for the future and how does your business fit in it? 
Our initial work-plan for 2021 included expanding to a pop-up store to test the physical retail market's receptiveness to our concept. However, living with COVID-19 required our business to remain light on our feet with great finesse. Therefore, we decided to put this on hold and focus on improving what we do best to be even better. Eventually, we hope to expand our operations and eventually introduce our business concept overseas.