Aishah (who also goes by the nickname Ace) is many things. She is a movie and travel fanatic, her family's sole breadwinner, and also one of Grab's few female delivery riders. 
In a field heavily dominated by men, Aishah stands out, proving that this presumably more 'masculine' and 'tough' role can be done just as well by a woman. 
Aishah's journey with GrabFood dates way back to as early as 2018, immediately after she received her motorbike license. She started out by delivering for Uber Eats, before moving on to Grab, after Grab acquired Uber in that same year. 
"When I first started, a lot of my customers were surprised upon realising that I'm a female rider", states Aishah, recounting her experiences as a female in a male-dominated field. While the number of female riders has grown since, she hopes to see even more female riders in the future. "Most of my delivery rider friends are guys!" she exclaims, referring to her close group of riders whom she occasionally delivers with and would say 'hi' to while on the road. 
Despite being a Grab delivery-partner for over four years, Aishah has no intentions of stopping. She enjoys the flexibility that Grab offers her on the job, and appreciates being able to decide her working hours. Furthermore, she enjoys riding her motorbike, which makes staying on with Grab a no-brainer for her. 
That said, her journey is definitely not all sunshine and roses. Aishah has had her fair share of challenging days, especially when faced with bad weather. In fact, Aishah vividly remembers her very first and worst accident in 2018, when she skidded on the road during a heavily rainy day. Her bike slid underneath the taxi in front of her, and she was hit with such an impact that she blacked out. The accident left Aishah with a scar on her hand which till today reminds her to be careful on the road. Despite this incident and the other challenges of the job, Aishah still enjoys her role as a delivery rider. Her resilience comes from observing her mother, whom she deems as her role model. Aishah's mother used to work long hours as a factory worker, waking up early in the morning to go to work and only returning after the sun sets. Growing up, Aishah saw how hardworking her mother was, learning from her to never give up and to overcome obstacles. 
With hard work and a disciplined savings plan, Aishah not only provides for her mother and sister, but is also planning to purchase a house of her own. Before the pandemic, she also ensured she would save money to take breaks and do what she loves – travelling overseas.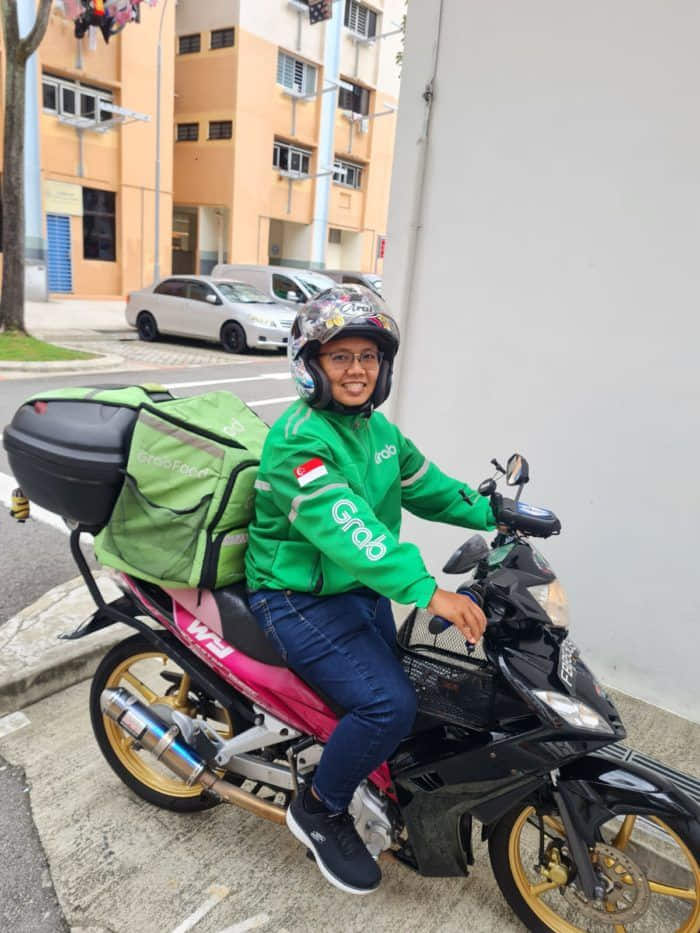 Aishah's advice to other female delivery-partners:
Remain strong and don't give up!  Many people assume that this job is only for men but they're wrong. We ladies can also do this job, if not better than the guys! In the future, I hope to see more female riders on the road. We can do this!