We heard you. We know the pain points you face while driving on the road. Remember the days when you had forgotten to manually enter ERP charges at the end of the trip? Or the times you didn't know how to split ERP charges among your GrabShare passengers?
As part of #BetterEveryday, we've now leveraged technology to introduce the Automated ERP post trip calculation feature. This will lessen your burdens so you do not have to worry about keying in ERP charges anymore.
We want to make sure you keep every dollar you earn!
We're committed to creating a fuss-free experience for you every day, so you can focus better on the road.
We will roll out by batches in order to ensure you have a smoother experience.
Here's how it works: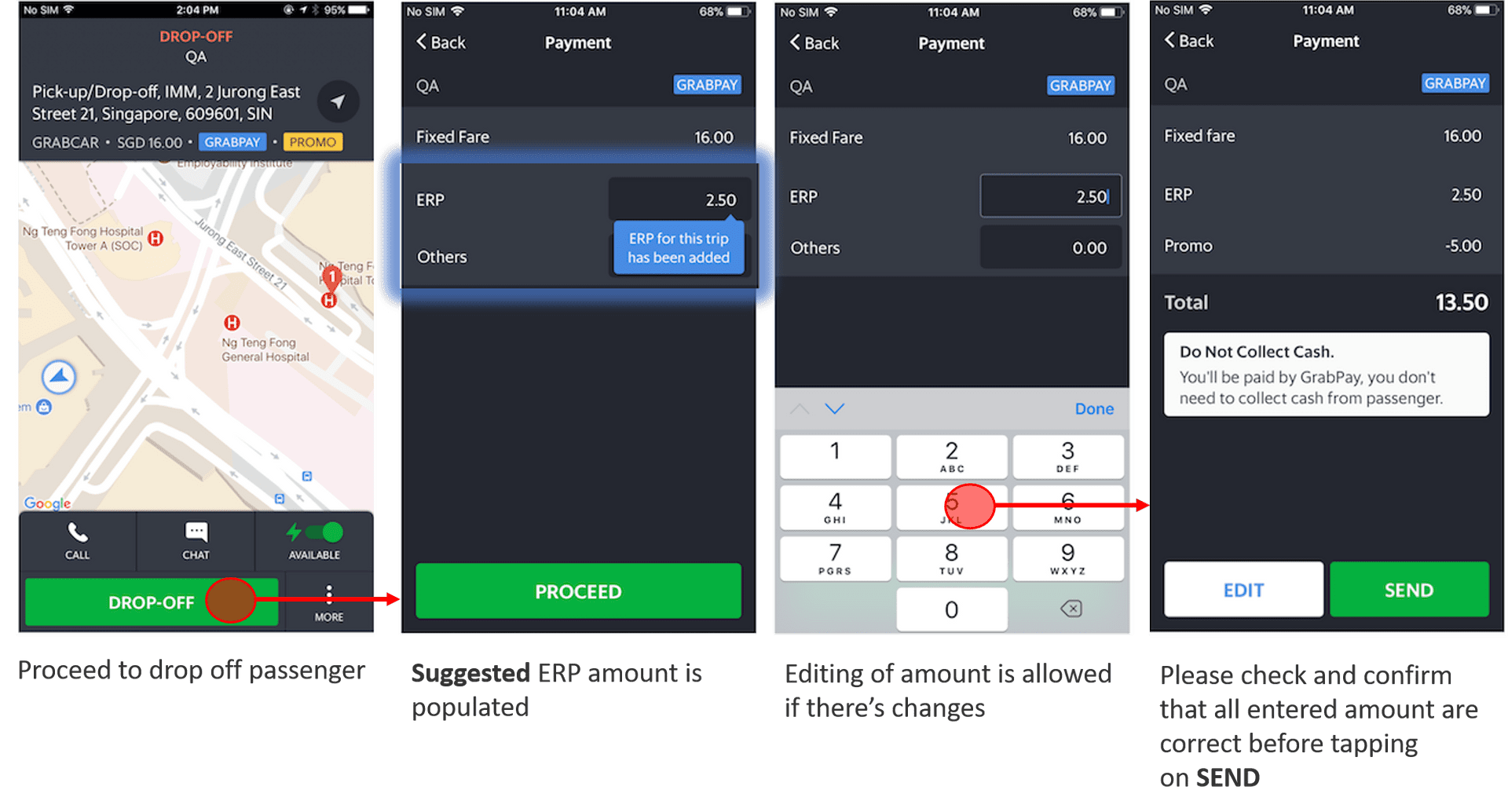 FAQs:
Q: Is this feature available to all Partners?
A: The Automatic ERP Calculator is currently being rolled out in batches. Partners will be notified once the feature has been enabled for them.
Q: How are the tolls calculated?
A: Toll amounts are based on local electronic toll collection system pricing.
Q: What if the ERP charges cannot be divided equally?
A: Tolls charges divided will be automatically be rounded up to the nearest $0.05.
Q: I went through a $1 ERP. How should I split the charge if I have three parties in my car?
A: Fret not, we'll take care of that for you. Grab will split the fare equally amongst passengers and round it up to the nearest $0.05
Example:
→ $2 ERP (split by 3) — $0.70 (GrabPay); $0.70 (cash)
Q: When are tolls added to a passenger's fare?
A: Tolls will be charged to the passengers at the end of the trip after the driver confirm the trip is completed.
Q: Does Grab take fees from toll payments?
A: Tolls paid by passengers aren't subject to any Grab fees, so the full toll amount is added to driver earnings.
Q: Where can I see toll information for rides?
A: Passengers are automatically charged for tolls in the app after the trip is completed, so there's no need to ask passengers to pay for tolls with cash or a credit card. If passengers offer to pay for a toll with cash or a credit card, drivers should decline the offer.
Q: I think I'm missing a toll fee
A: Toll fees are included in the individual ride breakdown in your ride history and as line items in the Driver History. If you think a ride amount is missing a toll fee, we're happy to help investigate. Contact our Support for help.
Q: Is Sentosa gantry included in the list of toll fees auto calculated?
A: Sentosa gantry is not included as it is not an ERP gantry and sentosa entry fees is dependent on the access level of the passenger. 
Q: I was incorrectly charged for the ERP tolls for my ride, how do I get a refund?
Happy Grabbing!