When it comes to size, engagement, and revenue-generating opportunities, few markets compare to the one served by Grab. In 2021, the technology company hit the milestone of being the most downloaded app in all of Southeast Asia for both Android and iOS devices.
It is not only individual end users whose numbers are growing on the Grab platform. The number of businesses that make use of the app's products and services has also soared in recent years. The pool of active F&B merchants using the GrabFood service, for instance, grew by as much as 60% in 2020 alone, despite the impact of the COVID-19 pandemic on the domestic economy.
In a way, this isn't all that surprising, considering the benefits that the service affords merchants. In its 2020–2021 Food Trends Report, a joint survey with NielsenIQ, Grab reported that merchants who joined GrabFood were able to grow their sales by a whopping 61%—even amidst the financial uncertainty that came with the COVID-19 pandemic.
On top of an extensive market reach, Grab offers excellent data insight and analytics technologies to its merchants, thus allowing them to harness huge volumes of non-personally identifiable data generated by Filipino customers and to study these for business strategy improvement. For example, GrabAds' analytics tools for GrabFood allow merchants to gain insight about their customers' food preferences according to these individuals' eater profile, favorite cuisines, favorite dishes, and most commonly patronized restaurants. It's also possible to find out what demographics these customers are part of in terms of their age, gender, and socioeconomic status, which then lets merchants target particular customers by geolocation, in addition to advertising appropriate items according to the time of day (i.e. breakfast meals for breakfast and snack-time treats for merienda).
Through its innovative, adaptable, and highly curated GrabAds program, Grab helps its merchants understand important sales and marketing trends almost at the very same time that they unfold. This results in the perfect intersection of what customers want and what businesses can offer them.
Here's a brief guide about the types of advertisements that are available through the GrabAds program, as well as the top three examples of successful campaigns and services that involve GrabAds: SulEAT Savers; Sakto, Sweldo!; and Grab Merchant Solutions.
What Is the GrabAds Program and How Does It Work?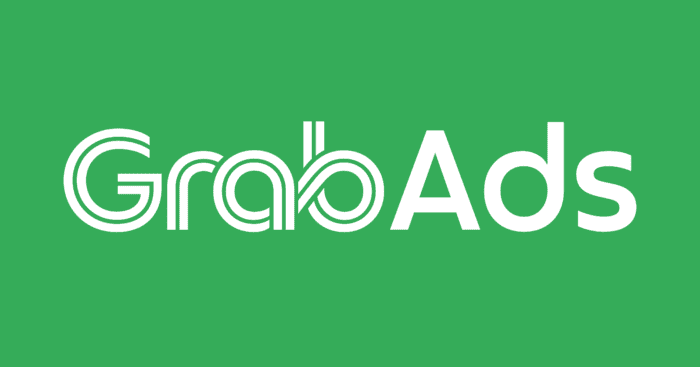 GrabAds is Grab's dedicated ad program for its merchants. Grab offers an extensive menu of ads to fit every merchant's marketing needs. You can choose which kinds of ads to purchase and which one of Grab's powerful marketing campaigns to join so that you can make your business more visible to the public. The process of advertising on the Grab app works like this: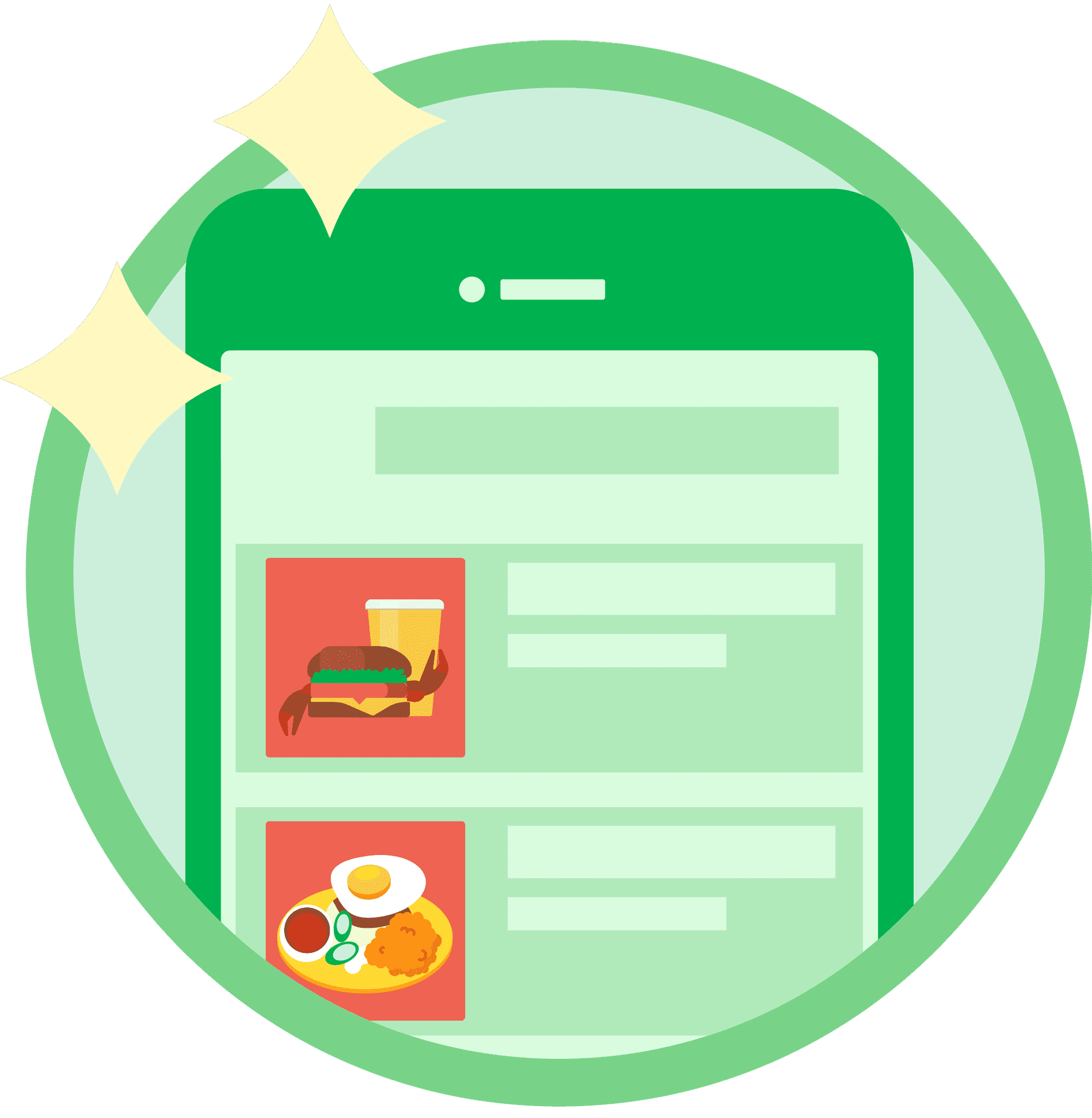 Make Your Business Visible to Active Grab Customers.
80% of Grab's customers follow through on a transaction every time they open the app. A well-placed GrabAd is one of your best opportunities to reach out to a customer who's already craving something to eat or looking for a particular item.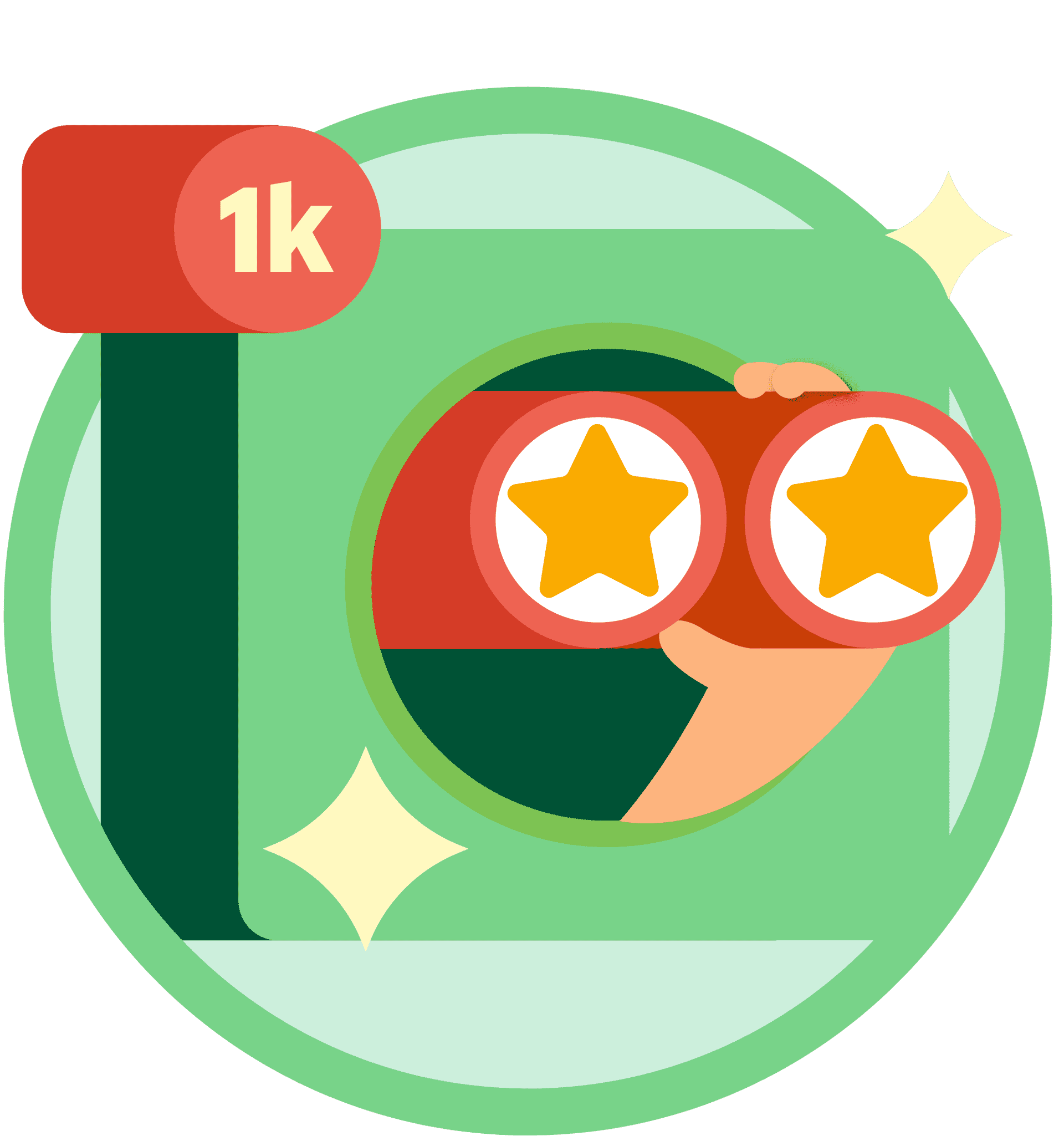 Get Your Customers Interested in Your Products.
Once you've secured your customers' attention through the ad, get them interested in particular items on your menu. Grab's user interface will ensure a quick, seamless transition between your ad and your virtual storefront.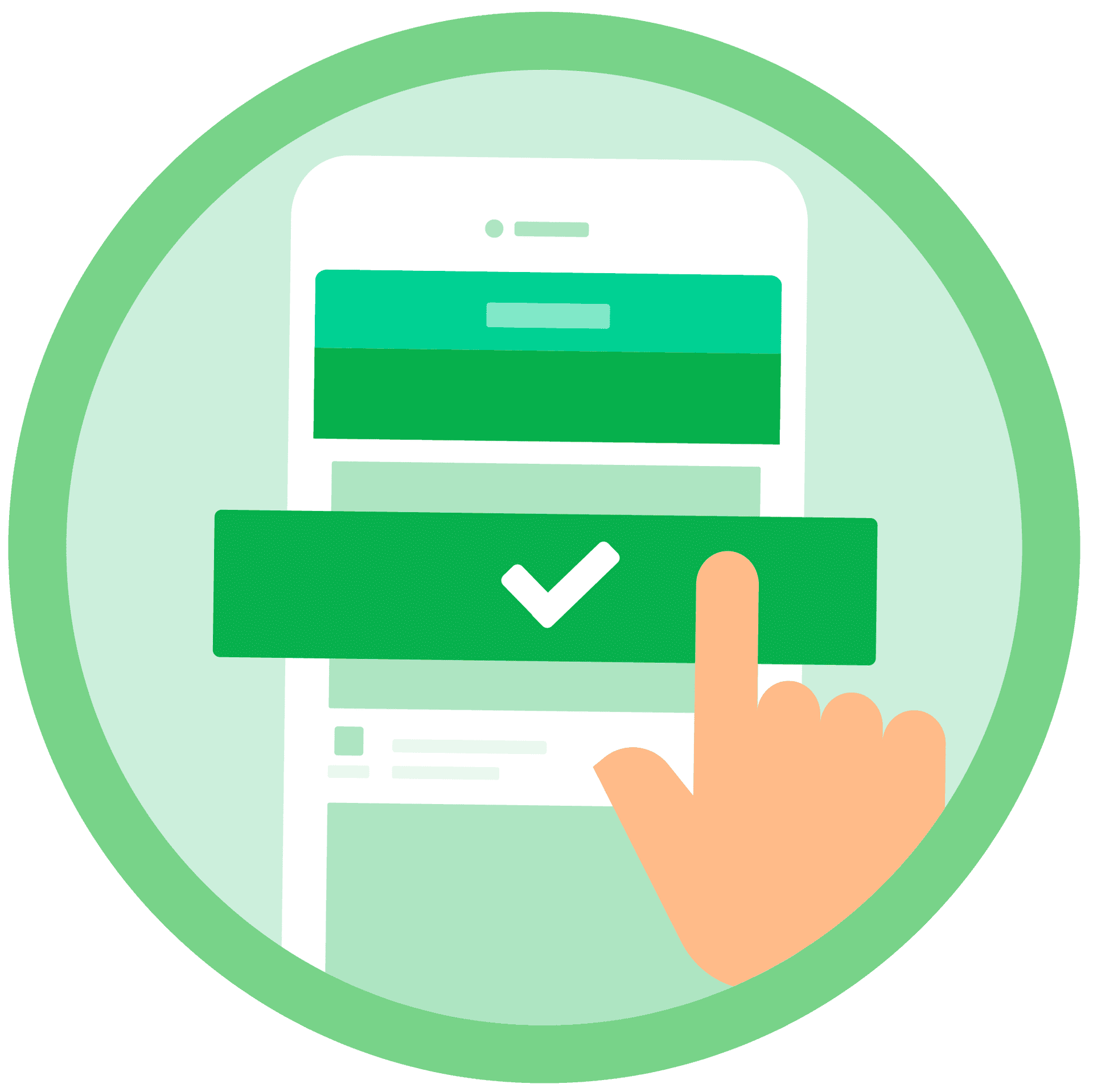 Use Grab's Action-Based Formats.
The GrabAds program also rewards customer engagement with your brand. They'll get points or discounts for ticking off on a particular goal. This, in turn, will motivate them to use their rewards to buy from F&B establishments like yours.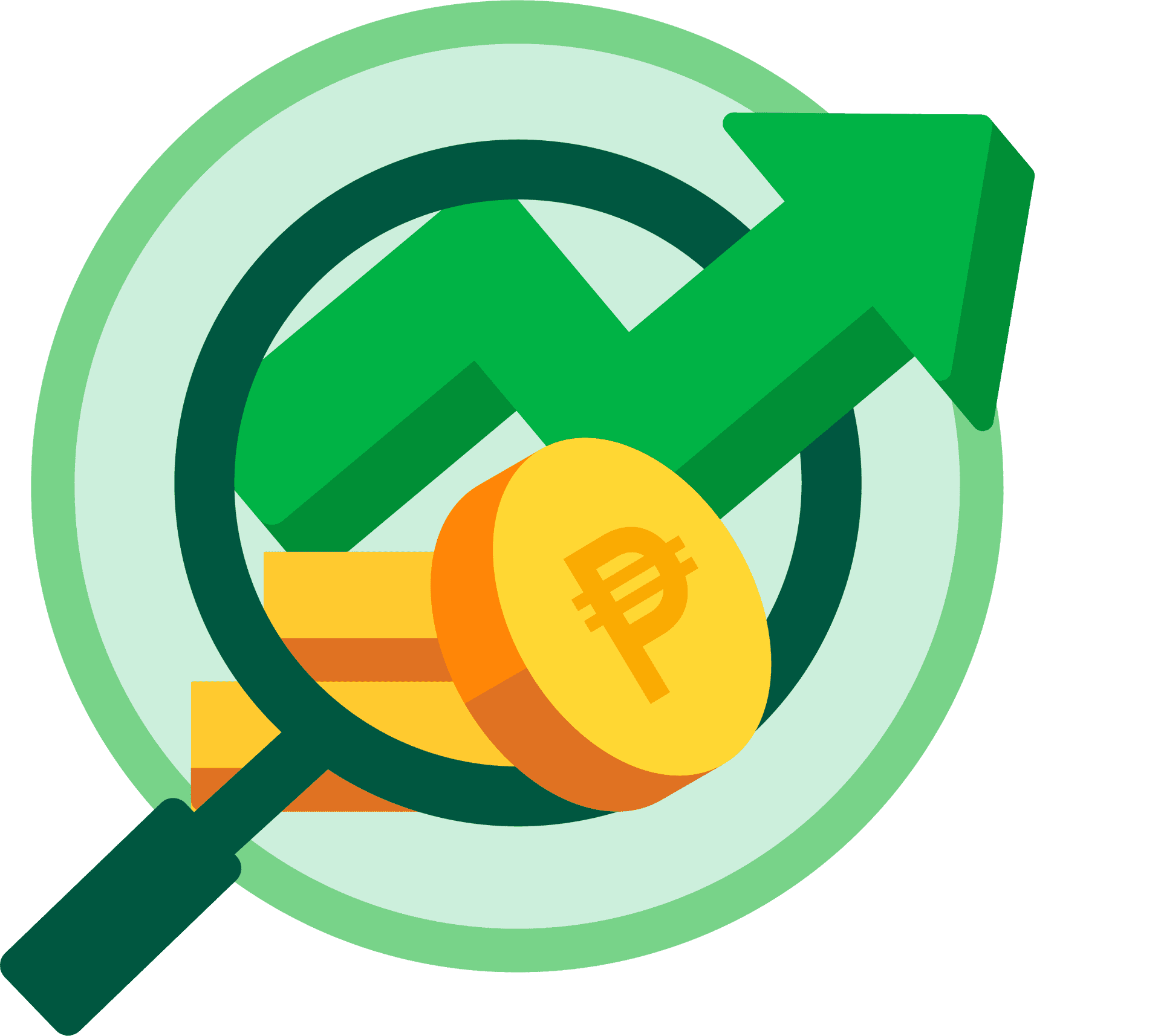 Track and Analyze Your Business Performance.
You'll be able to track your business performance and ROI on ad spending through Grab's state-of-the-art metrics. Take advantage of real-time insight about the people and demographics your ad resonated with the most.
There are different types of ads available through the GrabAds program. You can use these ads to target audiences at different touchpoints during the
customer journey
, namely (1) the awareness stage, (2) consideration stage, (3) the purchasing stage, and (4) upselling stage.
Below are the different types of GrabAds you can purchase for your business:
Masthead Ad. This type of ad will be visible to customers as soon as they open the Grab app to access their Grab Home feed. Tapping on the masthead ad will direct them to your menu. Masthead ads are among the most prominent and most effective types of ads on Grab because they're highly noticeable and they achieve 100% share of voice (SOV).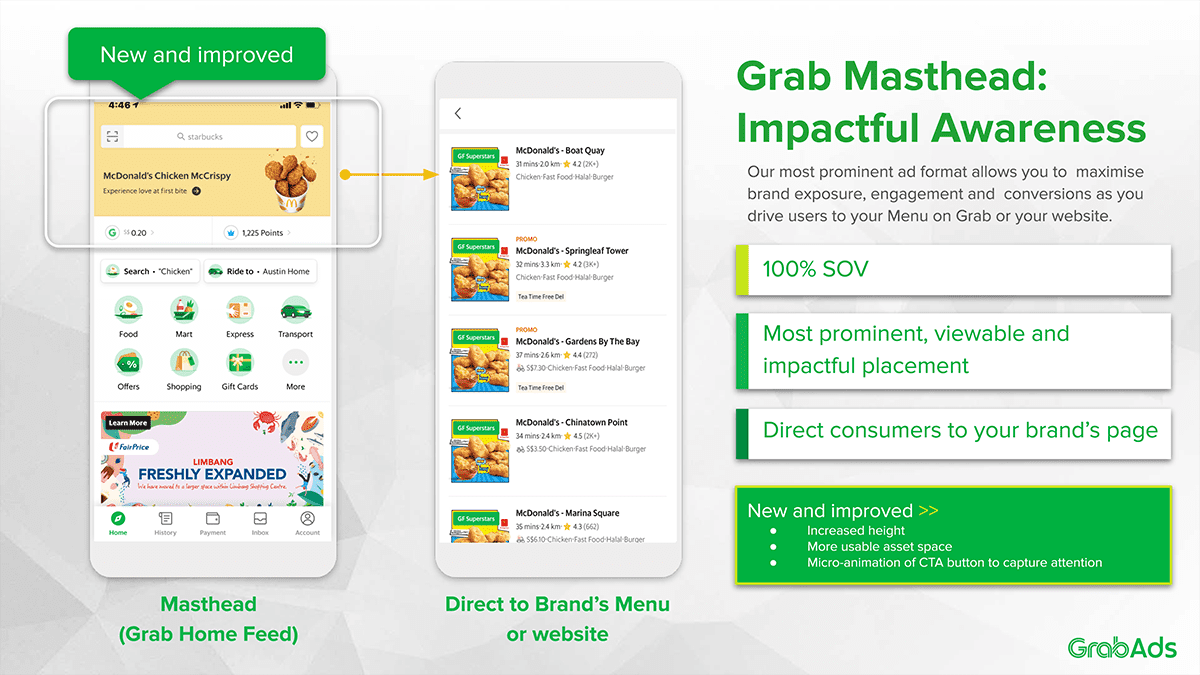 Homepage Native Images or Videos. You can also draw customers in with an image or video that communicates your brand story. These ads also have a high level of visibility and can link customers directly to your menu or inventory of available items. Finally, they also come with options for SOV buy.
Power Banner. GrabAds' Power Banners target specific audiences at specific times of the day. Power banners are a particularly effective type of GrabAd as they can achieve up to 1% click-through rate and up to three times average return on GrabMerchants' ad spending.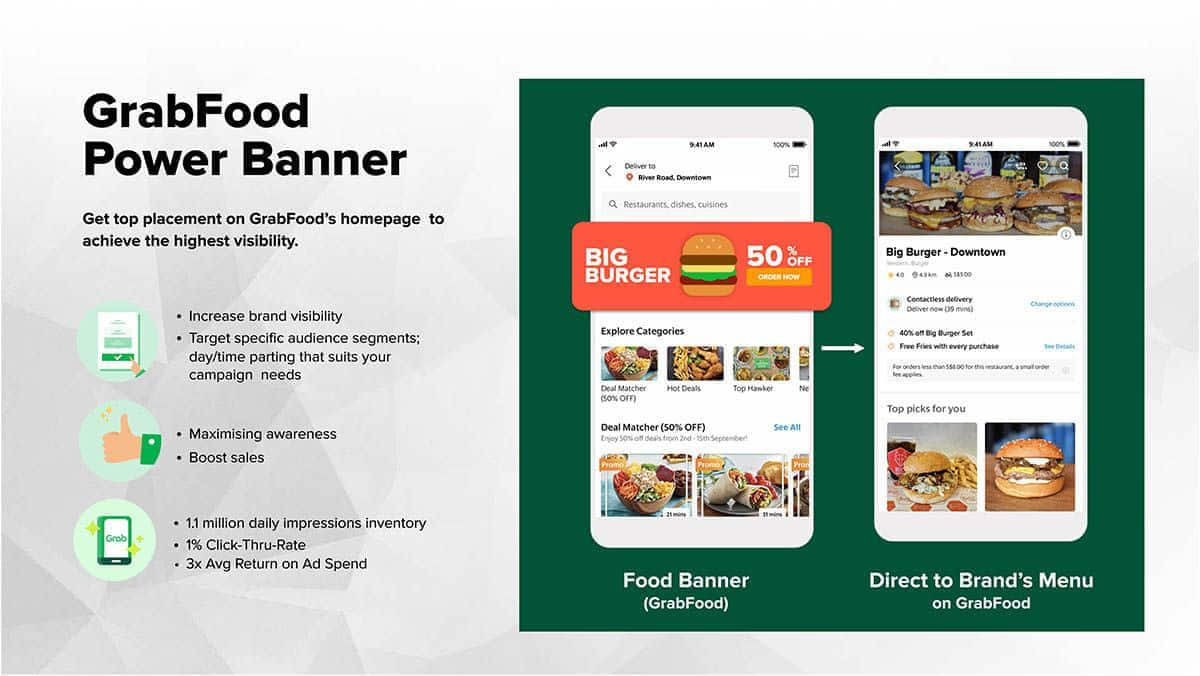 Rank Boosters. This type of ad offering will prop your brand up to the top of your customers' search results, for example for a particular category or cuisine. Your brand will appear on the first, second, third, or fourth slot in the search results, which will put your offerings among the top options.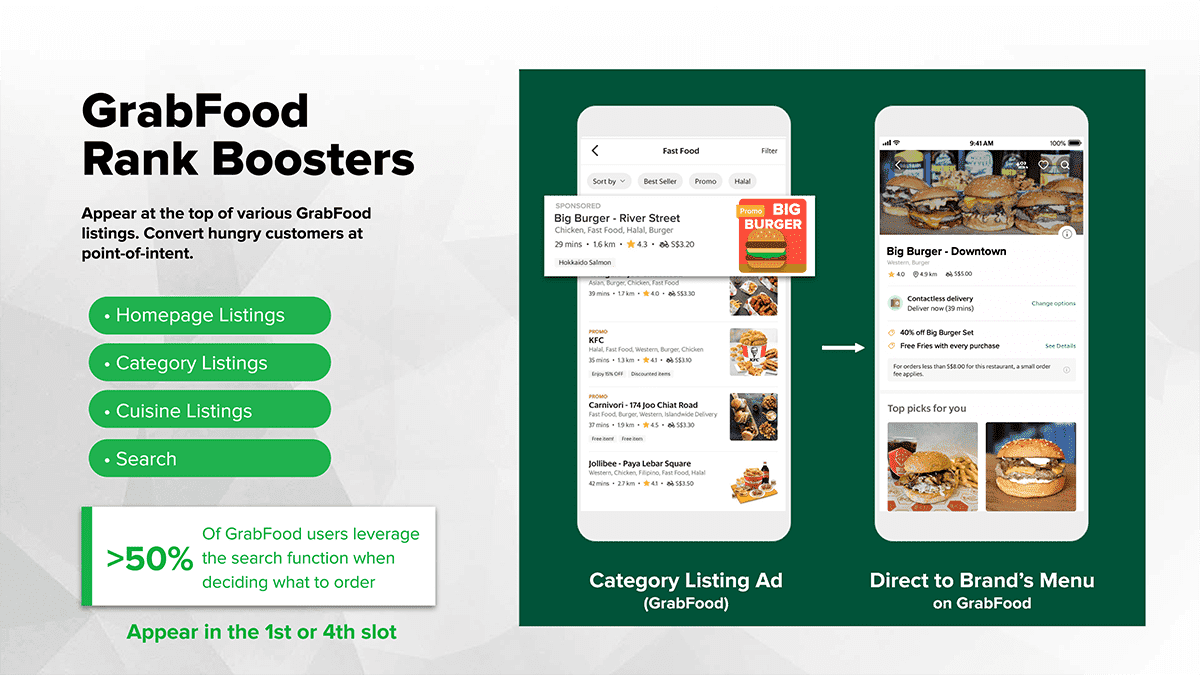 There are several types of Rank Boosters.
Homepage Listings. Homepage listings ensure that customers don't need to stray farther than the homepage to discover you as a recommended brand. You can introduce them to your brand right on the home screen through this type of ad.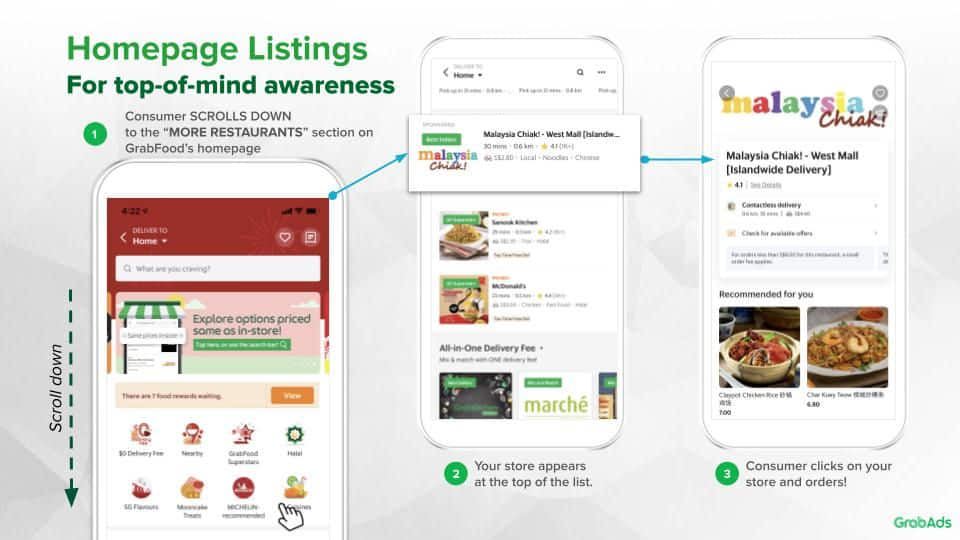 Category Listings. This type of ad will have your brand show up when a Grab customer clicks on a particular icon on their Home screen, like "SulEAT Savers" or "Starts at 99" for GrabFood.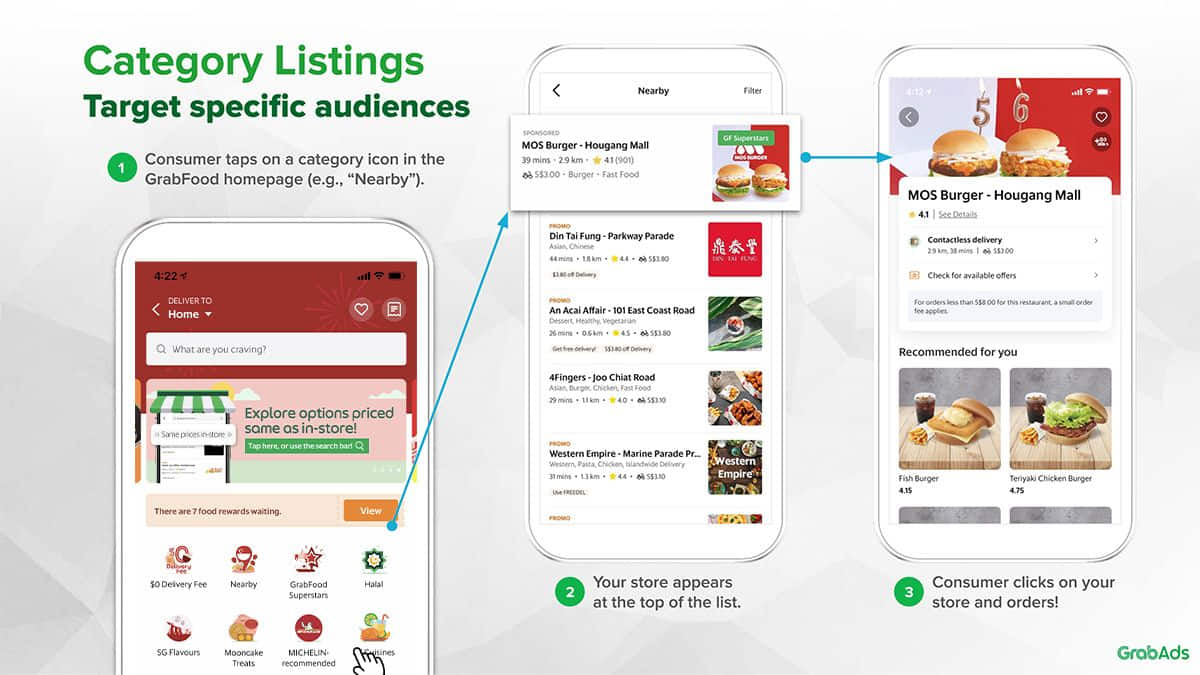 Cuisine Listings. If you're a GrabFood merchant, you can use this type of ad to list your F&B business under particular cuisines, e.g. Filipino, Chinese, Japanese, Italian, vegetarian, fast food, or seafood.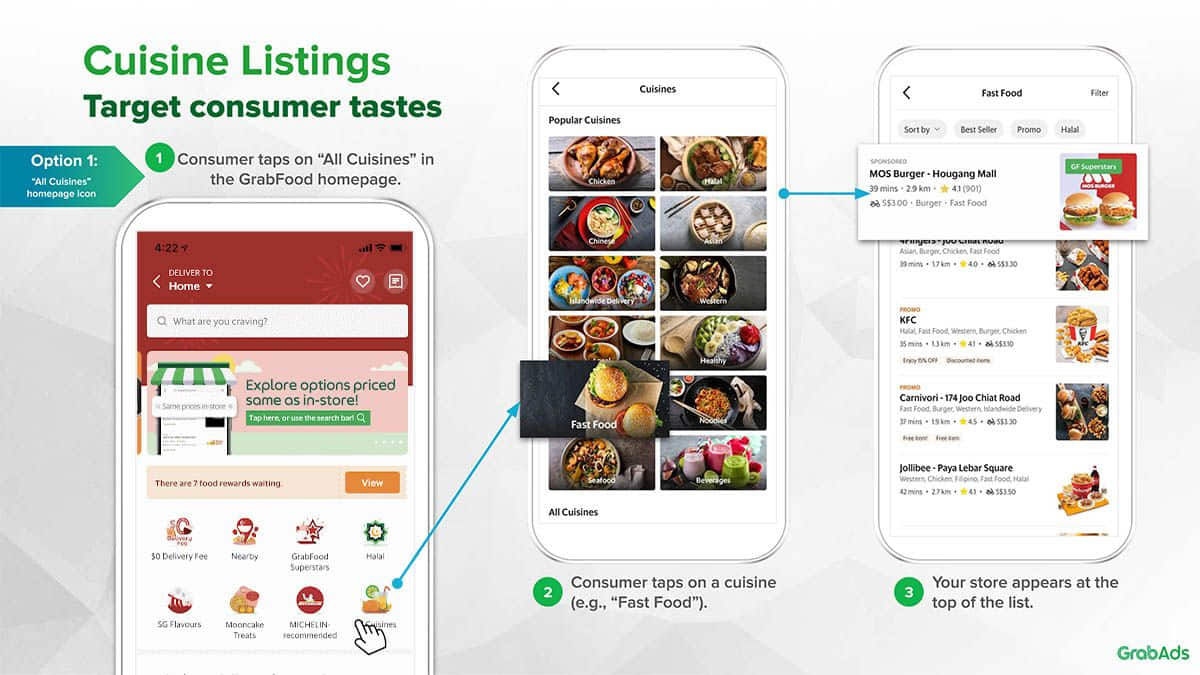 Search. This type of GrabAd will ensure that your brand will turn up after a customer types a particular keyword into their Grab search bar, for example "iced coffee," "milk tea," or "pizza."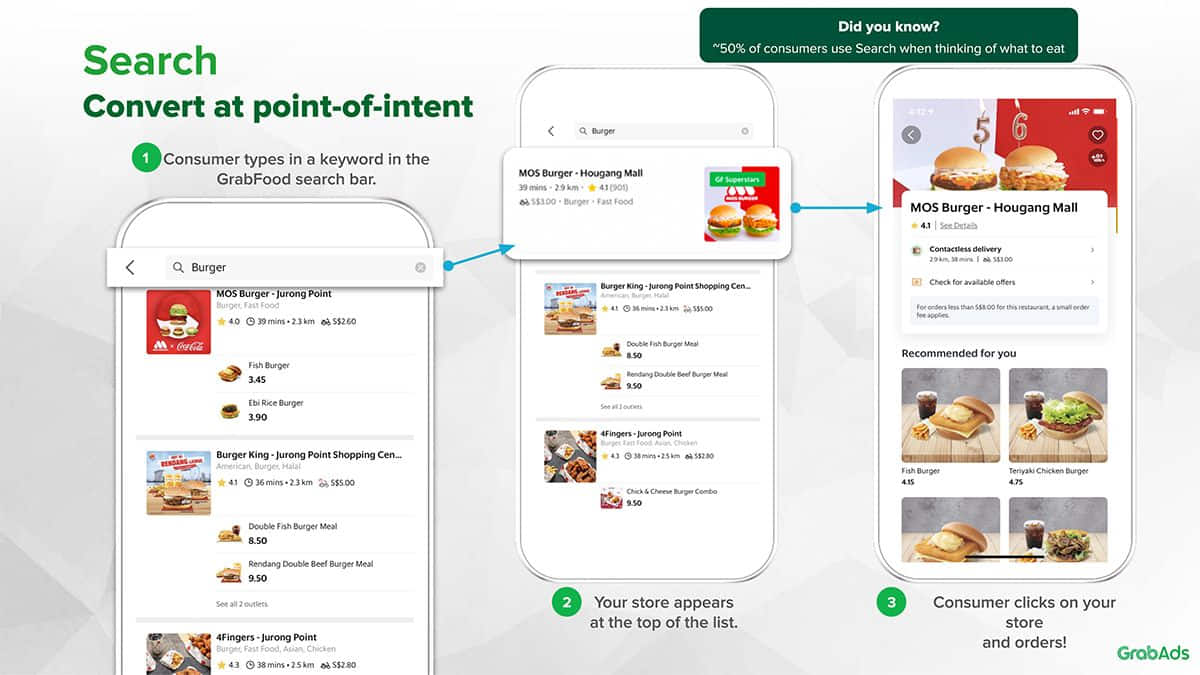 In-Transit Ad. This type of ad will invite customers to check out your brand as they're waiting for one of their Grab transactions from GrabFood, GrabMart, or GrabExpress.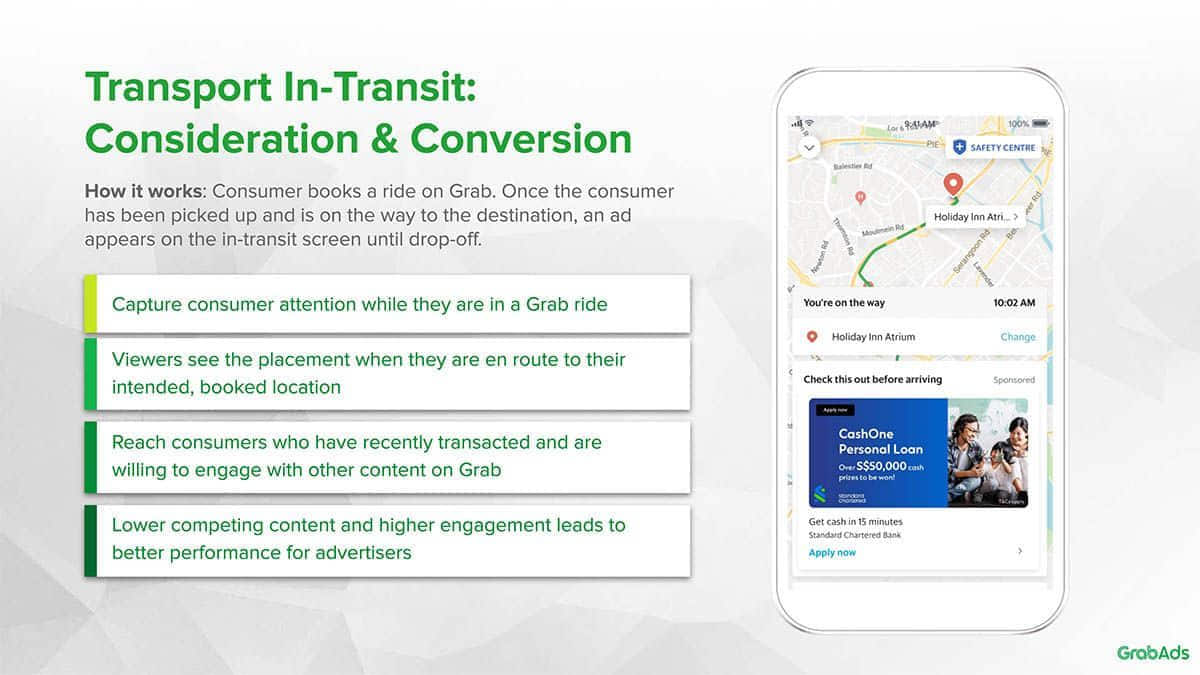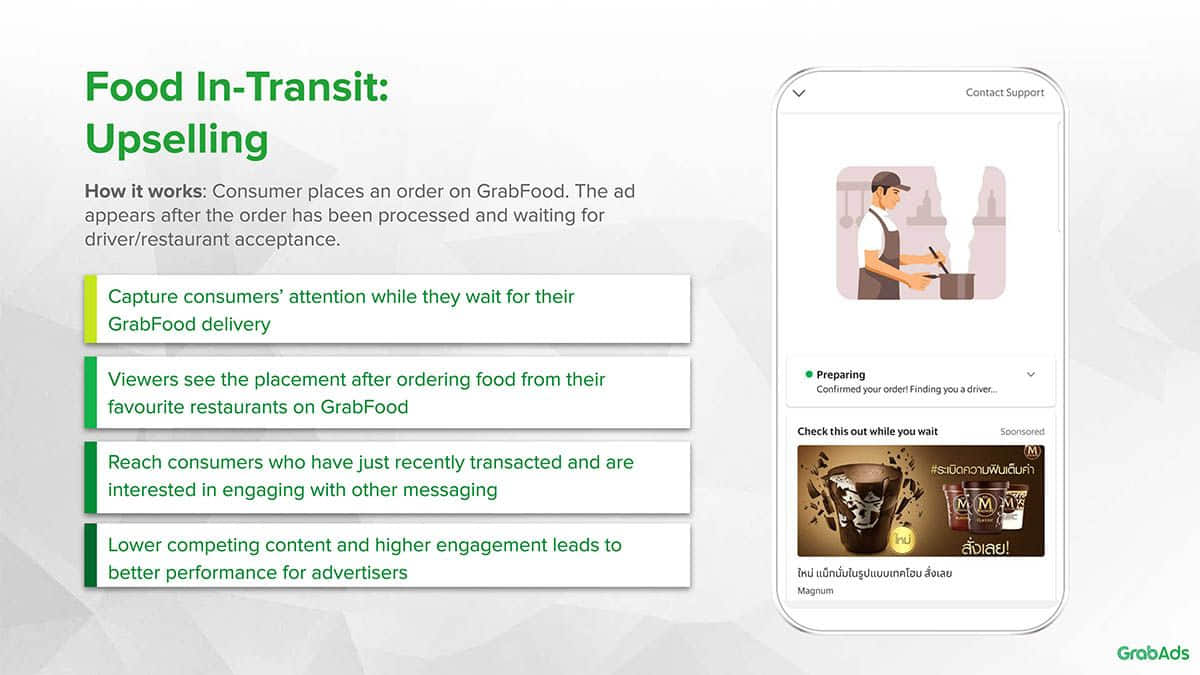 On top of the options listed above, Grab also offers automatic ad placements. Automatic Placements allows ads to appear in multiple in-app placements with the same budget. In particular, these are the Food In-Transit placement, the Transport In-Transit placement, and the Home Feed placement. It's perfect for merchants looking to maximize awareness across different parts of the consumer journey because they can engage with consumers in parts of the app where there is lower competing content.
Automatic Placements can result in a 61% increase in impressions compared to advertising on the Grab feed alone, and it guarantees merchants optimized ad distribution for the best possible results. Additionally, the average click-through rate (CTR) for Automatic Placements is between 1.5 and 2.0% compared to a Power Banner, which has an average CTR of 0.50 to 1.0%. Moreover, Grab merchants can explore premium GrabAd services like the remarketing function for returning customers and bespoke audience matching to recommended audiences.
As a Grab merchant and participant in the GrabAds program, you can be assured of a brand-safe environment. Grab's interface is family-friendly and highly curated according to each Grab customer's needs. All Grab customers must also be fully verified and logged in when they use the app to transact. This means that there's a lower risk of you incurring financial losses due to conspicuous and unscrupulous customer activity. You can trust in the GrabAds program to protect your F&B establishment's reputation and even to boost your brand's image through its affiliation with Grab.
3 Valuable Campaigns and Services Involving the GrabAds Program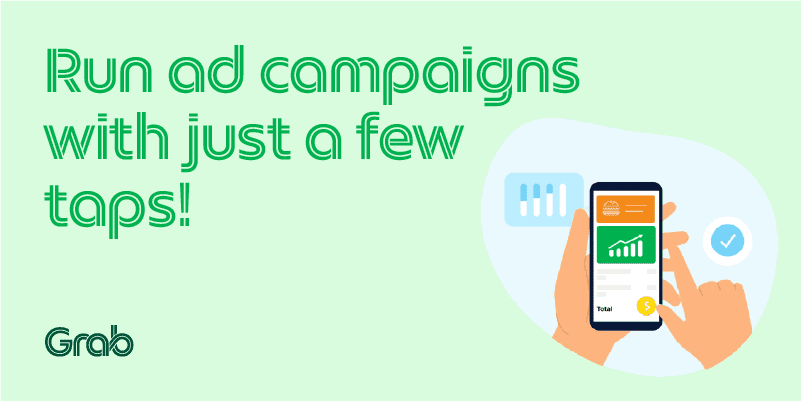 Want to know more about how GrabAds can help your business? Below are three highly successful Grab marketing efforts that have harnessed the power of GrabAds and helped businesses truly connect with their intended audiences.
SulEAT Savers, one of the most popular campaigns on GrabFood, features the best that GrabFood establishments have to offer at prices that are more sulit for customers. Indeed, food tastes even better to customers when they know they got it for less through an excellent deal. On top of truly sulit discounts, SulEAT Savers also allows customers to cash in on other money-saving promos like free Grab deliveries.
Consider highlighting your restaurant's best-selling items by advertising them through a special offer on the Grab app. This will give potential customers extra motivation to try out your food for the first time or to reorder their favorites at lower prices.
Participation in SulEAT Savers allows you to let your customers enjoy a 20% discount on your top SKUs, with the promo running every two weeks until the end of the year. Omnibus in-app GrabAds mileages that a participating merchant will receive include a shared banner, a carousel ad, a category icon, and a pop-up notification that will lead customers to one's storefront. For even better visibility, you can choose to buy Hero or Highlight packages with dedicated in-app Power Banner and Rank Booster ads. Bothoptions also include a post on GrabFood's Facebook page.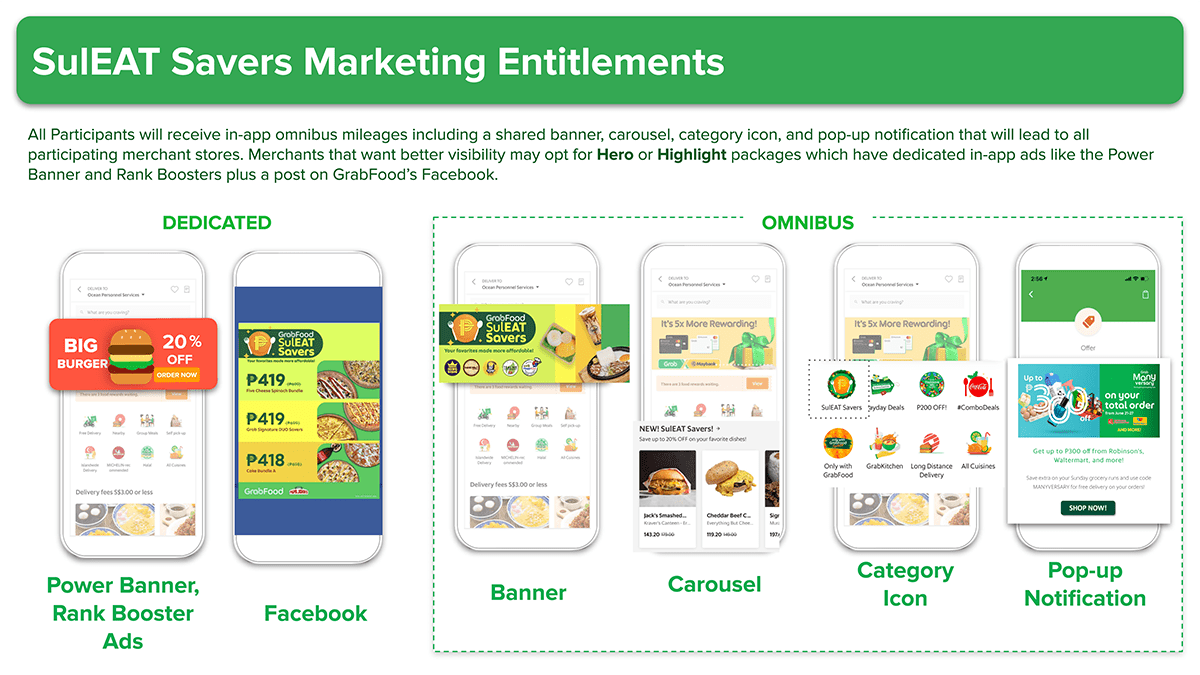 Don't delay and sign up for one of the 20 available slots per batch through your GrabFood Account Manager or GrabFood's Merchant Support Team.
For customers who've weathered another petsa de peligro, reward them with payday perks through the Sakto, Sweldo! promo. Sakto, Sweldo! allows customers to use an app-wide discount on Grab services like GrabFood, GrabCar, and GrabMart. The promo consists of 30% off discounts for the whole day for a minimum spend of PHP 300 and a maximum discount of PHP 160. Limited redemptions will be available.
Omnibus GrabAds package inclusions for Sakto, Sweldo! include native ads, a carousel-format ad, a category icon, a push inbox notification, and a Facebook ad.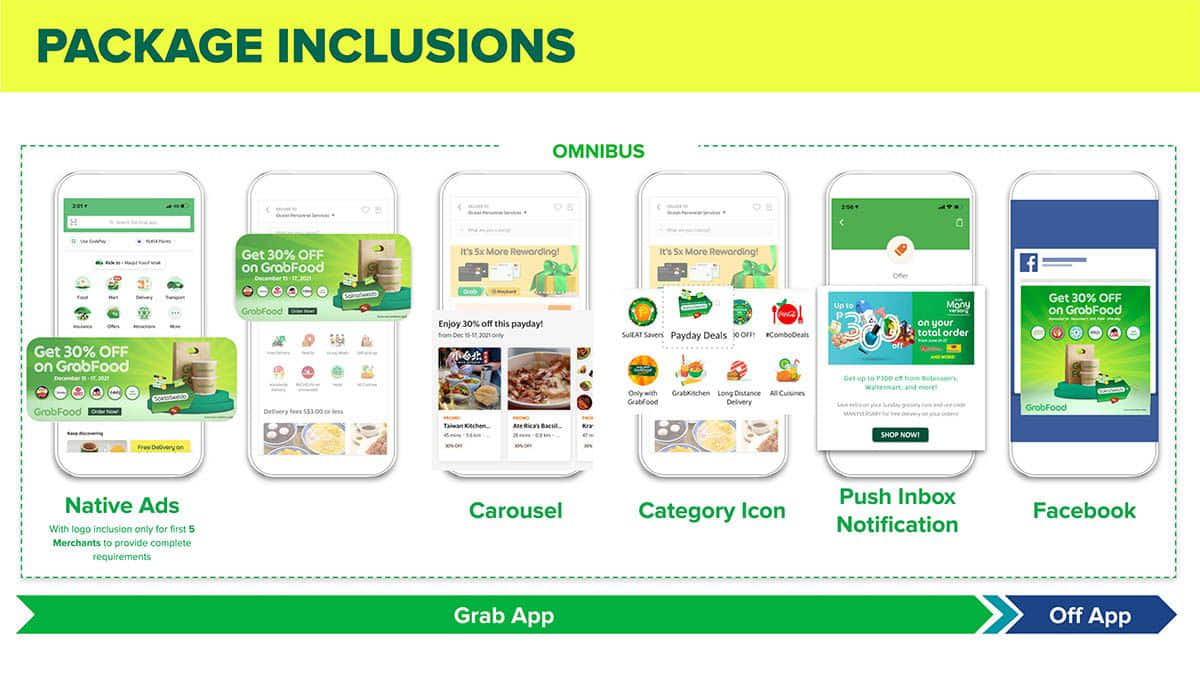 Let customers savor great deals on your products when they have a little more payday cash to spend and join Grab's Sakto, Sweldo! campaign.
Grab Merchant Solutions (GMS)
Grab merchants who want to learn about existing Grab campaigns and enroll only certain branches of their F&B business into an ads campaign can opt into Grab Merchant Solutions, or GMS. GMS will allow you to join an existing campaign that's featured on the GrabMerchant Portal and to choose an available campaign package.
With GMS, you'll be able to customize your ad solutions based on what types of ads you need and which store locations to boost. If you want to put the spotlight on certain restaurant branches, simply visit the GrabMerchant Portal, sign up for the campaign you're interested in, select the outlets that you want to be part of the campaign, and submit a request.
These solutions are perfect for GrabMerchants who are looking for extra customization options and don't mind sifting through the many exciting campaign packages available on the GrabMerchant Portal. Try looking through the portal for an ad package that suits your needs.
Generate Fresh Revenue for Your Business by Advertising through GrabAds!
Grab is happy to support your business and help you become more visible to your intended customers. Contact a GrabFood Account Manager or a member of the GrabFood Merchant Support Team to join the SulEAT Savers and Sakto, Sweldo! ad campaigns. To check out which packages are currently available through GMS, be sure to browse the GrabMerchant Portal as well. 
Advertise your business in a fresh, exciting, and relevant way to your target customers. Explore one of GrabAds' advertising solutions now!