Food pick-up is an idea that is likely almost as old as the concept of restaurants itself. However, Grabod's Self Pick-Up option takes the concept and infuses it with a higher level of convenience for both GrabFood merchant-partners and regular Grab users.
And if you think self pick-up is only a passing fad, think again. Worldwide trends are indicating that in-store and curbside pick-up services are now more popular than ever. While recent interest in food pick-up was mostly due to a need to readjust to the realities of the COVID-19 pandemic, it seems that these will continue to be a part of our lives long after the pandemic ends. 
Here are just 5 reasons why we know Self Pick-up will be part of the new normal.
1.) Self Pick-Up Protects Customers and Employees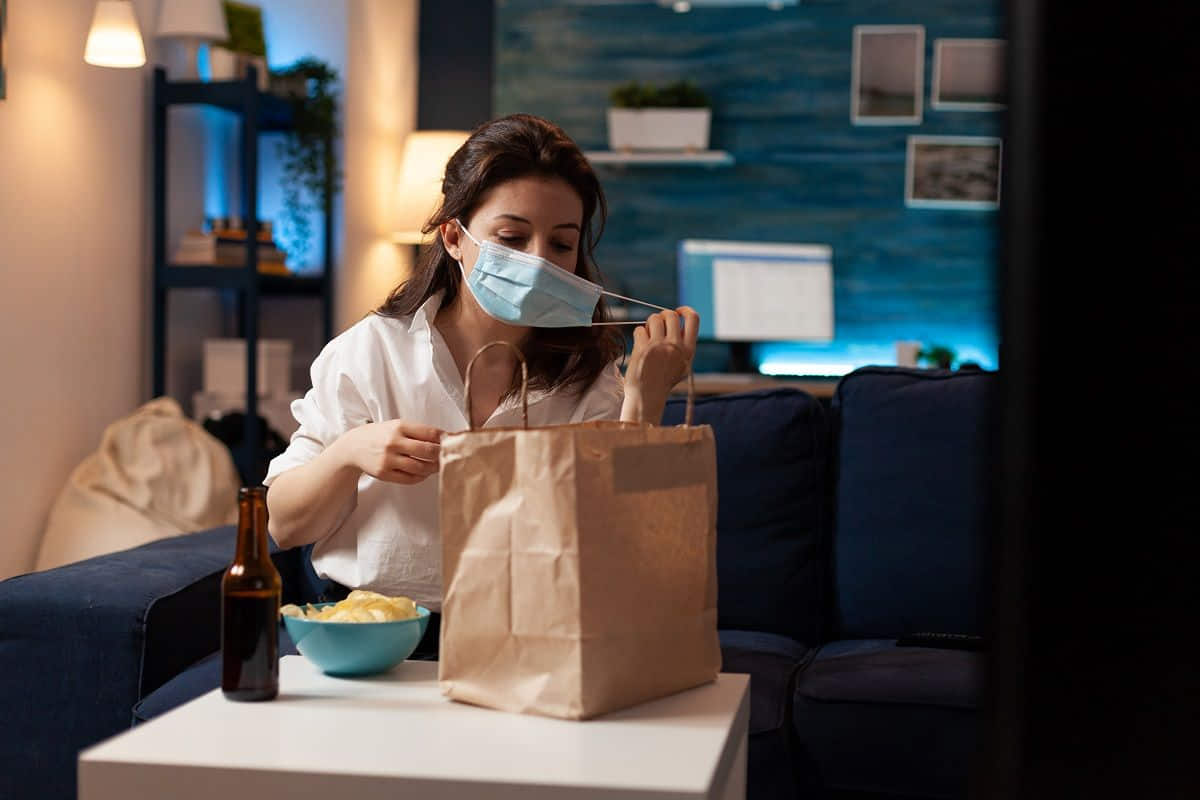 Now that everyone is aware of the risks of close human contact, many would prefer to minimize exposure to these risks as much as they could. Even though dine-in options are slowly returning, there are still many other potential customers who would prefer to avoid the health risks presented by crowds and unfamiliar people.
Customers who want to limit their contact will find GrabFood Self Pick-Up to be a good way to enjoy quality meals without unnecessarily exposing themselves to COVID-19 and other contagious illnesses.While contactless delivery remains an excellent option for many of these customers, self-pickup may be more appealing to some individuals, such as those who live with immunocompromised family members.
It's not just health-conscious customers who benefit either. Having a self pick-up option reduces potential health risks for your employees as well. Over time, it may help minimize the odds of your staff contracting illnesses like COVID-19 or influenza, resulting in reduced healthcare costs as well as better service levels.
2.) It Lets You Serve More Customers While Spending Less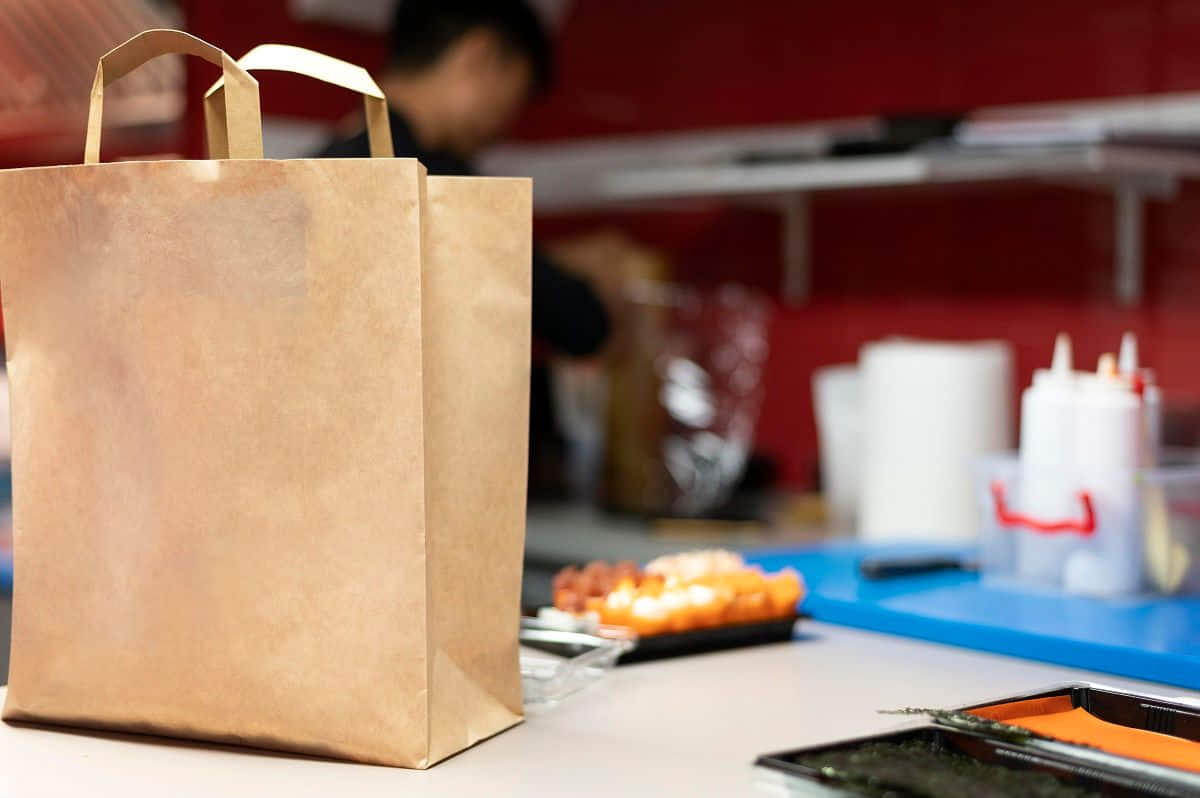 Space rental and maintenance are among the biggest expenses incurred by food businesses. This is especially true for restaurants and other foodservice businesses that have a dining area, particularly if they are in a prime location such as a mall or similar high-traffic space. Additionally, when dining areas are filled up, the business will have to contend with opportunity costs because of lost potential customers.
Thanks to GrabFood Self Pick-Up, food business owners can minimize or eliminate all these issues. Restaurants and other F&B businesses can use the service to effectively reduce their rented space and associated maintenance and utilities costs while still serving their intended customers. What's more, customers who order through Self Pick-Up won't need to use up seats intended for dine-in use, reducing opportunity costs caused by crowded dining areas.
Food businesses may even opt to leave out a dining area altogether and, instead, operate as a cloud kitchen—a foodservice business that's built around food deliveries or self pick-up service. Businesses that go all-in on this setup dramatically need far less space to operate, which results in them seeing much lower rental and maintenance costs. This setup could also be used by food businesses to serve new areas at a much lower cost than traditional locations. Given that direct contact with customers could be eliminated, potential health risks and healthcare costs for your staff can also be brought down even further.
3.) GrabFood Self Pick-Up Lets You Manage the Whole Customer Experience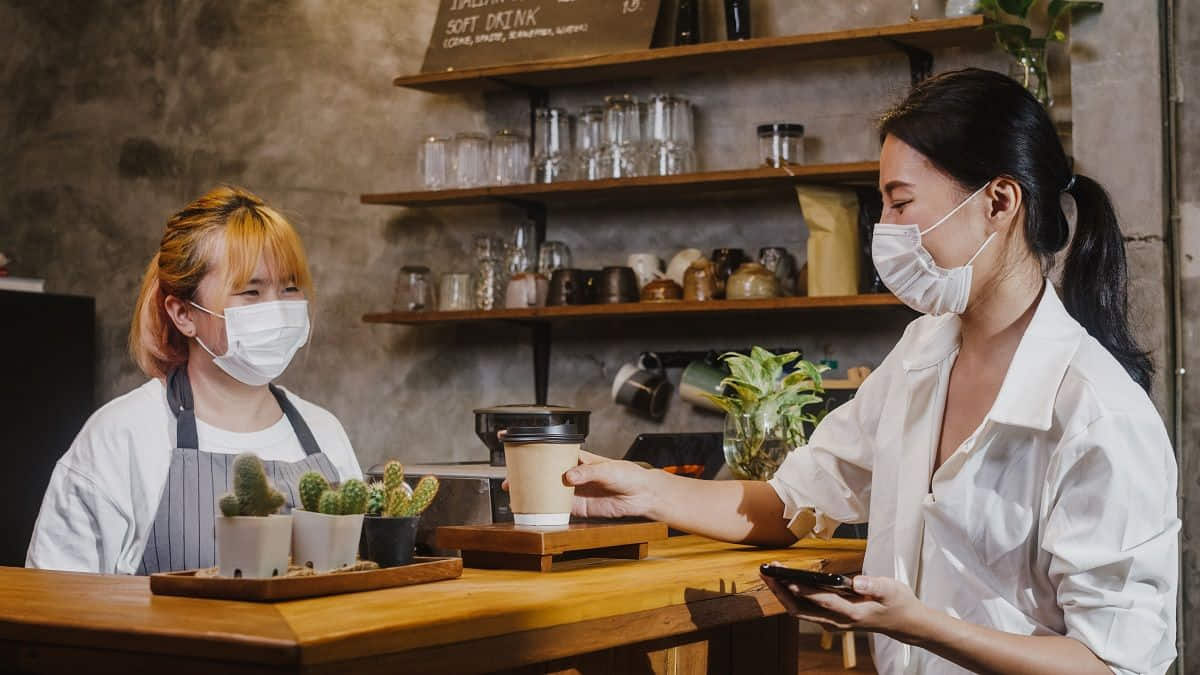 Even though GrabFood partner-drivers are trained and periodically evaluated to ensure the best customer experience, many things are not within anyone's control. For instance, bad weather and heavy traffic can result in unexpected delays, which may affect customer satisfaction. The quality of some types of food may also be affected slightly during delivery, particularly frozen desserts and other delicate items.
These and other customer experience problems are significantly minimized when customers order through GrabFood Self Pick-Up. As with GrabFood delivery, partner-merchants and customers enjoy convenient payment integration and high levels of order accuracy. However, because there is no delivery service involved, customers always receive their orders in their optimal, freshly prepared state. They can also immediately inspect and verify their orders, which ultimately means fewer complaints and a better overall experience.
GrabFood Self Pick-Up also allows more opportunities for increased sales, as employees can directly interact with customers. Through Self Pick-Up you can offer customers coupons, promos, freebies, upgrades, and exclusive menu selections at the point of sale. You can even offer items that would be difficult to offer through GrabFood delivery, such as oversized bilaos, an entire lechon, or even foods that are sensitive to delivery conditions like halo-halo.
4.) It Drastically Reduces Perceived Wait Times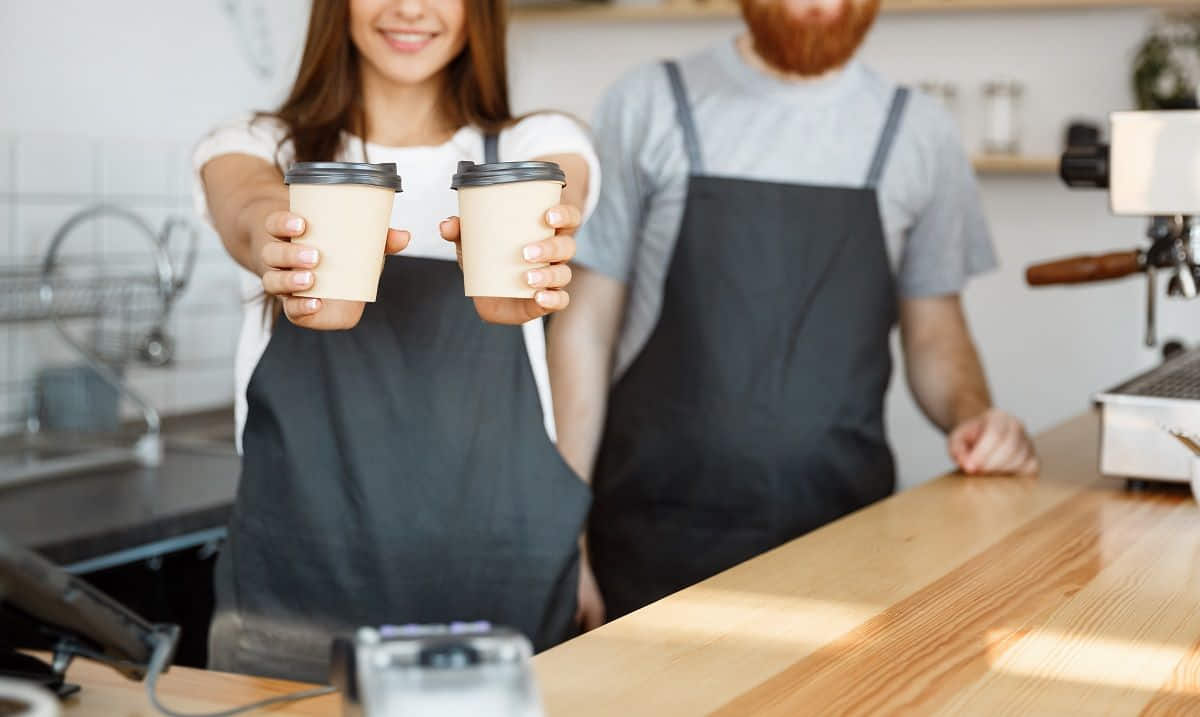 Wait times have always been important in determining customer satisfaction in the restaurant industry. However, a recent study suggests that people are becoming more impatient than ever, at least, when it comes to their food orders. 
This phenomenon is likely due to the widespread adoption of ecommerce, which has brought new perceptions and expectations of customer service. Already, we are starting to see expectations of Filipino customers shift significantly from just a decade ago.
The growing popularity of GrabFood Self Pick-Up is evidence of this shift. Compared to the experience of traditional drive-through, dine-in, takeout, and delivery, GrabFood Self Pick-Up benefits customers by minimizing or eliminating perceived wait times, something that can be a major roadblock to higher customer satisfaction. 
While the time to process orders is unchanged, customers who use Self Pick-Up no longer have to wait at the business's premises, as their orders are processed before and as they make their way to the location. This makes the Self Pick-Up an incredibly convenient option for the growing number of individuals who are living hectic lifestyles.
5.) Self Pick-Up Gives Your Business an Additional Sales Channel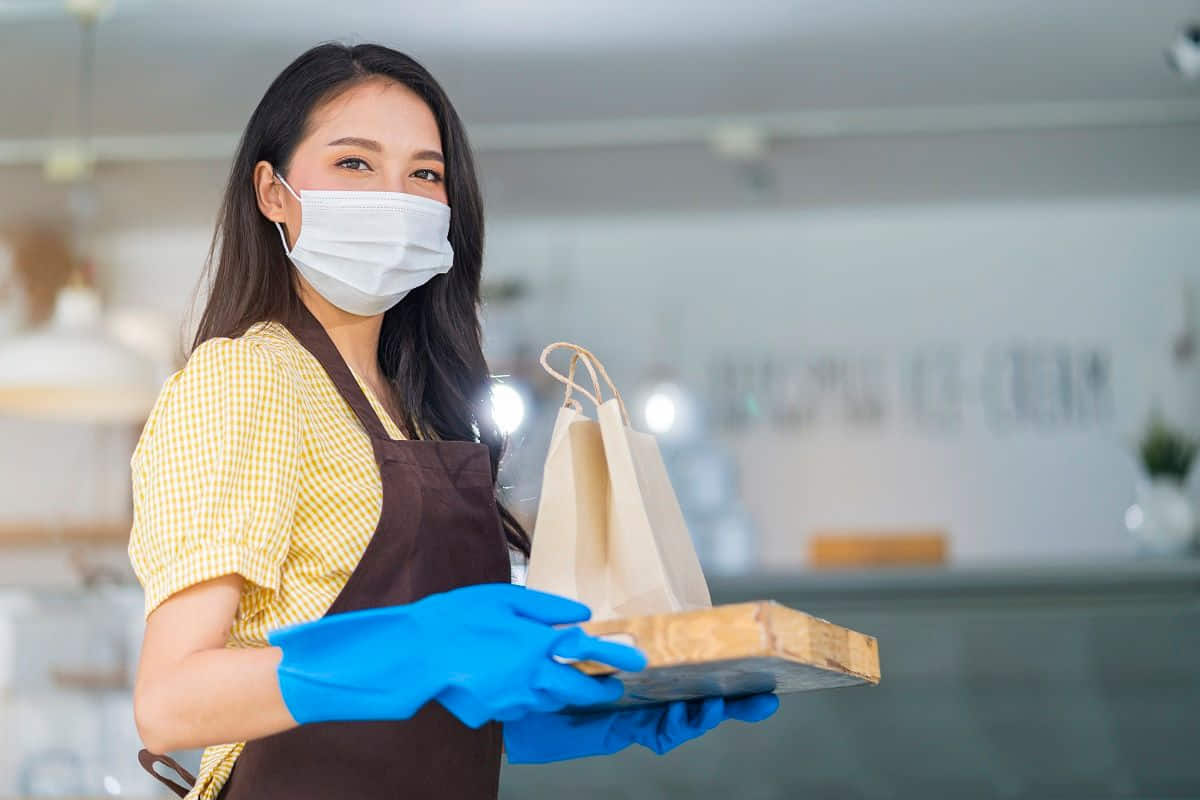 GrabFood Self Pick-Up gives you a new sales channel and maximizes your potential revenue by giving customers an option that isn't dine-in, take-out, or delivery. 
While these other sales channels all offer something that many customers want, they don't offer the unique kind of cost, safety, and convenience benefits offered by Self Pick-Up. By adopting GrabFood Self Pick-Up, you can effectively cater to a wider group of customers.
As a sales channel, Self Pick-Up is also incredibly simple to manage. The GrabMerchant app automatically tracks sales from Self Pick-Up orders in real-time, freeing you and your staff to concentrate on other important tasks. The app also generates a daily business report so you can easily look up the data on GrabFood Self Pick-Up and Delivery whenever you need it. 
How Does GrabFood Self Pick-Up Work?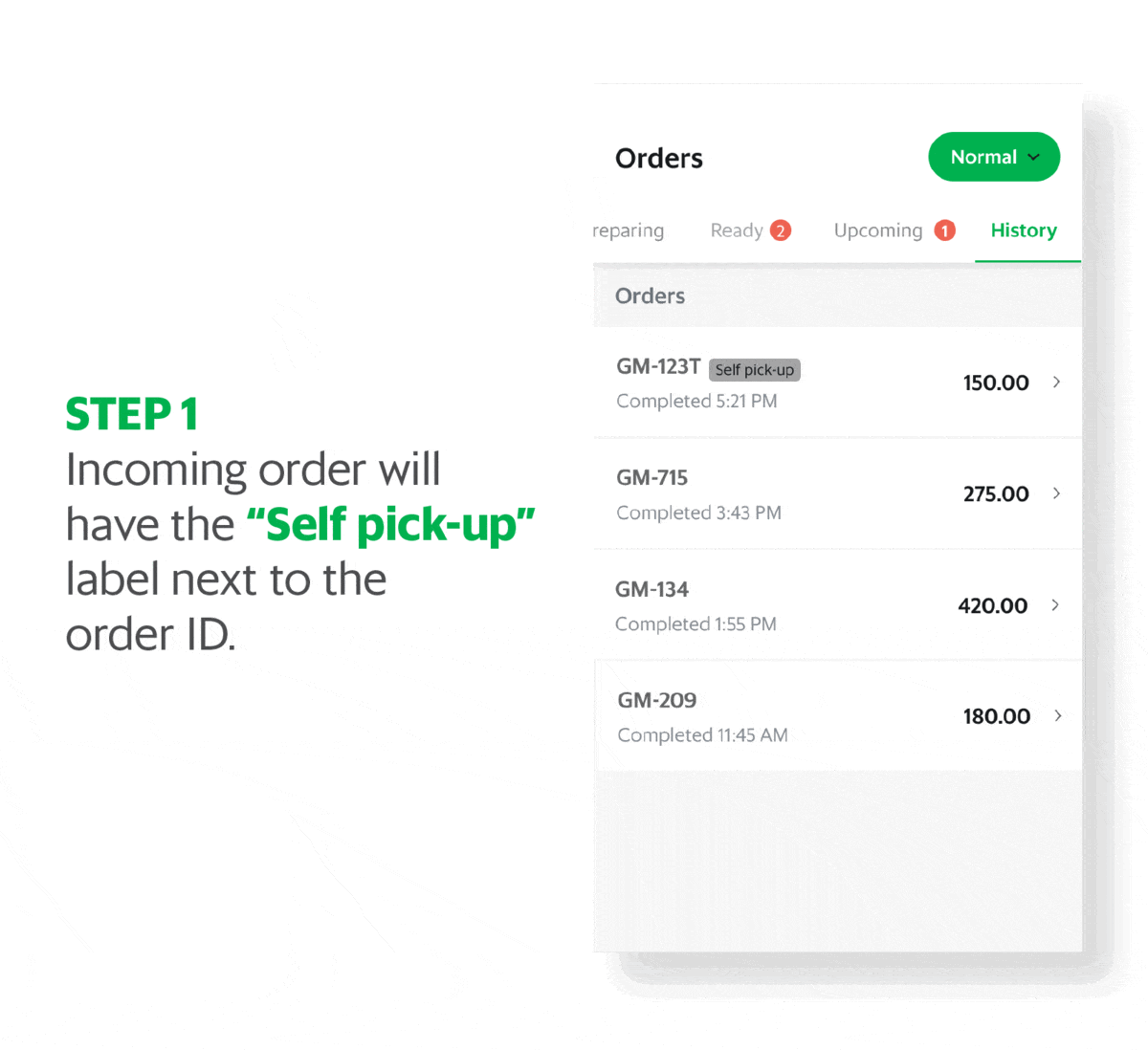 GrabFood Self Pick-uUp has been available to all Philippine Grab partner-merchants and users since August 2021. Here's how it works from the customer's perspective:
Grab users can choose Self Pick-Up as an alternative to Delivery when they order from GrabFood.
When a customer orders through GrabFood Self Pick-Up, they will see a collection time for their order.
When their order is almost ready, they will receive a notification so that they can start heading toward the restaurant.
Once they're at the restaurant, they can skip the queue or head to a designated collection area and show the restaurant staff the order ID indicated on their app. They may then collect their order.
The customer will then swipe right on the blue bar to confirm that they have collected their order.
How Do I Fulfill Self Pick-Up Orders?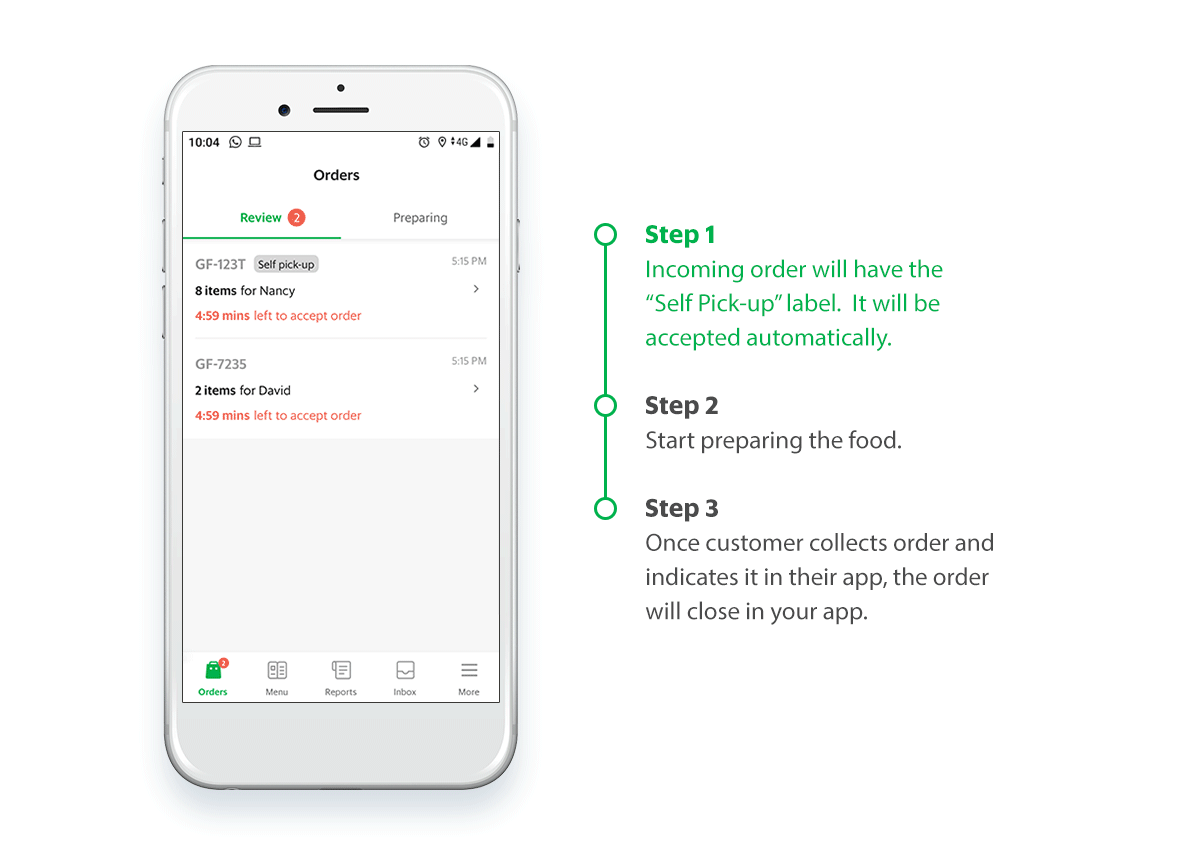 To avoid confusion and ensure that your customers receive the best possible experience, it's important to understand how to handle Self Pick-Up orders efficiently. Here's how you and your staff should handle these orders:
Check the order ID. All Self Pick-Up order IDs end with a letter "T." Checking the order ID before handing anything off to a driver-partner or Self Pick-up customer to prevent mixing up orders.
Set up a designated collection area. You can prevent crowding and confusion by marking designated Self Pick-Up collection areas clearly.
Prepare orders ASAP. The main appeal of Self Pick-Up is the lack of waiting. By preparing orders as they come in, you can serve customers just as they arrive.
Dispose of orders after 2 hours. Food safety is a priority for all GrabFood stakeholders. Please remind staff to dispose of ordered food that is not picked up within 2 hours.
Try GrabFood Self Pick-Up Today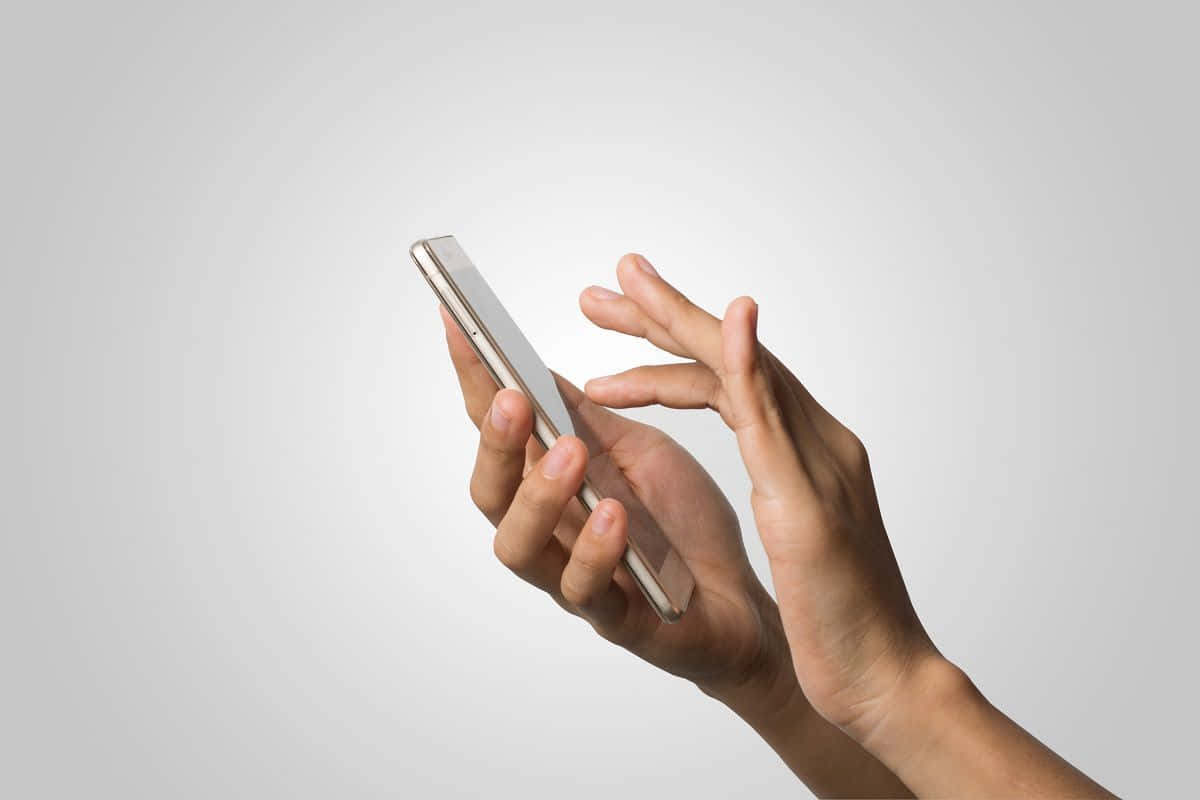 GrabFood Self Pick-Up offers a new and refreshing kind of convenience that Grab merchant-partners and users will enjoy. Self Pick-Up reduces perceived wait times, elevates customer experiences, and offers your food business many of the benefits it already enjoys through the GrabMerchant app.
GrabFood Self Pick-Up has been positively received by both GrabFood merchant-partners and regular Grab users since it was rolled out in 2021. Though it was offered as a way to give Grab stakeholders a safer way of doing business, customers and food businesses alike have been in favor of retaining this new sales channel thanks to its set of unique benefits. 
Because it readily fills several existing customer and partner needs, GrabFood Self Pick-Up is likely to become a permanent option alongside GrabFood Delivery for years to come. Sign up to be a GrabFood Merchant-Partner today to enjoy all the unique perks offered by GrabFood Self Pick-Up.