Fighting the threat of COVID-19 together
In light of the national health emergency brought by the threat of COVID-19, Grab, together with its partners from the public and private sectors, have come together and launched GrabBayanihan – a community-driven initiative to safely address the economic and medical pain points brought about by the recent COVID-19 outbreak in the Philippines.
Fully Sponsored transport service for health workers
We and our community of driver-partners have come together to form a specialised fleet for healthcare workers. Fully sponsored by Grab, the GrabBayanihan Car service will provide round- the-clock, free-of-charge transportation service for healthcare workers. Each GrabBayanihan Car will ferry up to two (2) healthcare workers at a time in accordance with the government's social distancing guidelines. All GrabBayanihan Cars will be marked so that healthcare workers and public order officials can easily distinguish them from other private vehicles.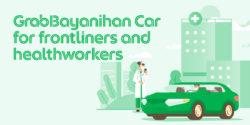 GrabBayanihan Car volunteer driver-partners will also undergo hygiene and infection prevention training, and will be provided with the necessary personal protective equipment to safeguard their health and well-being. Each GrabBayanihan Car will have a clear plastic sheet to separate the driver from passengers and lessen chances of further contamination.
GrabBayanihan volunteer driver-partners will each receive a minimum daily income of PhP 550 for 8 hours of service, in addition to PhP 300 in gas vouchers sponsored by oil and gas giants including Unioil, Phoenix Petroleum, Seaoil, and Caltex. In addition, they will receive free communication top-ups from telecommunication leaders Globe and PLDT-Smart. 
The GrabBayanihan Car will start with 100 volunteer driver-partners, following official approval from the IATF.

Interested health workers are encouraged to approach their hospital administrators to request for the GrabBayanihan Car service for the entire hospital. Hospital administrators may fill up https://go.grab.com/grabbayanihan to indicate their interest to join the ride service. A Grab representative will be in touch with the hospital to help them set up the service. 
We have deployed around fifty (50) GrabWheels e-scooters to city governments of Manila, Quezon City, San Juan, Muntinlupa, Navotas, Marikina, and Pasig. The e-scooters will improve short-distance commutes  for health care workers and barangay officials in these cities. At the moment, we have more than 300 e-scooters that are ready for deployment to other LGUs, should the need for a mobility solution arise.
Economic Security to thousands of of partners during this time of need
Safeguarding the livelihood of driver-partners remains our utmost priority. With public transportation services, including for TNVS, suspended for a period of time, we will provide alternative income opportunities to driver-partners. From next week onwards, we will host virtual training sessions to onboard driver-partners onto GrabFood and GrabExpress, which will immediately connect them to consumers who are increasingly relying on food and parcel delivery services. Additionally, we are extending driver loyalty tier qualification for the duration of the quarantine – no driver will lose their benefits by missing qualification targets due to the quarantine.
GrabFinancial Philippines together with our institutional partners such PSBank, EastWest Bank, BDO, Security Bank, BPI, RCBC, Union Bank, Robinsons Bank, Metrobank, UCPB and Toyota Financial Services, have rolled-out loan payment breaks for driver-partners.

Likewise, we have rolled out preliminary assistance programs in the form of financial and medical assistance, and an emergency loan fund for GrabCar driver-partners who have been severely affected by the recent transport suspension. We will continue to work on exploring other means of aids to support driver-partners in these trying times.
Providing access to daily essentials while safeguarding wellbeing of everyone on the platform
With enhanced community quarantine in effect, accessing daily essentials is  a challenge for many Filipinos. We – through our GrabFood and GrabExpress services – continue to deliver everyday essential needs such as food, medicine, and others, while providing livelihood opportunities for delivery-partners amidst this period of disruption.

You can opt for contactless delivery by following 3 simple steps:To aid in social distancing, Grab introduced a new Contactless Delivery Option that limits contact between consumers and delivery-partners by observing 1-2m distance in fulfilling orders. 
Inform delivery-partners to drop off the order or parcel outside the door or at specific locations such as the building reception if allowed by the building management

Delivery-partners will place the order or parcel at the specified location, notify consumers of their arrival, and wait for them to pick up the order standing at least 6ft/2m away from the order.

We strongly encourage consumers to opt for cashless payment. If it is unavoidable to use cash, they can place the amount in an envelope and leave it where the food order is.
We continue to deploy communications and guidelines to our delivery-partners to ensure compliance. We also encourage  merchant and delivery partners to enhance their food safety standards with regular temperature checks, increased cleaning frequency of food and preparation areas and delivery-bags, and more.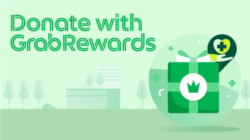 We have also centralized earning of  GrabRewards points to cashless methods only to  avoid the spread of COVID-19 through the exchange of cash, additionally, the GrabRewards points that would have been earned from cash transactions will go towards helping the GrabBayaninhan efforts.
By availing our delivery services, consumers are now able to help businesses and driver-partners endure the disruption brought about by the COVID-19 outbreak.
Your health and well-being is our top priority.
In light of the current development in the COVID-19 situation in Metro Manila, we have taken the following preventive and support measures to protect the health and safety of everyone on the platform including our customers, merchant-partners, and our transport and delivery-partners who go out of their way to serve during this challenging period.
Hygiene Tips to prevent the spread of COVID-19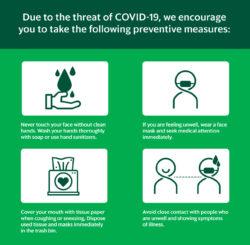 Visit the doctor immediately if you feel any symptoms. 
Look out for DOH's announcements via  facebook.com/OfficialDOHgov/ or https://www.doh.gov.ph/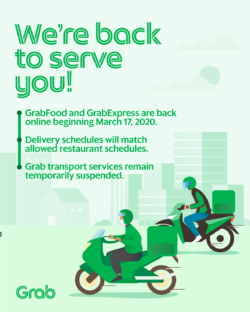 Upon careful assessment of the on-ground situation and after discussions with regulators, we are resuming GrabFood and GrabExpress operations beginning March 17, with a skeletal fleet operating to match allowed restaurant schedules.
We are committed to support food establishments that remain in continuous operations, and to support continuous flow of goods to serve the essential needs of Filipinos.
As we continue to ramp up service availability, we ask for your patience as deliveries could take a bit longer given the situation.
Delivery-partners are advised to prioritize safety beyond all costs.
Contactless delivery



We strongly encourage cashless payment during this time to avoid the spread of the virus. You may use your GrabPay and other registered cards for the following transactions.
Payment for Grab services including GrabCar, GrabFood, and GrabExpress
Transfer of funds (or money)  to your friends and family members using peer-to-peer transaction
Pay your bills without having to go out using our Bills Payment service.
Load your Smart mobile number using our Load service
If unavoidable to go to the groceries and malls, GrabPay cashless payment is accepted at all SM Malls, Department stores and supermarkets.
To activate GrabPay, visit https://www.grab.com/ph/pay/guide/.
Support measures for driver and delivery-partners 
Our Grab Driver Centers around the metro will be equipped with sanitizer / disinfectant refill stations so that our transport and delivery partners can easily access them, and can conveniently disinfect their delivery-bags throughout the day.
We have also put together a GrabCare Package to provide financial and medical assistance to Grab partners should they be placed on DOH-mandated quarantine, or be tested positive for the virus.
Support channels such as Grab Safety Hotline, Grab Driver App Help Center, and Daily Online Forum to address questions and assist immediately. To know more about our safety features, check out this link.
Merchant-Partner Bulletin 
Safety Measures from GrabFood Merchant-partners 
Many of our GrabFood merchant-partners have also introduced additional precautionary measures such as temperature checks for restaurant staff and delivery-partners, increased cleaning frequency of food preparation areas and delivery-bags, and more. We are encouraging more merchant-partners to adopt these precautionary measures and reach out to their respective account managers so we can immediately cascade their store-mandated guidelines to our delivery-partners. We are also checking with our merchant-partners if there will be changes in their operating hours.
Safety Reminders for Our Madiskarteng Boss Social Sellers
Keep the area where you store your inventory sanitized and secured
Make sure to sanitize your hands when packaging your parcel
Wash your hands before and after handing the parcel to your rider
Opt for cashless payments to avoid contamination via cash
Request for contactless delivery with your rider (riders have been trained to facilitate this)
Remind your customer that they can ask the rider to leave the parcel at their doorstep or lobby
Safety Hotlines 
We urge consumers, delivery-partners and merchant-partners to continue to look out for one another by staying vigilant and adopting good hygiene practices. Below are some safety hotlines:
Grab Support Hotline for Safety: +63 2 88837117, choose "1" for Safety
Driver app Help Centre – https://grb.to/reportcovid
Driver Daily Online Forum – https://grab.zoom.us/s/707142691 Daily online forums happen every 5pm to answer questions and assist you immediately
Department of Health (DOH) Hotline: +62 8651 7800, Loc. 1149 o 1150
Stay Safe!