GrabExpress Madiskarteng Boss Club is an exclusive rewards and loyalty program for online entrepreneurs that gives them access to discounts, rebates, loans, placements, and learning opportunities. 
Here's what you get by joining the club!
Let's grow your business with the right diskarte!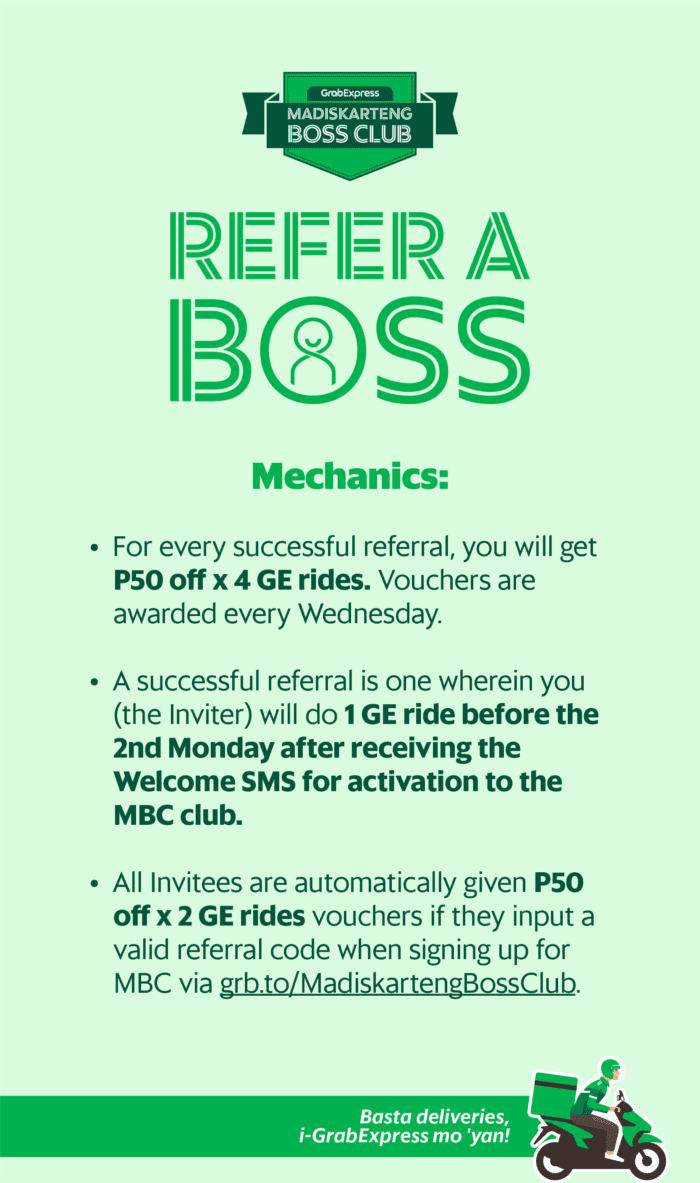 Meet this year's Madiskarteng Boss 20 – a diverse group of Filipino entrepreneurs that have successfully grown their businesses by skillfully harnessing innovative digital tools.
Check out the latest promos, products, and perks!
GrabExpress Madiskarteng Boss Talks
Our first ever meet held last February 29 at Vagabond, Greenhills with our pioneer members!
GrabExpress is a same-day delivery solution that matches users & riders for their delivery needs. By booking on our app, you can send items such as documents, parcels, and gifts to your customers,  business partners, or loved ones with real-time tracking and notifications right from where you are. 
GrabExpress Instant – Bike |

A premium delivery service that offers on-demand door-to-door deliveries within 1 hour.

GrabExpress Instant – Bike (Bagged) |

This is an exclusive Madiskarteng Boss Club service offering bagged on-demand door-to-door deliveries within 1 hour.

GrabExpress Instant – Multi Stop Delivery |

This service allows consumers to add multiple drop-off points when making a delivery booking and arrange the delivery sequence. This provides the possibility for sellers to have multiple parcels picked up from one location in one shot, and getting them delivered to different locations, all with one order.

GrabExpress Same Day | A

n affordable on demand delivery service on which the system can batch orders depending on close-by destinations or similar routes together on a given buffer time. It is assigned to the same driver and achieves higher efficiency to lower down the delivery cost.

GrabExpress Pabili | A

concierge service that allows consumers to ask Riders to buy items or essentials for them. 

Items to be bought has a limit of up to a maximum of ₱2,000 for each transaction.

GrabExpress Instant – Car (Beta) |

A new service from Grab that uses cars to accommodate bigger parcels to be delivered to your door steps. Max 300kg. 
Metro Manila, Cebu, Davao, Bacolod, Iloilo, and Pampanga. 
GrabExpress Madiskarteng Boss Club FAQs
GrabExpress Madiskarteng Boss Club is a rewards and loyalty program exclusive to online sellers that aims to help online sellers grow their businesses with Grab.
Weekly Rebates up to P500

Exclusive promos and rewards

Chance to get featured on the Grab App
Exclusive products like COD and Bagged Fleet
Exclusive Event Invites
 Access to Puhunan Loans (to be rolled out)