Win a prize worth RM50!
Redeem rewards from our featured partners on GrabBenefits!
From 3 December to 22 December, stand a chance to win a voucher or BonusLink points worth RM50 when you redeem selected rewards on GrabBenefits.
Every 10th driver-partner or delivery-partner (e.g. 10th, 20th, 30th, 40th etc) who redeems GrabBenefits rewards from our featured partner of the week will be selected as winners.
This contest will be divided into 2 rounds and each round will feature the following partners and prizes: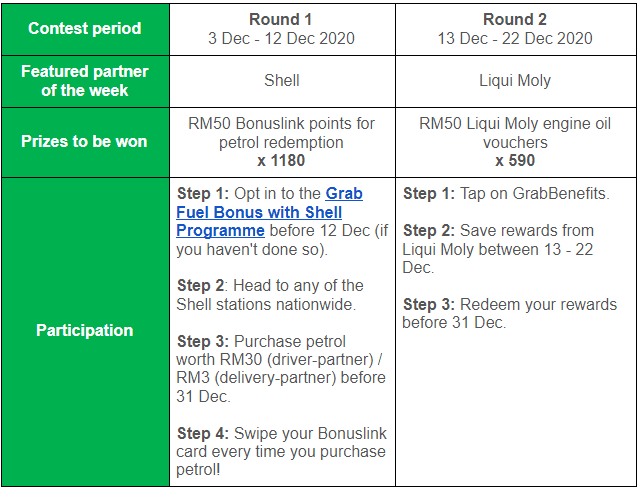 We will announce and contact all winners by 14 January 2021. Do note that each driver-partner and delivery-partner can only win one (1) prize throughout the contest period. Good luck!

---
Terms and conditions:
The contest will run from 3 December to 22 December 2020, 11:59pm.

The contest consists of 2 rounds which features 2 different partners every 10 days.

All participants get 1 chance with every reward they redeem, each redemption is counted as 1 chance.

All participants are required to save a benefit within the week required and redeem the benefit by 31 December 2020 in order to be in the running to win the prizes.

Winners can only get 1 prize within the campaign period.

All participants are able to enter all 2 contests within the campaign period provided they have not won a prize.

By participating in this campaign, the participant consents to Grab announcing the name of the winners and/or releasing a photograph of the winner as the prize-winner in our winner's announcement.

By taking part in this contest, you have indicated that you have read, understood and agreed to be bound by these terms and conditions.

Winners will be determined by the order of redemption:
Prizes – nth redeemer

No cash alternative is available for any prize and prizes cannot be exchanged for cash.

Winners of this contest will be announced and contacted by 14 January 2021 and redemption or collection of prizes will be communicated once confirmed.

The prize may be forfeited to the next winner if the participant is unable to comply with this condition.

The prize may be forfeited if winners are not contactable by Grab representative by 31 January 2021.

The campaign is organised by GrabCar Sdn Bhd ("the Organiser") and is open to active driver-partner and delivery-partner. The following persons are not eligible to participate in the Campaign: All employees (both permanent and fixed term contract) of the Organiser and their immediate family members.

Participant acknowledges and agrees to be legally bound by the terms and conditions below and decisions of the Organiser without limitation or qualification. You further agree that all decisions of the Organiser shall be final and conclusive.

The Organiser reserves the sole and absolute right to disqualify any participant or reject qualifying participants deemed ineligible (be it under these Terms & Conditions or if the participant has engaged in conduct that the Organiser considers inappropriate or unacceptable).
---
Kindly be reminded that all members of the Grab community are required to follow the Code of Conduct and Terms of Services.