We understand that managing and disposing your used cooking oil can be a burden on your business' operating costs.  That's why we've partnered with FatHopes Energy to help your business dispose of your waste cooking oil while earning some cash.
Sell your used cooking oil

with FatHopes Energy.
As one of the most innovative used cooking oil (UCO) collection service providers in Malaysia and Singapore, FatHopes Energy has been buying UCO from major F&B partners nationwide for over a decade. Their service can help you lower your business' environmental impact, reduce your business' waste and earn additional cash to support your business' operations.
Here are three main promises FatHopes Energy makes to your business:
Get started with
three easy steps.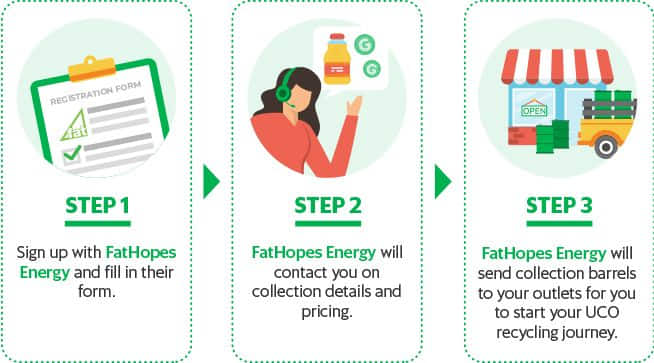 Terms and Conditions
UCO collection will be done on an on-call basis.

A collection summary will be sent to the restaurant person-in-charge by the 7

th

of every month.

The restaurant is required to issue FatHopes Energy an invoice based on the monthly collection summary. FatHopes Energy will make payment for the UCO within 5 working days of receiving the invoice.

FatHopes Energy will be the exclusive and sole collector / purchaser of all UCO produced by restaurant outlets for the duration of the 1 year + 1 year contract.

All UCO produced by all restaurant outlets (existing and future opening) in the chain will be exclusively collected / purchased by FatHopes Energy.

FatHopes Energy will provide UCO collection and storage drums based on the restaurant's selection from the drum menu.

The UCO collected is strictly for industrial biofuel application and not for reuse in human consumption.

In the event of contract termination, a six (6)-month termination notice must be served by either party.

The UCO collection process must conform to the sustainability criteria of International Sustainability and Carbon Certification (ISCC) at all restaurant outlets.

The PoO (Point of Origin) / Vendor is required to sign the ISCC self-declaration form once a year.

For proper volume verification, the Vendor shall authorise a person-in-charge within the outlet to sign the electronic collection chit showing quantity for each collection.

Restaurant outlets shall submit to an audit by FatHopes Energy and/or external auditors for any verification of sustainability criteria on UCO collection.
Frequently asked questions

on FatHopes Energy.