We understand that during these uncertain times, many GrabFood merchant-partners are relying more on delivery services to keep going. With this in mind, Grab is constantly evaluating how we can maximize fulfillment and sales for our merchant-partners. Therefore, we would be testing a slightly different automated system from time to time. Rest assured that we are committed to doing our best to support you and your business on our platform.
Staying visible
to your customers
The starting base for delivery service radius is 7km to 10km from your outlet's location. This radius is calculated using estimated driving distances and may vary from the distance shown in the app.
So, why is it that some restaurants appear, and some don't within the same radius? This service radius range applies during most times, except in the following situations: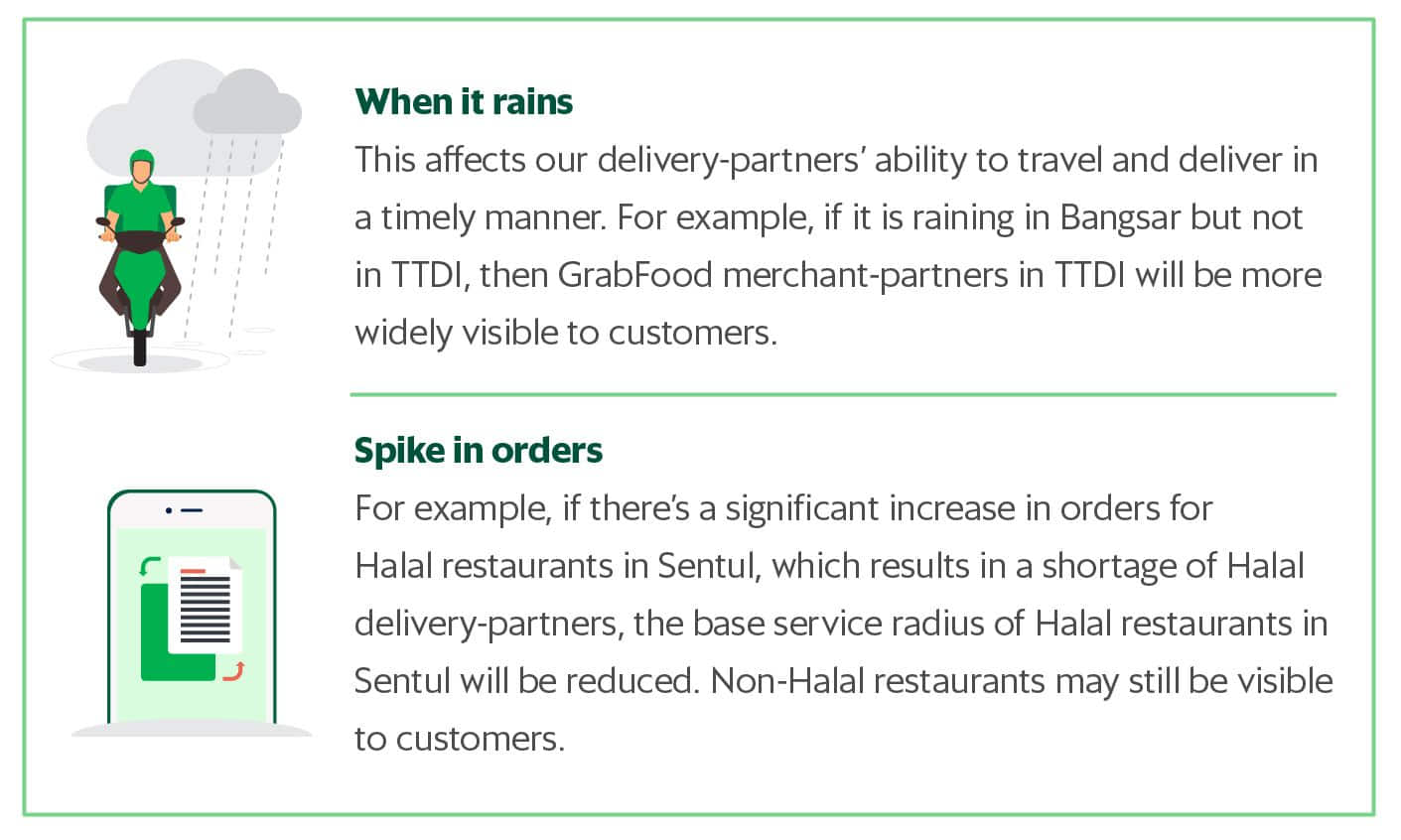 Why does the system 
adjust the radius?
In instances where there is lower likelihood of orders being assigned to a delivery-partner, there may be a gradual reduction in service radius in affected areas. This is to avoid disappointing consumerswith longer than usual wait times, or for the food you prepare to become cold and affect its quality. The service radius will be gradually restored to the base service radius as our delivery fleet recovers.
We always strive to provide merchant-partners with the maximum possible service radius. However, this depends on a range of factors:
1. Size of our delivery fleet in an area
2. Time spent by delivery-partners waiting for each order
3. Ability of delivery-partners to deliver each order within a reasonable time
Here's how you can help
to influence the general base radius.

4 tips on reducing delivery-partners' wait time
1. Monitor the GrabFood tablet to ensure no orders are missed
2. Ensure that notification settings are at an optimal level
3. Optimise your meal preparation time to prevent any delays 
4. Ensure that meals are packed and passed to our delivery-partners efficiently
GrabFood DOES NOT selectively pause or turn off any merchant-partners' availability in situations where there is a shortage of delivery-partners.
Pauses can happen due to backlog