In these uncertain times, we understand that you need a one-stop solution to help your business recover and succeed. The Grab ecosystem contains many services and solutions to serve your business' needs. Learn more about them below.
Attract more customers

with GrabFood and GrabMart marketing campaigns.
In line with new SOPs, restaurants have reduced their dine-in capacities, so more and more customers are staying at home and enjoying the convenience of GrabFood and GrabMart. Because of this, now is a good time for you to attract even more customers online. 
Here are some of the benefits you can enjoy when you grow your business through our marketing campaigns:
Depending on the marketing campaign, your business can also enjoy more exposure through in-app and digital media, promo tagging and carousel widgets.
Note: The campaign mechanics and requirements for GrabFood and GrabMart campaigns will be different. Please highlight your business type (GrabFood or GrabMart) in the description column, so that we can reach out with marketing campaigns that are relevant to you.
Offer
safe, contactless payment

with GrabPay.
Customers have been choosing to use cashless payment methods more often after the movement control order. With our GrabPay platform, you can seize this opportunity to reach more customers with the payment options they prefer.
Start enjoying the benefits of GrabPay today. Click below to sign up as a GrabPay Merchant.
Get discovered

by customers near your store.
We're making it easier for customers to discover your brand and go to your store. GrabPay Discovery is a loyalty programme that increases merchants' store visibility and drives customers to participating stores whenever they are nearby.
Here's how it works:
Here are some benefits you can enjoy with this programme:
Ready to start welcoming customers into your store with GrabPay Discovery? Sign up for the programme below!
Send your products to customers
quickly and safely

.
With GrabExpress, we offer both merchant partners and consumers on-demand delivery. With just a tap, you can send parcels within your city straight to your customers' doors. Enjoy these with GrabExpress: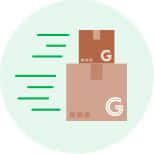 Speed
Get instant delivery for your parcels, using both bikes and cars.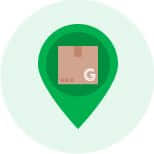 Reliability
Senders and recipients can track orders in real-time. Our delivery partners are well-trained to handle your parcels, which are insured for up to RM500.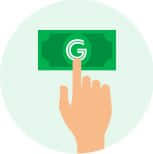 Affordability
Our rates start from RM5. Grab merchant partners can also enjoy a special introduction promo.
GrabExpress allows you to focus on running your business while you send up to 50 packages at the same time, without having to leave your store. Our trusted delivery partners will collect the parcels directly from you and deliver them to your customers within the same day.
Special benefits

for GrabMerchants.
As a Grab merchant partner, you can enjoy 20% off your first 20 deliveries with GrabExpress. 
You are also entitled to a FREE corporate account. Keep a lookout for an email verification prompt from Grab, which we will send to your registered email address.
We're constantly working to bring you better support through our Grab ecosystem. Here's to a speedy post-MCO business recovery!