Menangi hadiah bernilai RM50!
Tebus ganjaran daripada rakan-niaga terpilih di GrabBenefits!
Dari 3 Disember hingga 22 Disember, rebut peluang untuk menangi baucar atau mata Bonuslink bernilai RM50 apabila anda tebus ganjaran terpilih di GrabBenefits.
Setiap rakan-pemandu atau rakan-penghantar ke-10 (contoh: ke-10, ke-20, ke-30, ke-40 dan seterusnya) yang menebus ganjaran GrabBenefits daripada rakan-niaga terpilih mingguan akan dipilih sebagai pemenang.
Peraduan ini terbahagi kepada 2 pusingan dan setiap pusingan akan mempunyai rakan-niaga dan hadiah tersendiri: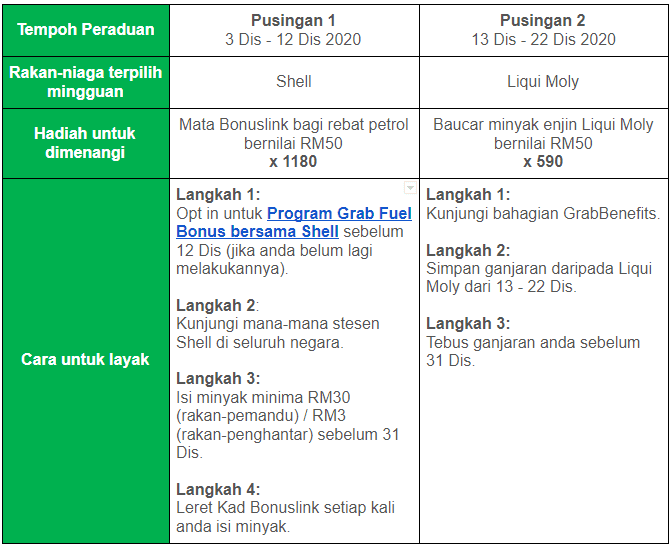 Kami akan mengumumkan dan menghubungi kesemua pemenang selewat-lewatnya pada 14 Januari 2021. Setiap rakan-pemandu dan rakan-penghantar hanya boleh memenangi satu (1) hadiah sahaja sepanjang tempoh peraduan. Semoga berjaya!

---
Terma dan syarat:
Peraduan akan berlangsung dari 3 Disember hingga 22 Disember 2020, 11:59 malam.

Peraduan akan berlangsung selama 3 minggu ("tempoh kempen") yang menampilkan 2 rakan yang berbeza untuk setiap minggu yang berasingan.

Semua peserta diminta untuk menyimpan ganjaran dalam minggu yang diperlukan dan menebus ganjaran sebelum 31 Disember 2020 untuk mendapatkan penyertaan memenangi hadiah yang ditawarkan.

Semua peserta mendapat 1 peluang dengan setiap ganjaran yang mereka tebus, setiap penebusan dikira sebagai 1 peluang.

Pemenang hanya akan dapat 1 hadiah dalam tempoh kempen.

Semua peserta dapat memasuki semua 2 peraduan dalam tempoh kempen.

Dengan menyertai kempen ini, peserta memberi persetujuan kepada Grab untuk mengumumkan nama pemenang dan / atau mengeluarkan foto pemenang sebagai pemenang hadiah dalam pengumuman pemenang kami.

Dengan mengambil bahagian dalam peraduan ini, anda telah menyatakan bahawa anda telah membaca, memahami dan bersetuju untuk terikat dengan terma dan syarat ini.

Pemenang akan ditentukan berdasarkan perintah penebusan:
Hadiah – Setiap penebus ke-10

Tidak ada alternatif tunai yang tersedia untuk hadiah apa pun dan hadiah tidak dapat ditukar dengan wang tunai.

Pemenang peraduan ini akan diumumkan dan dihubungi pada 14 Januari 2021 dan penebusan atau pengambilan hadiah akan dimaklumkan setelah disahkan.

Hadiah boleh dilucutkan kepada pemenang seterusnya sekiranya peserta tidak dapat mematuhi syarat ini.

Hadiah boleh hilang sekiranya pemenang tidak dapat dihubungi oleh wakil Grab pada 31 Januari 2021.

Kempen ini dianjurkan oleh GrabCar Sdn Bhd ("Penganjur") dan terbuka untuk rakan pemandu dan penghantaran yang aktif. Orang-orang berikut tidak layak untuk menyertai Kempen: Semua pekerja (kontrak tetap dan tetap) Penganjur dan ahli keluarga terdekat mereka.

Peserta mengakui dan bersetuju untuk terikat secara sah oleh terma dan syarat di bawah dan keputusan Penganjur tanpa batasan atau kelayakan. Anda seterusnya bersetuju bahawa semua keputusan Penganjur adalah muktamad dan muktamad.

Penganjur mempunyai hak tunggal dan mutlak untuk membatalkan penyertaan mana-mana peserta atau menolak peserta yang layak yang dianggap tidak layak (sama ada di bawah Terma & Syarat ini atau jika peserta telah melakukan tindakan yang dianggap tidak wajar atau tidak dapat diterima oleh Penganjur).
---
Kindly be reminded that all members of the Grab community are required to follow the Code of Conduct and Terms of Services.