We've missed you 🙁
To show you how much we've missed you, we'd like to offer a special Welcome Back Pass under our new GrabClub offering especially FOR YOU!
What is GrabClub:
GrabClub is a monthly subscription plan that gives you more savings on your Grab rides and GrabFood orders. This plan is easy to sign up via the Grab app and payable using GrabPay Credits only. With this amazing monthly subscription you could save 80% on your Grab rides and GrabFood orders! Choose our Welcome Back Pass which cost RM20 a month only!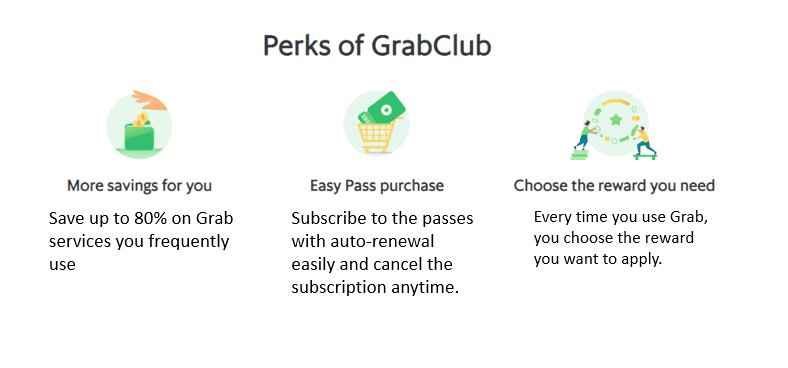 What do I get on the Welcome Back Pass?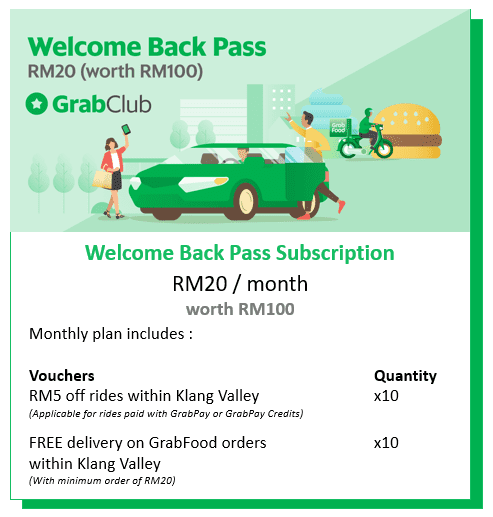 Want to know how to sign up?
Launch your Grab app and click on the your Profile icon on the top left
Click on "GrabClub" on the menu
Select the monthly pass of your choise by clicking on the "View Plan" button
The next page will outline the rewards you are getting when you purchase this plan. Click on "Get This Plan" button
Make payment for the plan using GrabPay Credits
Access your rewards in the My Rewards tab under GrabRewards!
Welcome Back Plan Terms and Conditions
Benefits are valid for Grab rides and GrabFood orders.

Benefits are valid for the duration of the cycle you subscribed for, from date of purchase.

Benefits under the subscription plan are for one-time use/redemption only, are non-transferable, cannot be used in conjunction with other Grab promotions or offers and cannot be exchanged for cash.

Limited to the first 30,000 redemptions.

The subscription plan is available to

selected passengers

only.

Only GrabPay Credits will be accepted as payment method for the subscription plan.

Each subscription plan cycle is 1 month in duration.

The subscription plan will be automatically renewed for consecutive cycles and deductions for renewal will be automatically made from your GrabPay Credits balance at the start of the next cycle.

If you wish to cancel the subscription plan, you should do so before the start of the next cycle. Cancellation will take effect from the next subscription cycle date.

You can cancel the subscription plan by taking the following steps: head to the "Subscriptions" section of the Grab App and enter the "My Membership" page. Select the Subscription you would like to cancel and scroll to the bottom of the detail page. There is a cancel button available for you. You can cancel anytime and your cancellation will take effect from the end of your current billing cycle.

Grab has the right to make changes to the subscription plan (benefits, subscription price etc) where we find necessary. We will notify you in advance of these changes and you will have the opportunity to cancel your plan before it renews. Changes to the plan will take effect only from the next subscription cycle.

Other terms and conditions apply: https://www.grab.com/my/terms/

Our Privacy Policy applies: https://www.grab.com/my/privacy/
GrabClub Frequently Asked Questions
1.What is GrabClub?
GrabClub is a subscription package that gives you great savings on your Grab rides and GrabFood orders.
2. How do I purchase a GrabClub pass?
In your Grab App, open your side navigation bar and click on the GrabClub section. There, you will be able to see the passes available for you. Click "View Plans" to see the benefits of each plans. Finally, all you have to do is click "Get This Plan". make payment then you're good to go.
Note: If you have not set up GrabPay Credits wallet, you will need to activate it first by going to the GrabPay section in the app.
3. Will I need to buy this package every month?
Not to worry. Once you subscribe to the plan, it will auto renew on the same date of purchase every month! Example: If you purchased your plan on 1st Jan, your package will be auto renewed on 1st Feb, subsequently on 1st Mar and so on. But make sure you have the necessary balance in your GrabPay Credits wallet.
4. What if I do not want to continue this plan? Can I cancel?
Yes you can. Before every cycle refresh date, you may opt to cancel your subscriptions. In this case, you will not get a refund of the current cycle, but your plan will not auto renew in the next cycle.
5. After I purchase, where do I find my vouchers?
Once you have subscribed to the plans, you may find the rewards given to you in your "Rewards" page. How do you check? In your Grab App, go to the Grab Rewards section and click "My Rewards". You will be able to see your vouchers there. Apply the voucher whenever you need them.
6. What happens to my vouchers that I didn't finish using?
Your awarded vouchers will be auto refreshed alongside your plan. This means, any vouchers not utilised within the cycle will be forfeited. So make sure you use them all!
7. Can I share the vouchers with other people?
Sorry, these vouchers are exclusively yours and can only be used by you.
8. Can I purchase multiple GrabClub passes?
In future, we will have even more passes to fit your needs. You may purchase multiple passes as long as it is not the same pass.
9. How does the auto renewal work?
Your GrabClub subscription will renew every 30 days unless you have an insufficient GrabPay balance or cancel your plan. If the user has an insufficient balance, the status of the plan will be placed "On Hold" for 48 hours. Plans will expire after this 48 hour period after a missed payment due to insufficient balance. We will send a reminder to users if they have a low GrabPay balance 2 days before the renewal date and again on the date of renewal. You can view the next billing date by choosing "Subscriptions" and selecting the subscription plan of interest.
Welcome Back Pass Frequently Asked Questions
1 .What do I get in the Welcome Back pass?
The Welcome Back pass contains RM5 ride vouchers (x10 vouchers worth RM50) and FREE GrabFood deliveries (x10 vouchers worth RM50). You may apply these vouchers when you want to take a ride or make a GrabFood order.
2. Can I use the vouchers with any other promo code?
No, the vouchers are not applicable with any other promo codes usage.
3. How do I know how many vouchers I have used?
You may check the balance of your vouchers in the GrabClub section.Click on GrabClub, then click on "My Plans". Click  on "View" of the plans you've purchased and you will be able to see the vouchers balance. Alternatively, you may check the balance of your vouchers in your "My Rewards" catalogue.
4. I'm supposed to get x10 vouchers for GrabFood FREE deliveries however in my plans, it shows only x1. Where are the other 9 vouchers?
Not to worry. This x1 voucher allows usage of up to x10 times FREE deliveries. This way, we only give you one unique code that you need to remember and apply. Remember that you can use the same code x10 times with a minimum order of RM20.
5.What if the vouchers were not utilized within the month, will they be carried forward?
No, you must use all vouchers within that one month timeframe.
6. How do I unsubscribe and can I get a refund
You can unsubscribe anytime you would like but no refund is allowed if plan is already purchased for that month. However payments will only be stopped based on next month.
To unsubscribe, tap on Grabclub , tap on View Plan in the next page and tap Cancel Subscription button
7. I am not able to use the GrabFood vouchers in the plan.
Currently GrabFood is only available in selected areas in Klang Valley (Ampang, Bangsar, Brickfields, Bukit Damansara, Cheras, Chow Kit, Kampung Baru, KL City Centre, Mid Valley, Mont Kiara, Pudu, Cheras, Setiawangsa, Segambut, Setapak, Sri Hartamas, Taman Desa, Wangsa Maju, Taman Tun Dr Ismail, Sri Petaling,
Petaling Jaya, Sunway, Subang Jaya, and Puchong). We are expanding to other areas so stay tuned!
General Terms and Conditions
In addition to the terms and conditions of the specific subscription plan, these general terms and conditions apply to all subscription plans offered under the GrabClub Subscriptions programme of Grab (each a "Plan"), unless otherwise specified in the Plan description.
Redemption
To redeem a discount, promotion or other benefit under the Plan (a "

Benefit

"), a passenger must have a smartphone with GPS capability, have downloaded the latest available version of the Grab app, registered and have an active internet connection.

If the value of the transaction to which a Benefit is applied is less than the value of the Benefit, the remaining amount cannot be rolled over.

Successful redemption of a Benefit is subject to the availability of the relevant product/service/service provider.
Renewal and Termination
The Plan shall be automatically renewed for consecutive subscription cycles (as indicated in the Plan description) and deductions for renewal will be automatically made from the subscriber's GrabPay Credits balance at the start of the next cycle.

The subscriber may cancel the Plan by taking the following steps: head to the "Subscriptions" section of the Grab App and enter the "My Membership" page. Select the Subscription you would like to cancel and scroll to the bottom of the detail page. There is a cancel button available for you. You can cancel anytime and your cancellation will take effect from the end of your current billing cycle.

The cancellation steps must be completed before the start of the next subscription cycle in order for the cancellation to take effect from the date that the next subscription cycle would have commenced.

Where a subscriber cancels the Plan, there shall be no refund of subscription fees which have already been paid.

From time to time, Grab may make changes to the Plan (eg Benefits, subscription price etc). Grab shall notify the subscriber in advance of these changes and the subscriber shall have the opportunity to cancel the Plan before it renews. Changes to the Plan will take effect only from the next subscription cycle.

Grab reserves the right to terminate the Plan for any reason whatsoever by informing the subscriber of such termination. In such an event, the subscriber will be given until the end of his/her current billing cycle to use/redeem the Benefits, and upon the expiry of the subscription, any unused/unredeemed Benefits will be forfeited and invalidated.
Partners of Grab
Certain Plans may include Benefits supplied by third party partners/vendors of Grab ("

Partners

"). In order to enjoy a Benefit supplied by a Partner, you may be required to sign up with the Partner as a member and any additional Partner terms and conditions (as published on the partner's website or otherwise communicated to you) will apply.

Grab assumes no responsibility for the acts or defaults of Partners or other third parties involved in the Plan.
Data Protection and Privacy Policy
Grab's Privacy Policy shall govern the use, processing and transfer of the subscriber's personal data. The subscriber of the Plan

agrees

that Grab may collect, use and disclose his/her personal data, as provided in the subscription application for the Plan and/or pursuant to the Plan from time to time, for the following purposes in accordance with the Personal Data Protection Act and the Grab group Privacy Policy (available at https://www.grab.com/my/privacy/

):
(a) to administer and enhance the Plan and the Benefits therein; 
(b) to share such personal data within the Grab group and with participating third party partners/vendors in the subscription plan for the purposes in paragraph above;
(c) to help maintain the safety, security and integrity of the products and services of the Grab group; and
(d) to improve and enhance the products and services of the Grab group.
For any queries relating to the processing of the subscriber's personal data, the subscriber should contact Customer Experience or use the contact details as stated in the Grab group Privacy Policy.
General
Grab will not be liable for any loss or damage arising in connection with the Plan, late or non-notification, technical breakdown, lost or unavailable network connections or failed, incomplete or delayed electronic transmission or transactions which may limit a user's ability to participate in or benefit from the Plan.

Grab reserves the right to modify and amend these Terms and Conditions from time to time during the Plan period. Grab reserves the right to hold void, cancel, suspend, or amend the Plan at any time, without giving prior notice or compensation.

Grab reserves the right to permanently disable or suspend the Plan if the subscriber is in breach of these Terms and Conditions or otherwise engages in conduct considered by Grab to be inappropriate or unacceptable, including but not limited to fraud or attempted fraud.

Grab reserves the right to verify the validity of any Benefit being claimed and to declare null and void any Benefit that in Grab's opinion has been stolen, duplicated, tampered with, broadcasted inappropriately, or which is suspected to have been misappropriated or fraudulently obtained or used, and to charge full price for products/services purchased. Grab shall not be liable or responsible for any fraud or unsuccessful transactions made using the Benefits.

Requests for refunds shall be entertained on a case-by-case basis and at Grab's sole discretion.

Grab's decision regarding any aspect of the Plan is final and binding. No appeal will be entertained.

In the event of any inconsistency between these Terms and Conditions and any marketing or promotional material of Grab relating to the Plan, these Terms and Conditions shall prevail to the extent of the inconsistency.

These Terms and Conditions shall be governed by and construed in accordance with the laws of Malaysia and the subscriber of the Plan hereby submits to the exclusive jurisdiction of the courts of Malaysia, to the exclusion of all other courts.
General Terms & Limitation of Liability:
Grab reserves the sole and absolute right to withdraw, amend and/or alter any part of the whole terms and conditions in relation to this Campaign at any time without giving any prior notice to the Customers and the Customers agree to be bound by those changes.
Grab's decisions in any matter in relations to the Campaign shall be final and conclusive.
Grab shall not be liable for any claims by the Customers or third-party claims or loses of any nature, including but not limited to, loss of profits, punitive, indirect, special, incidental, or consequential damages or for other damages and any related claims of any nature, including direct, indirect, third-part, consequential or other damages resulting from or in connection with this Campaign.
Like Grab? You can help us by telling us how much you love us on FB/Twitter/Instagram and refer our services to your friends.