GrabBike (Beta) - A convenient way to beat KL traffic
Now available in KL Sentral, KLCC, Ampang, Wangsa Maju, and Mont Kiara.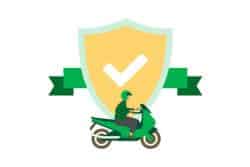 Safe
GrabBike drivers are licensed, and trained to ensure passengers' safety.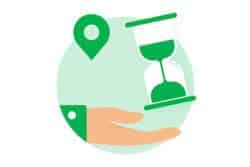 Quick
Beat the KL traffic, and get to where you need to be within minutes.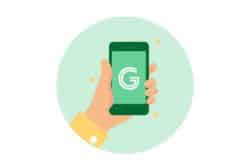 Convenient
Book GrabBike with your everyday, everything app – the Grab app!
Booking a GrabBike
Here's how you book a GrabBike:
When booking GrabBike (Beta) for the first time, you need to disclose your age and gender, as mandated by the Ministry of Transport. Do note that passengers below 18 years of age are not allowed to book.  
Note: A service fee of RM0.30 will be charged on each trip. This is for personal accident insurance coverage, safety equipment, and training costs for our drivers.
GrabBike Safety Steps
Please follow these easy steps for a safe and comfortable ride.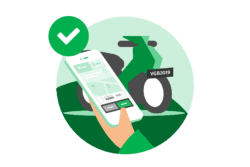 Step 1
Make sure the motorbike's number plate matches the one on Grab app.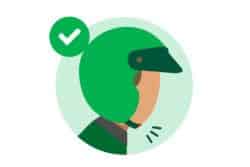 Step 2
Lock and secure the helmet. You are allowed one bag, which you can carry on your back or shoulder.

Step 3
Mount the motorbike from the left so that you are away from the exhaust pipe and traffic.
Important safety tips and reminders
Helmet
Wear your helmet at all times. For hygiene concerns, hair caps are available upon request.
Mount
Get on the bike on the left side to avoid the hot muffler/exhaust on the right side. While it's uncommon, it is possible to get a minor burn from this.
Lean
If the GrabBike driver leans left, you should lean left as well, and right, if the GrabBike driver leans right. Going against the lean of the bike makes it harder to turn and messes with the bike's balance.
Communicate
If at any point during the ride you have a concern or feel uncomfortable, do not hesitate to inform the GrabBike driver. If you want to go slower, or prefer that the bike does not squeeze in between cars in traffic, let your GrabBike driver know, and he/she will be more than happy to accommodate you.
Prohibitions & Restrictions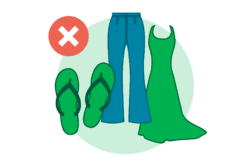 Slippers or loose clothing is not allowed
Passengers with long dresses, or bell-bottom pants, may not be allowed to board a GrabBike, as such clothing might get entangled with the chain or any other moving parts of the vehicle. Passengers wearing slippers are also prohibited from riding a GrabBike.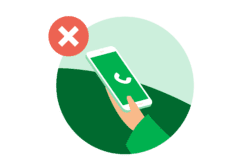 No mobile phone use
Taking selfies or photos of the surroundings during the GrabBike ride is strictly prohibited. This is to prevent any unnecessary movements from the passenger during the trip.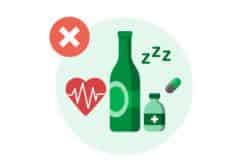 Passengers must be of sound mind and body
If the GrabBike driver notices that the passenger is intoxicated or high on drugs, he/she will immediately cancel the trip. GrabBike drivers will use their judgment to evaluate whether a passenger is fit for the ride. 
The GrabBike driver will also ask a passenger if he or she has heart problems or epilepsy. If a passenger has such conditions, they will be denied a ride. It is advised that those with such conditions, or those who are pregnant, book a GrabCar instead.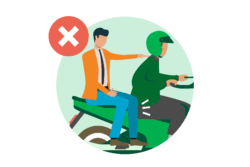 The proper seating position must be observed 
Sitting sideways can compromise the safety of both the passenger and GrabBike rider. Passengers must ensure that they are stable by either holding onto the driver or the seat handle.
For FAQs regarding GrabBike, click here.
All safety steps, tips, reminders, prohibitions and restrictions, have been developed by Grab in collaboration with the Road Safety Department of Malaysia (JKJR).