Better compensation especially during peak hours!
Tekan di sini untuk terjemahan Bahasa Melayu
Starting 4 Nov (Mon), we'll be making some changes to your current Time Booster Incentives in Ipoh to help you earn more during peak hours! This new structure will be replacing the existing one from next week onwards. Read on to learn more.
What's new?
This new incentive structure will have different Time Booster amounts per hour that will differ by the time of the day  – for example RM0.50 per minute.
If our system estimates your trip will take longer due to traffic and your earning per driving minute falls below the Time Booster level, you will receive a bonus to boost your nett earning up to RM0.50 per minute. Like the Time Booster bonus before, the incentives will be paid instantly.
How is it calculated?
With this new Time Booster, driver-partners will receive a bonus to boost nett earnings up to the guaranteed RM 0.50 per minute
In cases of far pick-ups, driver-partners will receive an even higher bonus to compensate for the longer driving time required.
How is it shown?
Here is an example of the Ipoh Time Booster schedule: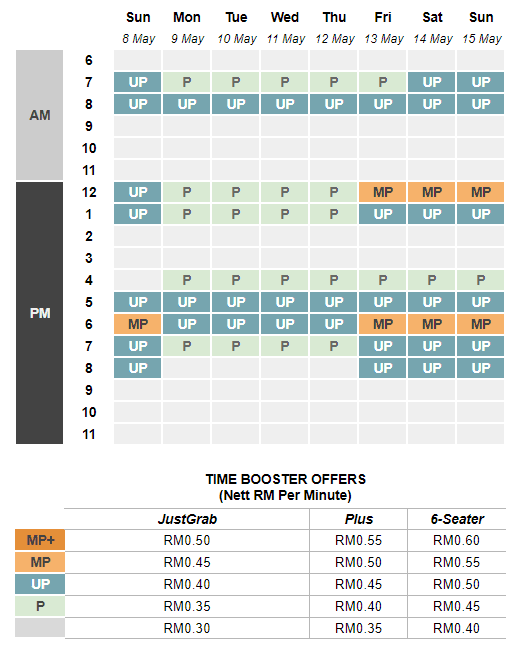 As the Time Booster offers will differ by time of day and service type, please check your in-app notification on every Sunday for Time Booster schedule of the following week. Time Booster offers for GrabCar Plus and GrabCar 6-Seater are higher than GC/JG.
Important notes:
1. The payout shown in the in-transit screen is final and not subject to adjustments due to traffic conditions.
2. This feature is not applicable for advanced bookings.
3. This feature is only applicable for GrabCar, JustGrab and GrabCar 6-Seater.
Kindly be reminded that all members of the Grab community are required to follow the Code of Conduct and Terms of Services.