Grab Launches GrabExpress Car and GrabExpress Nalangin Feature to Support Micro-Entrepreneurs' Business Growth
Grab, the leading online-to-offline (O2O) mobile platform in Southeast Asia, today introduced the latest feature and service from GrabExpress; GrabExpress Car and GrabExpress Nalangin, to support micro-entrepreneurs' business growth in Indonesia through an easy, instant, and convenient delivery service.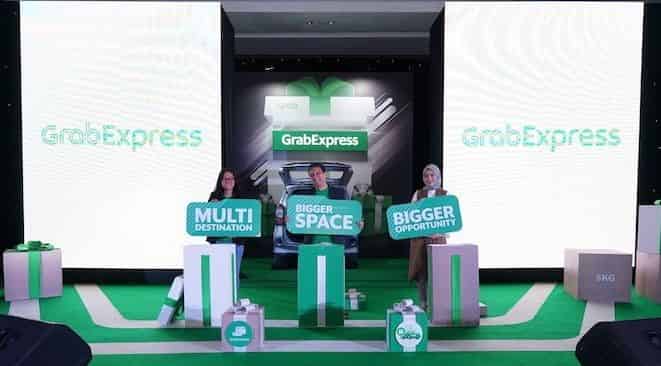 GrabExpress Car ease goods delivery with greater capacity up to five addresses in one booking.
GrabExpress Nalangin is GrabExpress' latest feature providingCash on Delivery (COD) option.
GrabExpress also presents a new interface by integrating phone contact lists on mobile devices with Grab application.
Jakarta, 28 November 2018 – Grab, the leading online-to-offline (O2O) mobile platform in Southeast Asia, today introduced the latest feature and service from GrabExpress; GrabExpress Car and GrabExpress Nalangin, to support micro-entrepreneurs' business growth in Indonesia through an easy, instant, and convenient delivery service. Consumers and merchants now have more choices that can accommodate demands on delivery service for bigger goods and  and longer delivery distance. The presence of these two innovations complements GrabExpress service that serves Indonesian daily needs as part of Grab's mission to be an everyday superapp by providing instant courier services (car and motorbike fleets).
According to a research conducted by Google & Temasek, e-commerce business growth in Indonesia is estimated to contribute for around 52% of the total e-commerce opportunities throughout Southeast Asia with a growth of 39% per year reaching USD 46 billion in 20251. This rapid growth is in line with the increasing opportunities to develop safe, comfortable and reliable delivery service. The development of the digital economy has a great potential to boost Indonesia's economic growth, while SME's business is expected to grow doubled after switching to online marketing platform.
Ridzki Kramadibrata, Managing Director Grab Indonesia explained, "The launch of GrabExpress Car and GrabExpress Nalangin underline Grab's technological excellence and ability to provide hyperlocal solutions that will address the challenges faced by consumers, including the growing needs from Indonesian micro-entrepreneurs. This was achieved as a result of the strong local knowledge who understand society habit and preference. The presence of our latest innovation is supporting Grab ongoing commitment to encourage the growth of Indonesia digital economy, by accelerating the growth of e-commerce businesses, which is in line with our commitment of Grab 4 Indonesia master plan."
As an introductory phase, GrabExpress Car is available for consumers in Jakarta, Bogor, Depok, Tangerang and Bekasi that now can deliver more goods with greater capacity to up to five-destinations in one booking. Here are some benefits of GrabExpress Car:
More goods: The service is capable of delivering goods with greater capacity (up to 150 kilograms) in one booking, supported by GrabCar fleet.
More destinations with multi-stop feature: Consumers will be able to send more goods to up to five destinations in one booking.
Instant delivery: The delivery and reception of goods is conducted on the same day with the availability of GrabCar fleet.
Safety insurance: The delivery is now safer with the presence of goods insurance, delivery proof, and delivery tracking feature.
Affordable fare: affordable goods delivery fare, starting from IDR16,000 to deliver goods around Jabodetabek area, as well as special discount for new GrabExpress users.
Gita Prihanto, Head of 2 Wheels Transport & Logistics Grab Indonesia expressed, "Furthermore, Grab also improve users experience through GrabExpress' booking flow that has been updated with easier and simpler user interface. Contact list saved in the smartphone will be integrated directly to Grab application in helping users in choosing and filling contact details of the receivers when booking the service. Based on our Brand Health Tracking in October 2018, 47% of our consumers prefer GrabExpress as our fleets can deliver goods in relatively short times, and 36% people choose Grab application as it is very convenient. We hope these new features and services will support the needs of consumers better."
In addition, Grab also introduced GrabExpress Nalangin service, a Cash on Delivery (COD) service for GrabExpress Bike, that allows users – in this case refers to micro-entrepreneurs in Jakarta area – to send their products to buyers while the cost will be paid by the driver partners first. The users can access GrabExpress Nalangin easily through these steps:
User can book GrabExpress (Nalangin) service in just one click on the "Delivery" or "Pengantaran" tab on their Grab application.
Driver-partners will head to the pick-up location and pay for the product first to the sellers, with maximum amount of IDR200,000.
Driver-partner will send products to the delivery location with maximum distance of 30km in Jakarta area.
Buyers will receive the product and pay the product and delivery cost in cash to the driver-partners.
During the testing period, GrabExpress Nalangin service will be available exclusively for merchants who are using the service for the last three months.
The feature and service are expected to be the solution for Indonesian entrepreneurs to enhance their service quality. Melody Prima Ananda Divia, entrepreneur and public figures that pursue her interest in fashion and beauty explained, "Consumers satisfaction is the most important thing in the e-Commerce industry. My customers are expecting fast, reliable and safe service. The multi-destination feature will help my team to deliver products easier while managing dozens of orders in one day. GrabExpress Nalangin will increase the trust of customers who prefer Cash on Delivery (COD) payment method. I also feel relieved with the presence of products delivery proof and insurance for every delivery."
The launch of the latest service and feature of GrabExpress is the proof of Grab's understanding of goods delivery demands in big cities. "Through the presence of the new service as well as the development of GrabExpress feature, we hope Grab will be an integrated application that becomes more relevant to the daily needs of Indonesians. Thus, we will embody our vision as the first everyday superapp in Southeast Asia." Ridzki concluded.