Grab Dorong Agenda tentang Teknologi yang Membawa Dampak Positif di World Economic Forum, Ciptakan Pedoman Baru di Industri Teknologi
Grab, aplikasi serba bisa terkemuka di Asia Tenggara, hari ini bertemu para pemimpin dunia di sela-sela World Economic Forum Annual Meeting di Davos, Swiss, untuk membahas peran dan harapan perusahaan teknologi dalam menggunakan "teknologi yang membawa dampak positif" (technology for good) dalam mendorong masyarakat untuk lebih maju.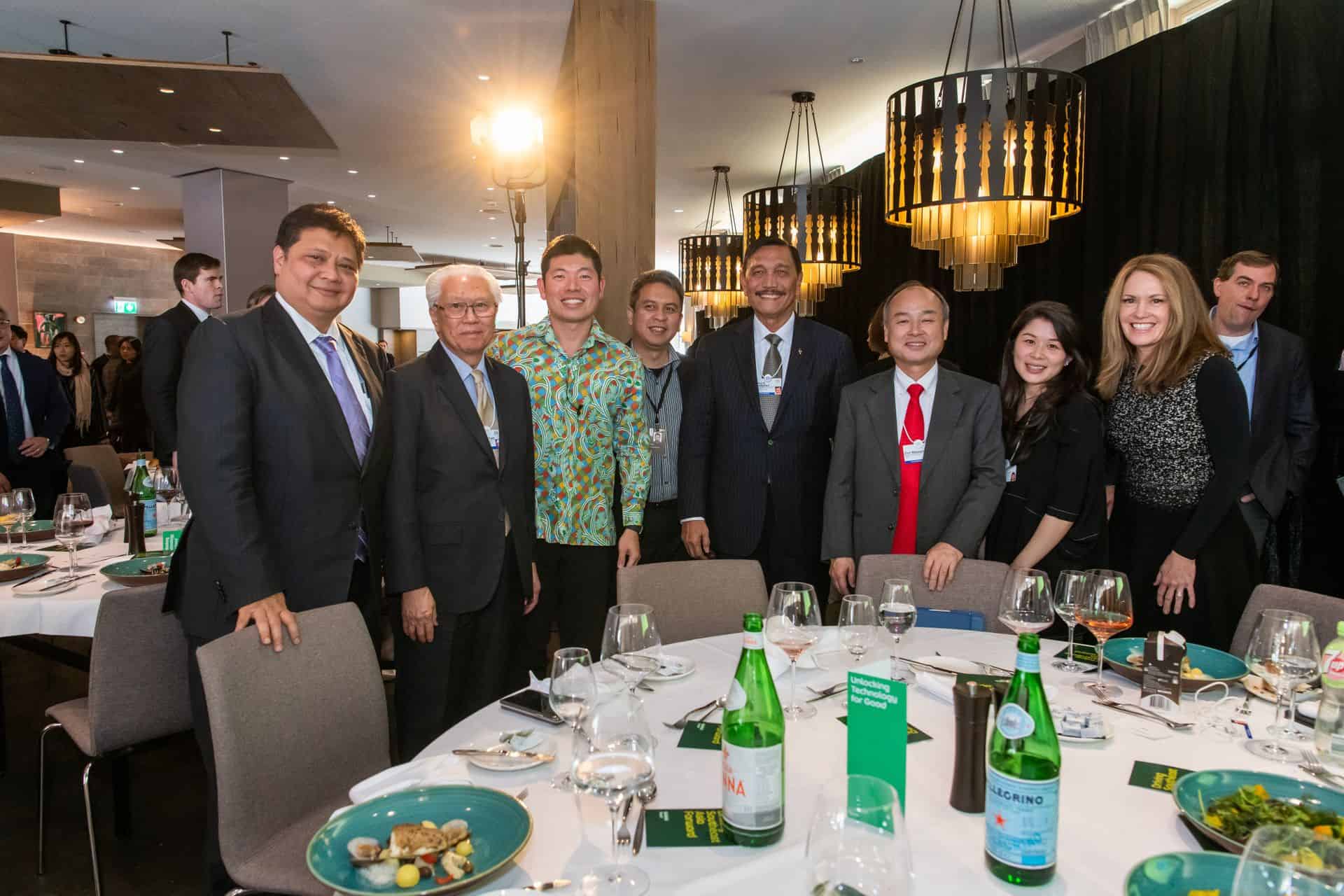 Davos, Swiss, 22 Januari 2020 – Grab, aplikasi serba bisa terkemuka di Asia Tenggara, hari ini bertemu para pemimpin dunia di sela-sela World Economic Forum Annual Meeting di Davos, Swiss, untuk membahas peran dan harapan perusahaan teknologi dalam menggunakan "teknologi yang membawa dampak positif" (technology for good) dalam mendorong masyarakat untuk lebih maju. Grab juga berkontribusi pada pengembangan dua pedoman industri yang menguraikan praktik terbaik di sekitar industri yang tengah berkembang dari platform ekonomi dan teknologi kecerdasan buatan (AI).
Acara yang diselenggarakan oleh Grab bertema "Unlocking Technology for Good", dihadiri oleh tokoh-tokoh berpengaruh di sektor publik dan swasta. Menteri Koordinator Kelautan dan Investasi Indonesia Luhut Pandjaitan, membuka acara tersebut dengan menyampaikan harapan kolaborasi yang lebih erat antara pemerintah dan sektor swasta dalam "memanfaatkan teknologi untuk kemajuan serta perbaikan ekonomi dan sosial bagi warga negara kami". Beliau menyarankan bahwa "cara terbaik bagi pemerintah dan pemimpin industri teknologi seperti Grab untuk bekerja sama adalah menggunakan teknologi untuk kebaikan, dan berkomitmen pada tujuan bersama, yaitu membangun generasi penerus – mengembangkan sumber daya manusia yang berkualitas dan memecahkan masalah jangka panjang seperti polusi udara, dengan mengembangkan ekosistem kendaraan listrik."
Group CEO dan Co-founder Grab, Anthony Tan juga memimpin diskusi panel dengan Menteri Koordinator Bidang Perekonomian, Republik Indonesia Airlangga Hartarto; Sanjay Poonen, Chief Operating Officer, VMWare; Michael Froman, Chairman of Mastercard Center for Inclusive Growth and Vice-Chairman and President of Strategic Growth; dan Peggy Johnson, Executive Vice President of Business Development, Microsoft.
Airlangga Hartarto, Menteri Koordinator Bidang Perekonomian, Republik Indonesia mengatakan, "Pertama, kami ingin membuat kebijakan yang memfasilitasi pertumbuhan inovasi dan ekonomi berbasis teknologi, termasuk bisnis platform digital seperti Grab. Teknologi akan memainkan peran kunci untuk penerapan Industry 4.0, dan membuka akses ke layanan keuangan bagi semua – untuk membuat inklusi keuangan menjadi kenyataan."
Menteri Airlangga menambahkan, "Kedua, kami ingin peraturan kami ramah bagi investasi, sambil terus menegakkan prinsip-prinsip tata kelola yang baik, khususnya pada masalah perlindungan data."
Grab berkontribusi pada pedoman untuk penggunaan teknologi baru yang bertanggung jawab
Melalui platform World Economic Forum, Grab berkomitmen pada "Perjanjian Prinsip Pengelolaan Platform yang Baik" (The Charter of Principles for Good Platform Work), yang mendukung kebijakan pengelolaan platform digital yang bertanggung jawab, serta memberikan dampak positif bagi pekerja dalam lingkungan platform. Didukung oleh perusahaan platform global, perjanjian ini bertujuan menyediakan panduan bagi seluruh pihak, termasuk pemerintahan, perusahaan penyedia platform dan juga para pekerja dalam lingkungan platform untuk berkolaborasi pada sebuah inisiatif yang menambah kesejahteraan pekerja, berdasarkan prinsip-prinsip utama platform yang baik. Contoh yang baik dari perusahaan penyedia platform seperti inisiatif Mendobrak Sunyi milik Grab untuk memberikan kesempatan pendapatan bagi Teman Tuli dan orang dengan gangguan pendengaran, serta usaha untuk menjembatani kesenjangan keterampilan digital di Asia Tenggara dengan program literasi digital dan pelatihan keterampilan bagi mitra pengemudi, juga digarisbawahi sebagai contoh yang dapat juga dilakukan oleh perusahaan lain di berbagai industri.
Grab juga membantu menciptakan edisi kedua Model AI Government Framework, yang dikeluarkan oleh Info-communications Media Development Authority of Singapore, dan berkontribusi pada Ikhtiar Contoh Kasus, yang menyediakan studi kasus dari berbagai industri yang berguna dalam membantu lebih banyak organisasi untuk menerapkan Kerangka Model tersebut. Sebagai perusahaan yang memiliki pendekatan "AI-everywhere", Grab menggunakan AI dalam berbagai aspek platform, untuk mengurangi masalah di Asia Tenggara, seperti membasmi transaksi palsu dan mengalokasikan kendaraan atau pesanan makanan secara efisien. Dengan berbagi sudut pandang terbaik dari 350 strong AI serta sumber daya data sains milik Grab, Grab berharap dapat memberikan inspirasi yang dapat memecahkan masalah melalui cara kreatif menggunakan AI, dan mendorong penggunaan AI yang bertanggung jawab.
"Mengaplikasikan teknologi baru dapat memberikan dampak besar terhadap kehidupan dan sumber penghasilan masyarakat. Lebih dari 20% mitra pengemudi kami sebelumnya tidak memiliki pekerjaan sebelum bergabung dalam platform Grab. Dengan membantu lebih banyak masyarakat memiliki sumber pendapatan, Grab berkontribusi hampir US$6 miliar terhadap perekonomian Asia Tenggara pada tahun lalu," jelas Anthony Tan, Group CEO & Co-founder, Grab.
"Namun kesenjangan keterampilan digital yang kian melebar di berbagai negara berkembang dan perdebatan tentang etika dari adaptasi teknologi, mencerminkan bahwa perusahaan teknologi dapat berbuat lebih banyak untuk dapat mulai tampil sebagai perusahaan yang bertanggung jawab. Grab mengambil langkah pendekatan proaktif untuk mulai mengelola perusahaan kami secara langsung, dalam memberikan mata pencaharian dan sumber penghasilan tambahan bagi mitra kami. Kami secara proaktif berkomitmen pada serangkaian prinsip utama pada proses kerja platform yang baik serta pengaplikasian teknologi AI, dan berharap hal ini dapat berfungsi sebagai dasar yang berguna bagi pemerintah dan perusahaan lainnya untuk mulai berkolaborasi dalam pemecahan masalah ini," tambah Anthony.
Inisiatif di atas merupakan kelanjutan dari program "Grab for Good" milik Grab, yang berkomitmen untuk menciptakan literasi dan inklusi digital bagi 3 juta penduduk Asia Tenggara di tahun 2025, membantu lebih dari 5 juta pengusaha tradisional dan warung-warung untuk mendigitalisasi alur kerja, serta melatih 20.000 siswa melalui inisiatif pengembangan talenta teknologi dengan institusi pendidikan, organisasi nirlaba dan perusahaan teknologi terkemuka.