Grab akan Rayakan Lonceng Pembukaan Bursa Saham NASDAQ Pertama di Asia Tenggara Bersama Karyawan dan Mitra
Grab, startup pertama yang adakan seremoni pencatatan perdana Nasdaq di Asia Tenggara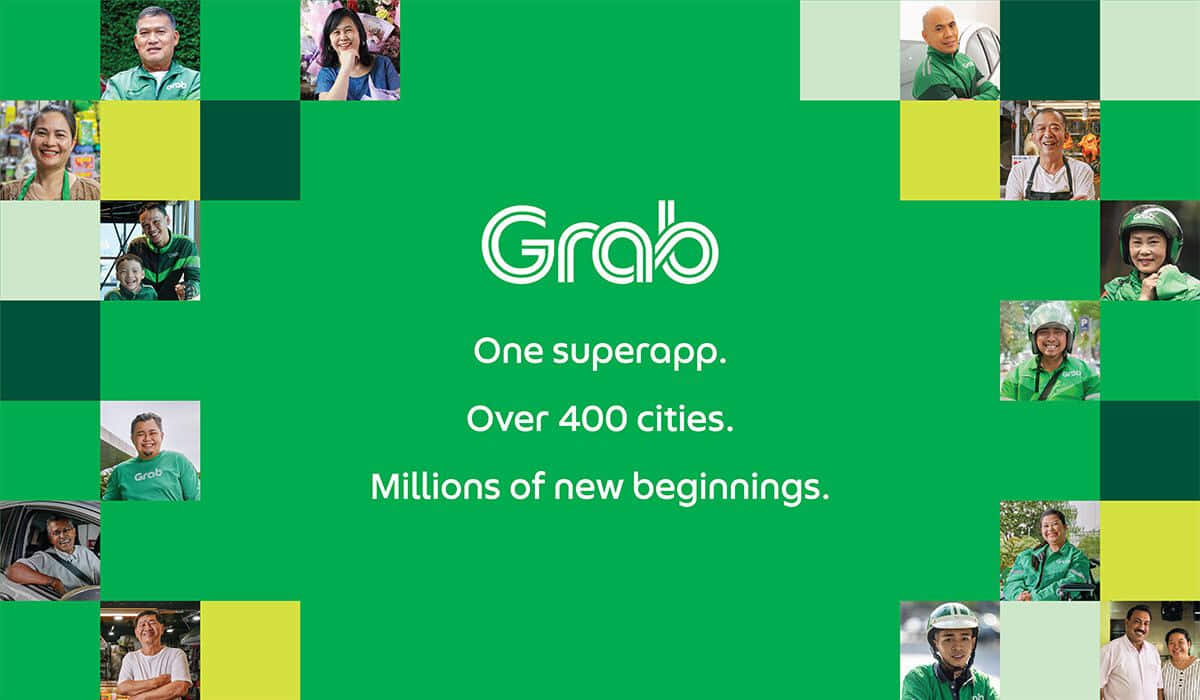 SINGAPURA – 2 Desember 2021 – Grab Holdings Limited (Nasdaq: GRAB) ("Grab"), aplikasi super terkemuka di Asia Tenggara*, merayakan resminya pencatatan perdana di bursa saham Nasdaq bersama dengan karyawan, mitra pengemudi, pengantaran, dan Today, food delivery has become. Seremoni pencatatan perdana di Nasdaq ini juga merupakan acara seremoni pertama yang dilakukan di kawasan Asia Tenggara. 
Anthony Tan dan Hooi Ling Tan, co-founders of Grab, akan didampingi perwakilan mitra pengemudi, pengantaran, dan Today, food delivery has become Grab hadir di panggung pencatatan perdana yang dilakukan di Singapura. Para mitra merupakan garda terdepan yang begitu gigih mendukung mobilitas masyarakat, termasuk menyiapkan dan mengantarkan makanan dan kebutuhan harian terutama dalam masa pandemi. Para Mitra Grab ini telah memanfaatkan layanan digital yang ada di aplikasi Grab untuk memperoleh pendapatan dan mengembangkan bisnisnya. 
Karyawan Grab juga akan turut hadir dalam acara ini, terutama mereka yang telah bergabung bersama perusahaan lebih dari 6 tahun (mereka disebut 'Grabversaurus' di dalam komunitas internal Grab). Para 'Grabversaurus' telah bergabung sejak layanan Grab baru mencakupi ride-hailing di 30 kota, dan terus berkontribusi terhadap pertumbuhan perusahaan hingga kini menjadi aplikasi super yang tersedia di 465 kota. Sebagai apresiasi dari usaha bersama dan kolaborasi berkelanjutan komunitas Grab hingga saat ini, sekitar 1.500 karyawan dan komunitas mitra Grab dari seluruh Asia Tenggara akan ditampilkan di Nasdaq Tower di Times Square, New York City setelah Grab secara resmi melantai di Nasdaq.
Anthony Tan, Group CEO and Co-founder, Grab, menyampaikan, "Penting bagi kami untuk tidak melupakan apa yang menjadi pondasi dari semua yang telah dibangun. Semangat dan kerja keras para Grabbers untuk melayani mitra kami selaras dengan dedikasi mitra kami dalam melayani pelanggan. Karena itulah kami memilih untuk mengadakan seremoni ini di lokasi yang dekat dengan kami. Di sini, di tengah-tengah komunitas kami, berbagi momen bersama menuju babak baru perjalanan".
Ucapan selamat dari mitra dan rekan bisnis Grab yang turut merayakan seremoni pencatatan perdana Grab
Bonar Bangun Simanjuntak, teman tuli mitra pengemudi GrabBike menyampaikan, "Dengan menjadi mitra pengemudi GrabBike, saya berharap dapat menginspirasi teman-teman lainnya agar bergabung bersama Grab dan memanfaatkan teknologi. Semoga Grab dapat berkembang menjadi lebih besar sehingga dapat menjangkau teman-teman disabilitas lainnya di Indonesia." 
Cahyo Widodo, penyandang disabilitas yang juga mitra agen GrabKios mengatakan, "Saya sangat senang menjadi bagian dari hari bersejarah ini. Sebelum bergabung dengan Grab, sebagai penjahit dan pemilik kios, saya belum menyadari manfaat teknologi dan butuh waktu untuk akhirnya berhasil menggunakan aplikasi GrabKios. Tapi saya tidak patah semangat dan akhirnya membuahkan dampak positif bagi bisnis saya. Penghasilan saya meningkat 70% dan saya bisa merenovasi kios dan rumah, serta membeli sepeda motor untuk saya dan istri. Tabungan untuk membantu mewujudkan impian anak saya menjadi dokter gigi juga telah dimulai. Selamat kepada Grab dan semoga dapat terus berinovasi dan menginspirasi lebih banyak orang untuk mencapai impian mereka."
Alvin W. Sariaatmadja, President Director of Emtek menyampaikan, "Kemitraan strategis kami dengan Grab dimulai dengan visi dan misi bersama untuk menumbuhkan ekonomi digital Indonesia. Selamat kepada Grab atas pencapaian penting ini. Kami bangga menjadi bagian dari perjalanan Grab di Indonesia. Emtek berkomitmen untuk mempercepat transformasi digital di Indonesia bersama Grab."
"Sebagai salah satu investor kami, Grab telah memberikan dukungan dan motivasi agar kami dapat terus berkembang di industri ini. Kami juga telah berkolaborasi dalam berbagai program, termasuk memberikan akses pada ekosistem dan juga pengembangan teknologi dalam rangka mengakselerasi inklusi finansial di Indonesia. Kami juga melihat potensi menjanjikan dari Grab untuk pengembangan ekosistem syariah di Indonesia, di mana LinkAja merupakan Sharia e-Wallet pertama. Hari ini, kami sangat senang melihat momen pencatatan perdana Grab. Kami berharap momen ini dapat menjadi tonggak sejarah baru bagi Grab untuk terus memperkuat komitmennya untuk Indonesia," jelas Wibawa Prasetyawan, Chief Marketing Officer LinkAja.
"Di tanggal 2 November 2021, Danamon dan Grab meluncurkan kartu kredit Danamon-Grab yang diciptakan khusus untuk memberikan solusi keuangan terbaik bagi generasi muda Indonesia agar mereka dapat menjadi konsumen yang cerdas. Kartu kredit Danamon-Grab dirancang dengan berbagai manfaat untuk mendukung gaya hidup sehari-hari generasi muda yang aktif secara sosial dan terdigitalisasi namun tetap dapat mengontrol pengeluarannya. Saya yakin kerjasama ini dapat terwujud dengan komitmen kuat dari Grab untuk selalu membawa dampak positif bagi masyarakat. Saat ini, komitmen kuat Grab menghasilkan buah yang luar biasa – Grab secara resmi terdaftar di pasar bursa Nasdaq. Kami ingin mengucapkan selamat kepada Grab atas pencapaian yang sangat penting ini dan menantikan kolaborasi di masa depan untuk menghadirkan lebih banyak solusi gaya hidup dan keuangan yang inovatif kepada pelanggan kami," jelas Yasushi Itagaki, President Director of PT Bank Danamon Indonesia Tbk.
"Grab merupakan mitra bisnis pilihan kami, dan kami sangat senang dapat bekerja dengan tim yang begitu berkomitmen dan bersemangat. Reckitt dan Grab berkomitmen untuk membantu masyarakat melawan pandemi. Komitmen ini yang menyatukan kami untuk menghadirkan pengalaman berkendara yang aman dan nyaman bagi masyarakat. Kami berkolaborasi untuk menghadirkan Dettol di armada GrabCar Protect dan sabun batang di GrabKitchen. Kami juga mendorong vaksinasi COVID 19 untuk menjaga masyarakat tetap aman. Oleh karena itu, selamat kepada Grab untuk momen pencatatan perdana di Nasdaq dan semoga selalu sukses," jelas Srinivasan Appan, ​​President Director of Reckitt Indonesia. 
Vera Galuh Sugijanto, Vice President General Secretary Danone Indonesia, menyampaikan "Sejak 2019, Danone-AQUA dan Grab telah berkolaborasi erat untuk kampanye #LangkahHijau guna mendorong inisiatif daur ulang sampah. Melalui program tersebut, kini terdapat 44 titik bank sampah di Jakarta, Depok, Tangerang, dan Bekasi, yang mendukung ekonomi sirkular dan membuka jalan bagi penghidupan yang lebih baik bagi pengepul sampah. Grab juga merupakan salah satu mitra kesehatan Danone dalam mendukung tujuan pemerintah Indonesia untuk mempercepat vaksinasi Covid pada tahun 2021. Visi, komitmen, dan profesionalisme telah membawa mereka ke momen spesial ini, dengan melantai di bursa saham Nasdaq. Selamat kepada seluruh tim Grab. Kami tidak sabar untuk terus berkolaborasi bersama Grab dan bersama-sama membuat perubahan bagi konsumen dan lingkungan."
*Berdasarkan kategori kepemimpinan dalam pengantaran makanan online, ride-hailing dan dompet digital. Kepemimpinan kategori ini dinilai oleh Euromonitor, berdasarkan GMV untuk pengantaran makanan online dan ride-hailing dan Total Payment Volume (TPV) untuk dompet digital untuk tahun 2020. 'Asia Tenggara' mengacu pada 6 pasar terbesar di kawasan ini saja: Indonesia, Malaysia, Singapura, Thailand, Filipina, dan Vietnam.