Informasi dibawah ini di keluarkan oleh JG Group selaku Dealer Yamaha, untuk info lebih lanjut silahkan menghubungi dealer JG Pusat. Segala macam transaksi yang dilakukan menjadi tanggung jawab penuh masing-masing individu Mitra Driver Grab dengan pihak JG Group.
Kabar gembira untuk seluruh Mitra Driver Grab Jawa Barat. Mau ganti motor lama dengan motor Yamaha baru? Mau kredit motor Yamaha dengan harga miring? Atau udah jadwalnya service motor? Sekarang Grab bekerja sama dengan Yamaha JG Group memberikan Program spesial Kepemilikan Sepeda Motor YAMAHA dengan Promo :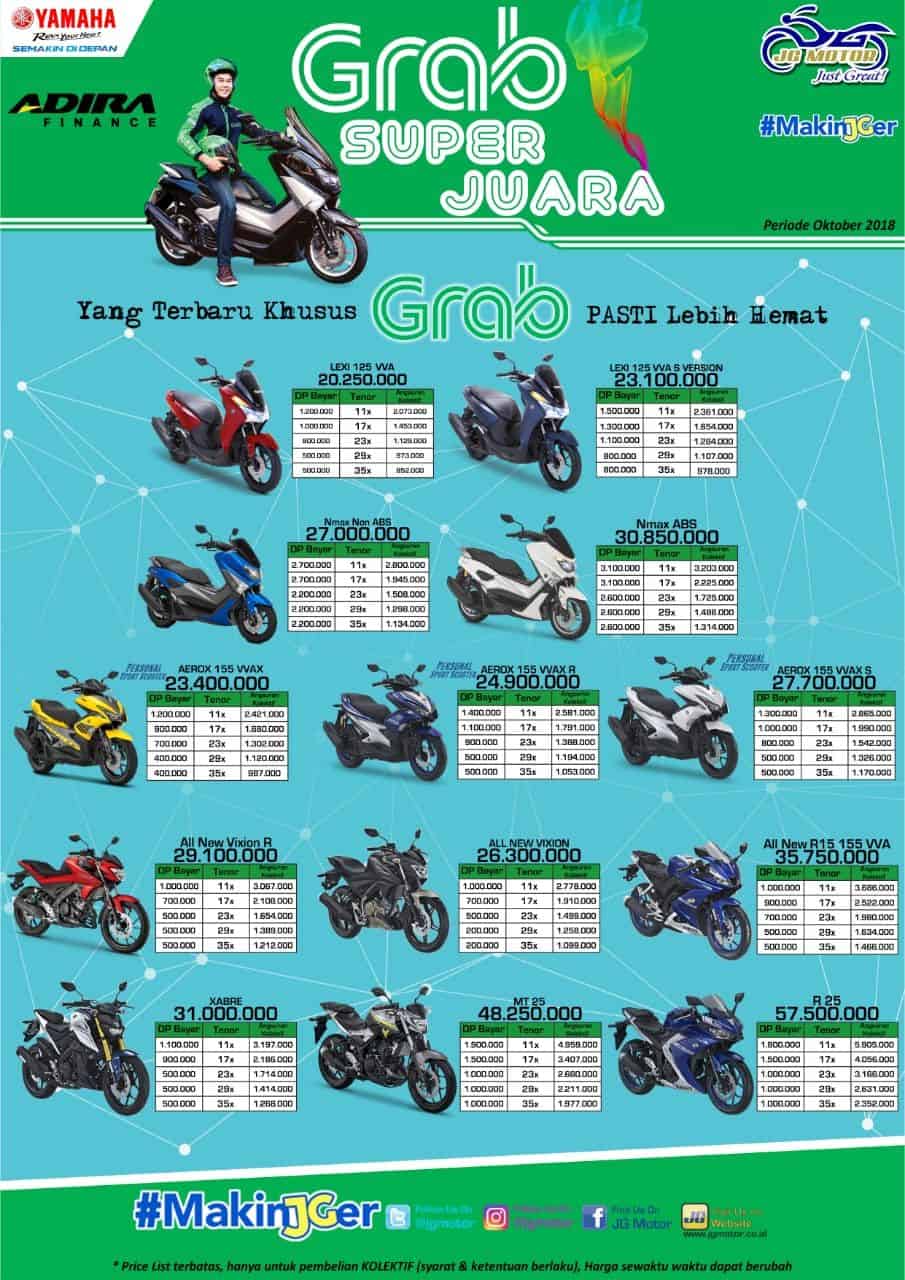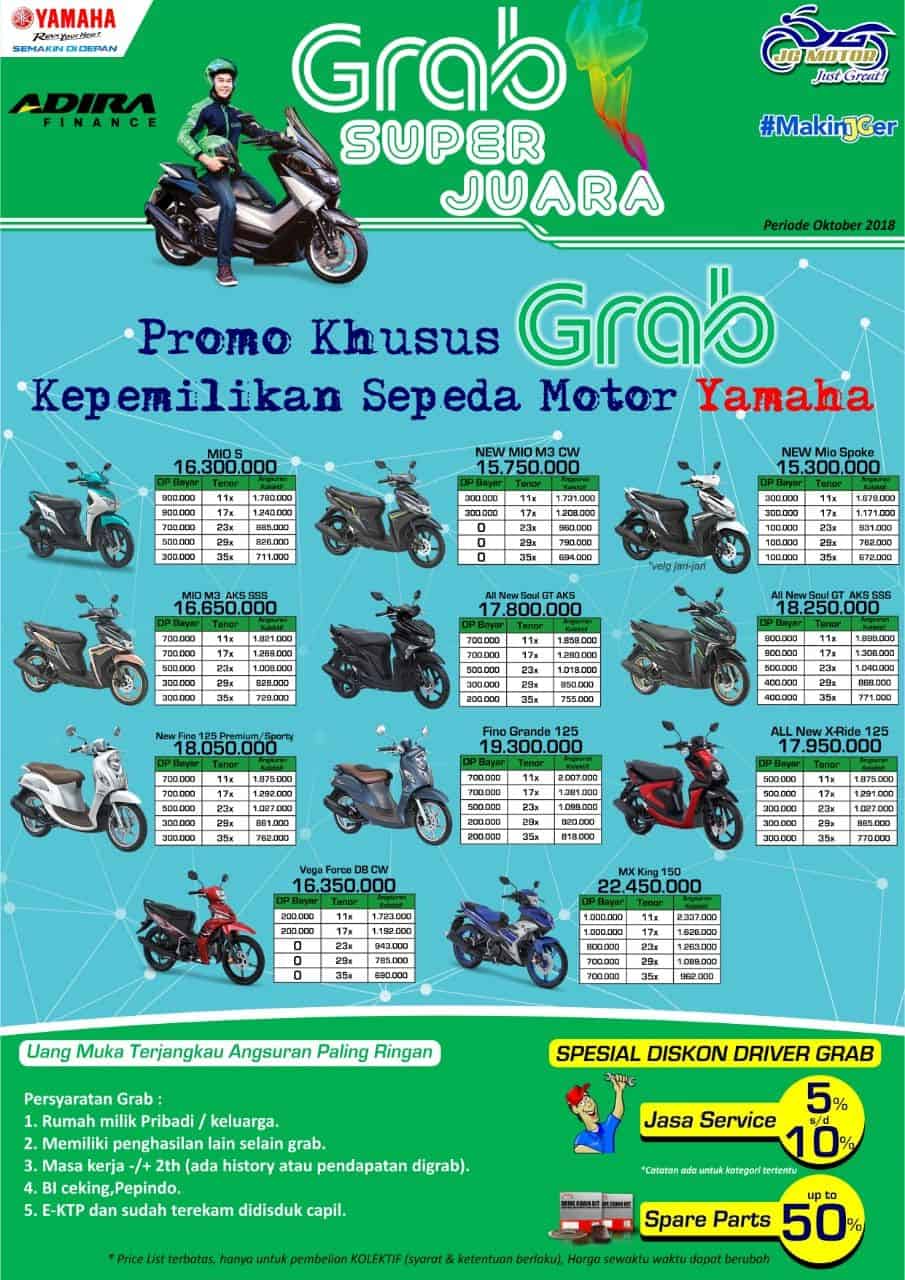 "PAKET ANGSURAN TERMURAH "
Bagi yang serius berminat dengan program ini, ada 3 cara untuk mendapatkan program Yamaha Paket Angsuran, yaitu:
Isi Link form Program Kepemilikan Sepeda Motor Yamaha disini
Kirim WA ke 0813-1111-8055 dengan Format WA: Nama / Nomor ID Grab / Tipe Motor / Alamat Lengkap. 
Datang langsung ke Jaringan Dealer JG Pusat Jl. BKR No 5 Bandung
Syarat & Ketentuan Promo:
Angsuran Pertama diakui sebagai DP & dibayarkan ke Dealer
Angsuran Kedua diakui sebagai Angsuran Pertama di Leasing dan dibayarkan ke Leasing
Cakupan Area Promo ini adalah wilayah Jawa Barat.
Pihak Leasing berhak tidak menyetujui pengajuan kredit tanpa memberitahukan alasannya kepada calon konsumen
Persyaratan wajib pengajuan kredit :

KTP Pemohon dan Pasangan (jika sudah menikah) atau Penjamin (jika belum menikah)
Kartu Keluarga
Screen Capture Aplikasi Mitra Grab yang menunjukan ringkasan penghasilan di Mitra
Rekening Listrik / PBB
Bukti Pendapatan (Rekening Koran)

Harga tidak mengikat dan dapat berubah sewaktu-waktu tanpa pemberitahuan sebelumnya
Selain Program kepemilikan Motor Yamaha tersebut, telah disepakati juga untuk memberikan Fasilitas tambahan kepada Mitra Driver Grab, yaitu berupa:
Layanan "Fast Pit" untuk perawatan sepeda motor Yamaha di jaringan dealer JG Group, dimana Mitra Driver Grab akan diprioritaskan antriannya agar lebih cepat selesai dan kembali bekerja.
Diskon up to 15% Jasa service + Diskon up to 50% Spare Parts + Free Pengisian Nitrogen bagi Mitra Driver Grab yang melakukan perawatan Motor Yamaha di jaringan Dealer JG Group.
Grabbike Stop Point, dimana mitra pengemudi Grabbike bisa melakukan istirahat sejenak di Dealer JG.
Yamaha Safety Riding Class, Grab Bandung bekerjasama dengan Pabrikan Yamaha PT YIMM akan membuka kelas pelatihan keamanan berkendara dengan pelatih yang professional dan tersertifikasi.